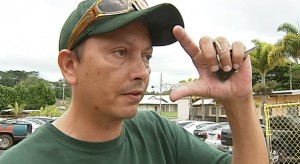 Video by David Corrigan | Voice of Stephanie Salazar
PAHOA, Hawaii: Big Island blogger Damon Tucker made statewide news headlines this week, claiming police brutality on the streets of his hometown Pahoa.
Tucker says he was arrested and roughed up by police Friday night in the old Puna village on Hawaii Island. He says it happened because he did not stop filming an incident from across the street when police told him to.
Police have confirmed that they were investigating an assault complaint at a Pahoa nightclub at the time.
Standing in the very spot where he says he filmed from on Friday night, Tucker details the moment he claims he was thrown to the ground and detained by police. Police arrested and charged Tucker for obstructing government operations, which Assistant Police Chief Henry Tavares says "is basically interfering with a police officer while they are trying to do their job."
We met up with the visibly shaken Tucker in Pahoa on Tuesday, the day after newspapers and TV stations began to run the story. Tucker also posted these images on his blog, damontucker.com, illustrating what he says were the result of being "brutalized".
Tucker said his camera and his iPhone were confiscated by police, and that his iPhone was run over. He has not seen the two items since.
Big Island Video News first ran into Damon Tucker shortly after we began publishing video on the internet in the summer of 2008. He was already operating the damontucker.comblog, which has offered a thorough – and at times controversial – documentation of life in Puna and beyond.
Tucker has always shied away from the term "journalist" often saying he is only a "guy with a blog" … and apparently its a popular one; within hours of the incident, the internet was buzzing with the news of Tucker's version of events, sparking interest and support from first amendment defenders from across the country.
Just before we met with Tucker in the parking lot of Luquin's, he was informed by police that he was to be served with another document. A nervous Tucker asked Barbara Lively, the legislative assistant to councilman Fred Blas, to be present as Tucker met with local law enforcement.
Tucker asked us to stress that police requested to meet after Tucker had already agreed to meet Big Islang Video News at the location.
Our camera rolled on the tense moment, and we kept rolling until the document was officially delivered to Tucker. As uneventful as the exchange may have been, it still left Tucker nerve-racked.
Police later confirmed that the paperwork merely contained a corrected case number.
In a statement given to media, assistant Chief Tavares said that "The Hawaii Police Department recognizes the media and the public have every right to photograph police activity in a public place from a safe distance." But because the incident is under active investigation, the police can not make any additional statements about the incident.
Meanwhile, Tucker is pursueing his legal options, saying that its hard, now, to even drive by a police car in his own town.
Tucker's case will be before district court on Sept. 8 at 1:30 p.m. in Hilo.