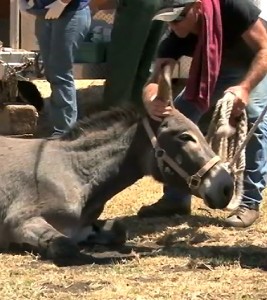 Video by Lynn Beittel, Visionary Video | Voice of Stephanie Salazar
WAIKII RANCH, Hawaii: 191 feral donkeys living in the Waikoloa area are one step closer to what will hopefully be a better life.
This weekend, hundreds of the Waikoloa Nightingales were herded into the pen here at Waikii Ranch, part of a busy re-homing clinic.
The donkeys, estimated to part of a herd of 600, has been encroaching on the nearby Waikoloa Village over the years, causing accidents on Waikoloa Road and other community concerns. The situation reached a boiling point last year, when the extreme drought drove the donkeys into the village outskirts in search of resources.
The community has been wrestling with the problem of how to manage the herd, and there was even talk of having to thin the numbers by shooting the animals. So when the United States Humane Society joined forces with Brady Bergin, a Waimea veterinarian, animal lovers were relieved and the iconic donkeys were given new hope.
The clinic was a large undertaking… lots of work to prepare the donkeys for their new lives. In this video, Inga Gibson of the Humane Society of the United States explains how all of the jacks were fully anesthetized (medicated to prevent any pain) for veterinary preparation and castration.  Donkeys heading to California were also given microchips, implanted in loose skin around their shoulder.
With an effort of this size, all volunteers played an important role.
Coming up later in the week… an interview with a familiar face at the statehouse, who lent a huge helping hand during this weekend's clinic.