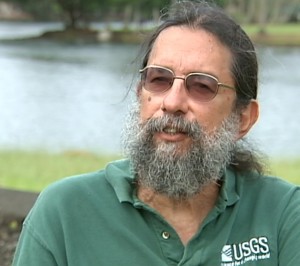 Produced by David Corrigan and Tim Bryan
This week, we take a look back at the Kamoamoa fissure eruption, half a year after its short-lived show captivated the world.
HAWAII VOLCANOES NATIONAL PARK, Hawaii: 6 months ago today, the steady eruption at Kilauea volcano changed after an incredible fissure tore the earth open on the middle east rift zone.
Before that moment, the public had known the current eruption through its summit lava lake, an active ocean entry at Kalapana, and a restless Pu'u O'o crater in between.
Homes in the Kalapana Gardens subdivision were on alert. But when earthquakes on the rift zone began to rattle the area continually, it looked like a change was on the horizon.
"There were several months of earthquakes, actually", said Hawaiian Volcano Observatory Scientist-in-Charge, Jim Kauahikaua (photo above right), six months after the event. "Decent sized ones like magnitude 3 or so. But really, the sign that something started was the tilt. We have all most of important data streams alarmed so we get text messages or emails or something… one of our data streams is hooked up to an automatic dialer so it will call our phones in case the internet doesn't work or something."
"We all know what our jobs are", said Kauahikaua. "Once everybody hears that an event is going on, we all look at our various data streams… the first thing that happened was that deflation tiltmeter on the north flank… and that kind of alerts you to look at the camera and see the floor's kind of dropping out."
Tomorrow… the story of behind the first video to come in from this new, and dangerous landscape.
March 7, 2011 – VIDEO: Timeline of Kamoamoa fissure eruption

It was a historic weekend on Kilauea Volcano, as the current eruption made a sudden, dramatic change.