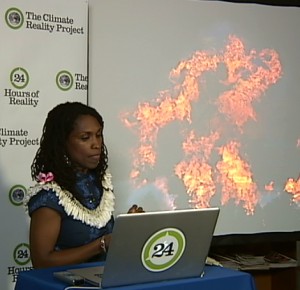 Video by David Corrigan | Voice of Tim Bryan & Stephanie Salazar
HILO, Hawaii: Wednesday evening, global attention was focused on Hilo and the Mauna Loa Observatory, during Al Gore's Climate Reality Project "24 Hours of Reality" broadcast.
Mauna Loa is the world's largest volcano, and a ground zero, of sorts, for mankind's understanding of climate change.
That's because the huge mountain of ancient lava is the home to the Mauna Loa Observatory … established in 1957, the facility has become the premier long-term atmospheric monitoring facility on earth, according to the National Oceanic and Atmospheric Administration.
For this reason, the Mauna Loa Observatory operation office in Hilo was the featured location in the "24 Hours of Reality" event.
There were a few signs of activity after hours at the Kilauea Financial Plaza on Wednesday night. Outside, a satellite truck was parked at the ready, while inside a small crowd gathered in the NOAA Mauna Loa Observatory office. A cast of different environmental and academic institutions and organizations were preparing for the global videocast.
The 24 hour event made stops in time zones all over the earth, and Hilo was the spot for hour number six.
The videocast started with an oli by Kahu Danny Akaka Jr., followed by a welcome by Lt. Governor Brian Shatz.
And when featured speaker Maxine Burkett took the stage, a grim vision of climate change effects took shape on the projected presentation by her side.
Burkett, an Associate Professor of Law and Director of the Center for Island Climate Adaptation and Policy at the University of Hawaii, presented evidence that the impact of climate change is here and now, as seen by the alarming increase in violent storms, flooding and severe drought.
Burkett spoke to Big Island Video News before making her global presentation.
Burkett says that despite the mounting evidence and data, a passionate opposition to acknowledging climate change has established itself. While its hard to separate the debate from political interests, Burkett tried to debunk some of the arguments of the so called "deniers". One common complaint: if the Earth is warming, why is there record snowfall in parts of the country? Even in Hawaii, the summit of Mauna Kea was covered in snow just this year – in June!
Burkett says that warmer air holds more moisture. We can expect to see more rains – and greater drought – if trends continue. And Burkett says that without immediate action, trends will continue.
In wrapping up her presentation, Burkett encouraged everyone to "speak up" in the face of continued denial.
Sept. 14, 2011 – 24 Hours of Reality Broadcast segment from Hilo, Hawaii