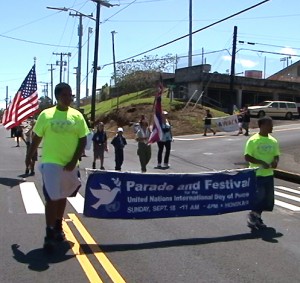 Video courtesy Parade & Festival for United Nations International Day of Peace
HONOKAA, Hawaii: Fall is right around the corner, and that means its time for 5th annual Peace Day Festival in Honokaa.
Officially called the Parade and Festival for United Nations International Day of Peace, this year's event had a few new twists.
The 1st Annual Peace Parade "Run for Peace" got things off to a start with this 5K race…  cash prizes were awarded to the winners, and the route taken by the field of runners took them past the entire audience of thousands waiting for the parade to start.
Once the parade did step off, it was the usual diverse mix of marchers, musicians and more. The so called "moving stage" started at the Honokaa High School and went down Mamane Street, where crowds cheered the participants.
Marching bands, bon dances, and taiko drums – the traditional Peace Day Parade fare – led the way to the Honokaa Sports Complex, where a festival was held afterwards.
The event honored this group – the returned Peace Corps volunteers – on the 50th anniversary of the Peace Corpse 
Paauilo couple Gloria and David Myklebust – who met in the Peace Corps decade ago and were married – joined their fellow former volunteers in the parade.
On the grounds of the festival, attendees enjoyed local and ethnic foods, artists and crafters, and live entertainment – like the critically acclaimed Honokaa Jazz Band.
The Peace Day Festival is presented by the Peace Committee of the Honoka'a Hongwanji Buddhist Temple in cooperation with the United Nations and numerous community organizations.
Sept. 19, 2011 – Peace Parade and Festival in Honokaa (NEWS STORY)
FULL NEWS STORY – aired on Sept. 19th newscast