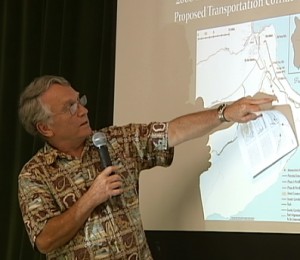 Video by David Corrigan | Voice of Stephanie Salazar
KEA'AU, Hawaii: The Puna community gathered at Kea'au Elementary on Thursday evening, for a special talk story session arranged by State Senator Gil Kahele.
The folks in attendance got an update on all the state transportation projects slated for the east side of the island… in attendance: Glen Okimoto, State Director of the Department of Transportation as well as other top level State DOT officials.
The department reps gave an overview of the planned improvements for things like Hilo Harbor and the Hilo Airport Cargo Facility… however, most of the discussion centered around Highway 130.
There was some confusion in the audience about a roundabout at Highway 130 and Kahakai that they say was promised to them by DOT officials under the prior administration.
County officials were also on hand to talk about roads in limbo, re-paving projects, and PMAR – the Puna Makai Alternate Route – which would alleviate some of the Highway 130 traffic, as well as provide redundancy as an emergency egress for Puna, a good portion of which exists in the geologically active east rift zone.
However, not everyone is behind the current vision for the proposed road… Bill Walter said he – and a number of other area neighborhood associations have their reservations.
Senator Gil Kahele said its all about opening the lines of communication between the officials and the community on these important projects.
UPDATE: KPAG (Keaau-Pahoa Advisory Group) member Damon Tucker has dug up the apparent proof that the Kahakai roundabout was not just a figment of Puna's collective imagination. Tucker's comment below points us to a .pdf file that appears to have been published in April 2011, entitled "Appendix A-1: Preferred Alternative – Kea'au-Pāhoa Road Corridor". We have taken the image relavant to this story and published it below.