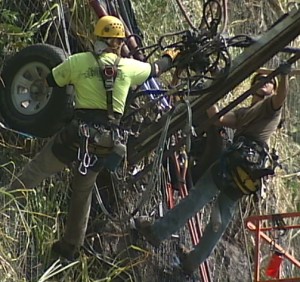 by David Corrigan and Stephanie Salazar
LAUPAHOEHOE, Hawaii: In today's report… Take care driving along the coast for the next few weeks; some major work is underway on the landmark gulches of Hamakua.
This is the sight along the so called "Horseshoes" these days… tall cranes allow brave construction workers to install a wire netting over the slopes of Laupahoehoe Gulch.
Similar work is being done at nine sites at the three main Hamakua gulches, which includes Maulua and Ka'awali'i.
The state is paying Isemoto Contracting Company over $12 million to cover the rockwalls with the chainlink mesh in order to stabilize these steep embankment slopes. Officials hope the mesh will keep dislodged boulders from striking passing motorists on Highway 19.
Its been seen elsewhere in the state, but this is the first time the Department of Transportation has used the netting on Hawaii Island.
The state is calling this the Emergency Earthquake Rockfall Repairs Project, which draws from Federal Aid to complete the effort. Workers will be cutting trees, clearing and grubbing, rock scaling, and anchoring and draping the wire mesh over the cleared slopes… all at a height that is NOT for the faint of heart.
Of course, the current work has had an impact on the flow of traffic. But motorists are hoping – in the long run – to see less of the fallen debris closures that also tie up traffic along the Hamakua Coast.
DOT officials say the completion date has been revised from January 2012 to March 2012.