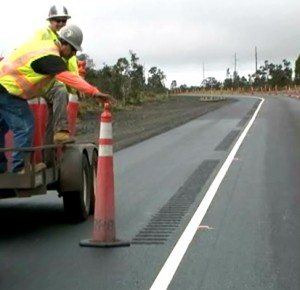 By Daryl Lee, David Corrigan and Stephanie Salazar
HILO, Hawaii: Another mile stone for the ongoing improvements to Saddle Road.
On Monday, Hawaii County Mayor Billy Kenoi joined state and federal officials at the blessing of the latest section of the Saddle Road to be completed.
Road and Highway Builders LLC of Sparks, Nevada, completed this section – an eight-mile stretch between mile-marker 19 and mile-marker 11 – on time and on budget. The $32.8 million contract was awarded by the state Department of Transportation in September 2009 with the project starting in November 2009. Officials say the contractors likely could have gotten the job done a bit earlier, but ran into a stretch of bad weather a few months ago which delayed the project a few weeks.
On hand for Monday's event… U.S. Sen. Dan Inouye, who has been committed to seeing the project to its completion.
And just as soon as this ceremony was finished… officials moved to the west side of the Saddle Road, where Kirkland Construction is expected to begin civil engineering work on the second-to-last leg of the roadway, from mile 41, sometimes called the "Steps" or "Girl Scout Hill," to mile 14 of Mamalahoa south of Waikoloa Road.
Kirkland was recently awarded the $33.7 million contract and could be given the notice to proceed in the next few days. The company, which plans to use local construction workers for a majority of the work will have until June 2013 to complete the 9.6 miles of earthwork. A contract to pave that portion of the road will be advertised at a later date.
The county says that so far, the Saddle Road project has spent $250 million and employed 2,000 people at one time or another. By the time it is completed, officials estimate that 2,700 people will have worked on this project.