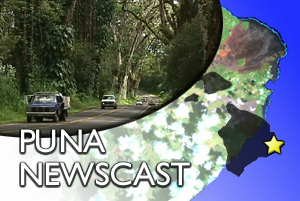 By David Corrigan and Stephanie Salazar
PAHOA, Hawaii: Details on the fatal crash that closed down Route 132 below Nanawale Blvd to just above Lava Tree State Park on Sunday.
Police say 53-year-old Jill E. Peterson of Hilo died from injuries she sustained in a motorcycle crash on Kapoho-Pāhoa Road .2 miles south of the 2-mile marker.
The victim was operating a 1999 Honda motorcycle and traveling north on Kapoho-Pāhoa Road, when she ran off the right side of the road, lost control and struck a guardrail.
She was not wearing a helmet.
Fire Rescue personnel took her to Hilo Medical Center, where she died at 6:48 p.m.
Police believe that speed may have been a factor in this crash. They do not suspect any alcohol or drug use.
Two suspects allegedly involved in disturbing incidents that unfolded over the weekend in Hawaiian Paradise Park were in court on Monday. More on those cases in our Hilo report.