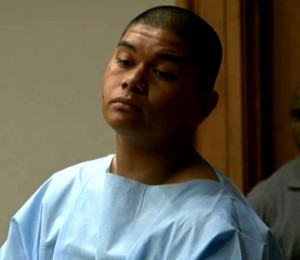 By Daryl Lee, David Corrigan and Stephanie Salazar
[Video by Daryl Lee]
HILO, Hawaii: 18 year old Jeremy Costa was in court on Wednesday, facing charges of first-degree terroristic threatening after posting threats towards Kamehameha Schools Keaau campus on his Facebook page.
Costa – who was reportedly expelled from the school prior to the incident – was arrested on Tuesday morning by Hawaii County Police.
In this interview, Captain Randall Medeiros takes us through the timeline of the disconcerting incident, which began on Monday. Medeiros says that former student Costa tried to meet with the school principal, and instead met with the Vice Principal and a school counselor. After a half an hour or so, Costa left  "in an apparent emotional state." Police say Costa returned that day and got into an altercation with campus security. Security called the police, who arrested Costa for criminal trespass. Costa was processed and released at the Puna police station.
On Monday evening, it was learned that Costa had allegedly posted threatening statements to his Facebook page: things like "rent a cops must die" , he could take Virginia Tech to the next level, and etc… according to police.
On Tuesday, officers later found Costa hitchhiking on the way to school, wearing a Kamehameha Schools uniform and carrying books. Medeiros said when officers approached him, he tore off his shirt and challenged them to a fight. He was taken into custody and charged.
During his court appearance, Costa said little, but expressed disdain for the news camera, giving the middle finger to journalists. Costa's parents were in the gallery.
Police say it is still under investigation whether or not Costa had the means to carry out his online threats.
Police say they do not take these sort of things lightly, especially in light of the tragedies at Virginia Tech and Columbine.
In a statement issued by Kamehameha Schools, officials say "While it is still unclear as to why Jeremy resorted to threatening statements on Facebook, trespassing onto campus and verbal and physical violence, campus security did the right thing by contacting the Hawaii Police Department. Our faculty, staff and administration remain vigilant and aware of the campus security situation, and we are prepared to take further action as warranted."
Costa's bail has been set at $100,000.