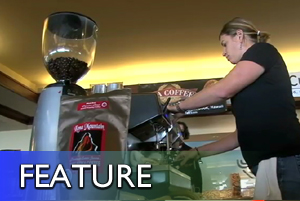 By David Corrigan, Lynn Beittel and Matt Binder
[Video by Lynn Beittel of Visionary Video]
KAILUA-KONA, Hawaii: For the first time in the 41 year history of the Kona Coffee Cultural Festival, the international event Ultimate Barista Challenge® Hawaii and a Kona Barista Jam was held.
The fast paced, espresso crafting challenges took place at the Keauhou Beach Resort on November 9th and 10th.
From the festival organizers:
The Ultimate Barista Challenge (UBC) ® Hawaii will feature two tasty bouts of espresso challenges, the popular Latte Art Challenge where baristi prepare intricate designs with espresso and steamed milk. Drinks will be judged on Visual Design and Taste. The Espresso Frappe Challenge features iced blended drinks of the baristi own creation, where balance of espresso and ingredients is important. Baristi, who win the qualifying round, face international barista champion Ultimate Barista Heather Perry in a one-on-one dueling Final Challenge of fast-paced espresso excellence. Top scoring barista becomes the Ultimate Barista! UBC certified judges are chefs within the community, coffee tasting specialists, and food writers. Top scoring local barista will win a trip to attend the annual Specialty Coffee Association of America conference in Portland, Oregon April 2012.

Dr. Shawn Steiman, coffee scientist and consultant, Coffea Consulting, "The Kona Barista Jam and Ultimate Barista Challenge are about education and friendly competition. What better way to unite the Hawaii coffee industry and get people excited about coffee quality?"

Participation in the Jam and UBC are $50 with all proceeds going to the Festival.

About the 41st Annual Kona Coffee Cultural Festival 2011 Scheduel of events, please visit: www.konacoffeefest.com

About the Ultimate Barista Challenge: The Ultimate Barista Challenge® is owned and produced by WholeCup Coffee Consulting, LLC. For more information about this cutting edge event, to register, or inquire about available sponsorships, please visit www.ultimatebaristachallenge.com.
This video shows footage from the early rounds of competition, and features an interview with Malia Bolton, the Director of Marketing and Promotion at Kona Coffee Cultural Festival.