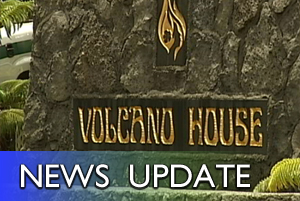 By David Corrigan and Tim Bryan
[File video by David Corrigan]
VOLCANO VILLAGE, Hawaii: The organizers behind the proposed Volcano Project, hoping to win the concession of the coveted Volcano House within the National Park, are pressing supporters to make their voices known to the decision makers.
David Howard Donald & Anne Lee have a unique plan for the currently inactive institution. They spoke to the community about thier plan in 2009.
Judging of their proposal started on Monday Nov. 14 and will continue until Nov. 18th
They are hoping supporters will call or email the Department of the Interior & National Park Service, or United States Senate Subcommittee on National Parks
The National Park Service issued the Prospectus for the Volcano House operation on December 10, 2009, requesting proposals for visitor services that included: overnight accommodations, food, beverage, retail, campground and related services. Due to several amendments, the closing date was extended to September 1, 2010.
After a review, officials decided to re-solicit the concession prospectus because the proposals received did not meet critical requirements for the concession contract. All proposals received in response to this solicitation were considered non-responsive and/or not qualified.