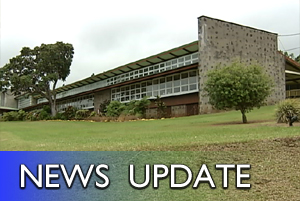 By David Corrigan and Tim Bryan
[File video by David Corrigan]
LAUPAHOEHOE, Hawaii: The Laupahoehoe Charter School controversy continues.
As the Laupahoehoe community and school staff remain divided on the issue of whether or not converting the small Department of Education school into a charter school is a good idea, the Charter School Review Panel is coming down hard on the Interim Local School Board.
The panel is saying that the elections for the permanent local school board must take place by November 21st, or else the start up charter will face corrective actions, which could include revocation proceedings.
The Interim Local School Board says it cannot hold elections until September 2012 because that is when the proper stakeholders will be established for the vote. But the Charter School Review Panel argues that the current group of staff, parents and students make up the legal stakeholders, and further points out that the charter school's Detailed Implementation Plan set the election date on September 2011.
Sources say the Interim School Board is concerned that the current stakeholders – many of whom oppose the charter school conversion – could hi-jack the mission of the charter school and even hand the charter back to the state.
The effort to convert Laupahoehoe into a charter gained momentum in 2008, especially when the small school was put on a list to be studied for possible closure. The community voted to pursue the charter conversion in 2010, and after being denied on multiple occasions by the Charter School Review Panel, the Board of Education voted to approve the charter.