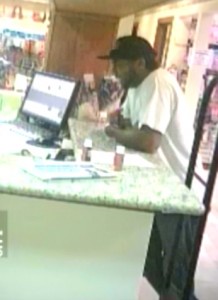 By David Corrigan and Stephanie Salazar
[surveillance video courtesy the Hawaii Police Department]
KONA, Hawaii: Another robbery in Kona – this time in Holualoa – and police believe it may be connected to a robbery in Kaloko the week before.
Hawaii County police are asking for the public's help in identifying suspects involved in a robbery Thursday afternoon at the Keauhou Store in Holualoa
The police released this surveillance video which captured the incident as it happened.
Shortly before 1 p.m. a man described as a local male with a dark complexion entered the Store and forcibly removed an undisclosed amount of money from the cash register. A 34-year-old female cashier suffered minor injuries but declined medical treatment.
You can see the suspect with the white cap, and also another man who appears to be standing lookout in front of the store.
They both fled north on Highway 180 in a white 2-door Jeep Wrangler with a tan hard top. The Jeep is similar to a Sahara model.
Detectives believe the primary suspect was also involved in a robbery in the Kaloko business area on January 5.
Here is some recently released video of that robbery, as well.
The first suspect was described as being in his mid-20s to mid-30s, approximately 5-foot-10, 150 to 170 pounds, unshaven and with kinky dark hair. He was wearing blue jeans and a green T-shirt, slippers and a white cap with a dark brim.
The second suspect is described as Caucasian, in his mid 20s, with a slim build and a goatee. He was wearing a light green shirt with buttons, a light-colored baseball cap, dark shorts and shoes.
Police ask that anyone with information on their identity or whereabouts call Detective Walter Ah Mow at 326-4646, extension 238, or the Police Department's non-emergency line at 935-3311.
Tipsters who prefer to remain anonymous may call Crime Stoppers at 961-8300 in Hilo or 329-8181 in Kona and may be eligible for a reward of up to $1,000. Crime Stoppers is a volunteer program run by ordinary citizens who want to keep their community safe. Crime Stoppers doesn't record calls or subscribe to caller ID. All Crime Stoppers information is kept confidential.