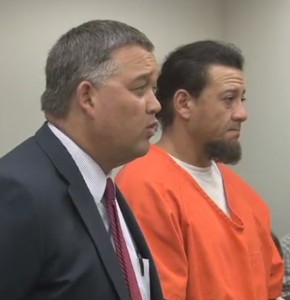 By Lynn Beittel, David Corrigan, and Stephanie Salazar
[Video by Lynn Beittel of Visionary Video]
WAIMEA, Hawaii: The 37-year-old Waimea man charged in the death of a 3-year-old girl under his care will stand trial.
Ezekiel Wakinekona had a preliminary hearing on Thursday, facing charges of manslaughter in a Waimea courtroom, following the death of Marley Makanani.
On Sunday, Makanani died of brain damage due to near drowning along with head trauma due to child abuse, according to the medical examiner.
There were about 15 to 20 supporters of Wakinekona in the courtroom.
In testimony given during the hearing, a North Hawaii Community Hospital doctor described the apparent injuries to the victim the night she was brought into the emergency room.
Makanani was flown to Kapiʻolani Hospital on Oahu, where she later died.
The defendant's wife – Kahealani Wakinekona – also testified. She described the moment where Ezekiel came to her with the injured Makanani.
Kahealani is a nurse at North Community Hospital, and said that as the sole breadwinner of the family, Ezekiel takes the role of caretaker of the family's six children.
Makanani and her two sisters were left in the care of Wakinekona by her mother, Tasha Nihau-Lindsey… she is a cousin of Wakinakona's.
Now, the State Department of Human Services says Marley's siblings remain in foster care and Child Welfare Services is working with the family to identify other relatives and kin as placement options. While the children are in foster care, visits are being arranged for the children to visit with their family.
Ultimately, Judge Melvin Fujino found that there was enough evidence to send the case to Circuit Court. Fujino set Wakinekona's bail at $500,000.