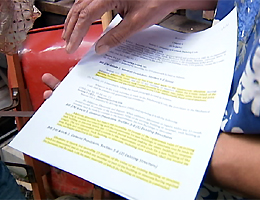 Citizens call legality of procedure to pass building codes into question
Video by David Corrigan, Voice of Stephanie Salazar
SEAVIEW, Hawaii: From their home in Seaview subdivision in lower Puna,  RJ Hampton and Sativa Sultan met with Big Island Video News a few weeks back, to discuss what they say are violations of the Sunshine Law on the part of the Hawaii County Council, that go all the way back to when bill 270 – the new building code law – was first introduced.
It was chaos in Hilo's county building on February 2nd, when protest erupted during a vote on adopting a new building code for Hawaii Island.
This group – the same group that has been actively involved in the crafting of amendments to the new codes – demanded the council "Kill the Bill", forcing the council meeting to shut down, the chamber to close, and police to be called to the scene.
The council passed bill 270 anyway. Council chair Dominic Yagong and Kona councilwoman Brenda Ford were the only votes against.
The very next day, Hampton and Sativa explained the uproar, bringing forward hundreds of documents, detailing their investigation into the improperly agendized communications and allegedly mis-handled documentation on amendments. They were also upset by the missing section on Alternative materials.
They also invited a nieghbor of theirs to speak to Big Island Video News about how she fears the new code will affect her.
Over the weekend, Hampton and Sativa revealed that the state Office of Information Practices was looking into the matter.