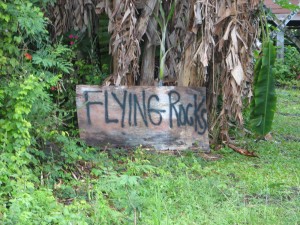 Woman who goes by the name Welo arrested
Video by Daryl Lee
KALAPANA, Hawaii: A woman who is reportedly known for throwing rocks at passing cars on their way to the Kalapana lava viewing area was arrested on Wednesday night, after allegedly brandishing a firearm and threatening a woman.
Cheryl Adler is a resident of the Kalapana Gardens subdivision, which has the distinction of being located at the terminus of the highway that is repeatedly covered by lava flows and now serves as the staging area for the county viewing area. Adler must pass by the home of a woman who goes by the name Welo, where a sign is posted warning travellers of "Flying Rocks"
The falling rocks are said to come from Welo herself. The reason for the alleged roadside rockthrowing is not known, but folks down at the viweing area said it is a well known hazard along the remote route to Kalapana Gardens.
However, Adler says that on Wednesday night, things took a frightening turn. Adler said that Welo threatened her with a firearm.
Police responded and took Welo into custody. As they led her to their police car, officers were also holding what appeared to be a recovered air rifle.
Adler says she has been waiting for the day of Welo's arrest for a long time, but fears she will be free and back to her old ways shortly.
UPDATE: Hawaii County Police have issued the following media release about the incident:
Big Island police have initiated a terroristic threatening case in connection with reports of a woman with a gun Wednesday afternoon (February 22) in Puna.

Around 5:30 p.m. Wednesday, Puna patrol officers responded to a report of a woman pointing a rifle at passersby near the end of  Highway 130 in Kalapana. Officers located and arrested 34-year-old Welo Kuuipo Dela Cruz of Kalapana without incident and recovered the weapon, which was determined to be an air rifle.

Dela Cruz was taken to the Hilo police cellblock while detectives from the Area I Criminal Investigations Section continued the investigation. After conferring with prosecutors, detectives released Dela Cruz later that night pending further investigation.

Police ask that anyone with information about this incident or any similar incidents in the area call Detective Ernest Matsumoto at 961-2379, email him at ematsumoto@co.hawaii.hi.us, or call the Police Department's non-emergency line at 935-3311.

Tipsters who prefer to remain anonymous may call Crime Stoppers at 961-8300 in Hilo or 329-8181 in Kona and may be eligible for a reward of up to $1,000. Crime Stoppers is a volunteer program run by ordinary citizens who want to keep their community safe. Crime Stoppers doesn't record calls or subscribe to caller ID. All Crime Stoppers information is kept confidential.