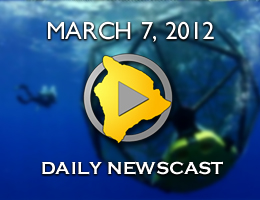 Aired on Wednesday, March 7th, 2012
In this Big Island Video News daily newscast:
Neighbors help fire fighters battle a house fire in Kona… a special look at an historic moment in fish farming off the Kona coast… And, part two of our three part look at the budget battles over the last three years, a process that is sure to get political as election season looms.
HAMAKUA – Akaka Falls fees
After a short hiatus at the beginning of the month, the entrance fees at Akaka Falls State Park have resumed.
The Department of Land and Natural Resources' Division of State Parks has initiated a new five year contract for the collection of entry fees at the park.
The DLNR says Makai Parking Inc. was on site as the new vendor to collect the fees, starting Tuesday.
The current fees will remain the same and are only collected from commercial tour operators and out of state visitors.
DLNR Chairperson William J. Aila, Jr. says the fees provide new income and are critical as a sustainable funding source for continued operation of Hawaii's state parks.
SEE MORE:
HILO – Bees at Panaewa Ag Farm
The local community is invited to meet and talk story with Chef Alan Wong on Saturday, March 10 from 11-1 p.m. when he and UH Hilo present "Bee-Coming Sustainable" at the UH Hilo Ag Farm in Panaewa.
The event will feature van tours to the apiary to see the beehives, a walk through the bee garden, and demonstrations of honey extraction, frame construction, bee products and skep making by UH Hilo students.
Recipe cards and honey food samples will also be available.
The official launch of "Adopt-a-Beehive with Alan Wong" was held on August 3, 2011 to bring awareness and educate people about the plight of the honey bees and their importance to sustainability around the world.
To learn more about the program, visit these web addresses: www.uhfoundation.org/AdoptABeehive or www.alanwongs.com

KAILUA-KONA – Ahikawa house fire
A fire destroyed a home in the Kona Coastview subdivision on Monday afternoon.
Firefighters responded to a 3:57 p.m. alarm to 73-1081 Ahikawa Street. Crews found the home engulfed in flames.
We received this video from neighbor Bob Robertson, and it shows the community trying to lend a hand with garden hoses as the firefighters battled the blaze.
Robertson says two dogs were rescued and there were no injuries. One neighbor entered the house to save one of the dogs and was treated for smoke inhalation.
The fire department says crews had the fire under control by 4:31 p.m. and out at 5:15 p.m.
Ahikawa Street was closed during firefighting operations with traffic detoured to Kaiminani Drive.
No injuries were reported in the fire and the cause of the blaze is undetermined.
Red Cross volunteers were assisting the residents.
KA'U – honu nesting updates
National Park Service officials report that the Hawai'i Island Hawksbill Turtle Recovery Project recorded one of its most historic sea turtle nesting seasons in 22 years,
This includes the first recorded green turtle nesting on the island of Hawai'i, a rare daytime nesting by a hawksbill turtle, and an increase in the number of newly tagged female hawksbills.
In the 2011 report released last week, a female green turtle was first observed attempting to nest on the beach in front of the park's remote Halapē campsite. She then traveled 52 coastal miles southwest and nested at Pōhue Bay. Her historic nest was a success, with 40 baby honu reaching the ocean.
Green turtles are federally listed as threatened, are indigenous to Hawai'i, and are seen throughout the islands. They typically nest in the French Frigate Shoals, but there have been occasional documented nestings by honu on the other main Hawaiian Islands.
Also within Hawai'i Volcanoes National Park, a female honu 'ea, or hawksbill turtle, was observed nesting at 'Āpua Point at noon, the earliest daytime crawl in project history.
Hawksbill turtles are endangered, and nest primarily at beaches along the southern coast of Hawai'i Island at night.
Volunteers helped an estimated 3,000 hatchlings reach the ocean from a total of 30 nests (one green, and 29 hawksbill) along five of the beaches they monitor: 'Āpua Point, Halapē, Kamehame, Kōloa, and Pōhue Bay.
KOHALA COAST – Military convoys bring traffic delays
Be prepared for traffic delays in and around Waikoloa ths next few days.
Oahu-based military units will convoy from Kawaihae Harbor to Pōhakuloa Training Area today, and on March 9th and 11th between 8 a.m. and 4 p.m. via Kawaihae Road, Queen Kaahumanu Highway, Waikoloa Road, Mamalahoa Highway and Saddle Road.
The convoys will not have Hawaii Police Department escorts, according to military Public Affairs.
The first and last vehicle in each convoy will have rotating lights on their roofs as well as convoy warning signs.
Motorists are advised to be alert and drive with care. The PTA Department of Army police are working closely with local authorities and military units to coordinate this activity in support of unit training.
MAUNA KEA – Snow
Looks like the winter weather has returned to Hawaii Island's sacred mountain.
The Mauna Kea Access Road was closed above the Visitor Information Station on Tuesday, due to snow accumulation on summit roads.
A winter weather advisory was in effect, according to the National Weather Service. Webcams from the summit observatories were clouded with ice, but beyond you can catch a glimpse of snow accumulating
The weather service says up to two inches of snow can be expected on the summit.
NORTH KOHALA – Waimea principal survey
The Waimea Middle School community is being invited to participate in a new principal recruitment survey.
As a follow up to recent community meetings with the charter school's families and community, some of them heated – like this one we filmed last month – the not-for-profit Local School Board Ho`okako`o Corp. is seeking input from families and the community to quote "assist in assessing the competencies and qualifications of candidates for leadership of Waimea Middle School." This input will be a critical component of the search process for the school's next principal.
Hookakoo came under fire a few weeks ago, when it was learned that beloved principal of Waimea Middle, John Colson, abruptly resigned with no explanation. Many believe the board forced Colson out, for reasons still unknown. Colson later landed a position at Hawaii Preparatory Academy.
Lydia Trinidad, principal of Kuala pu'u Elementary School on Moloka'i, took over in the interim.
You can find the survey at this web address. All input is anonymous and confidential. The closing date for completed surveys is Tues., March 13, 2012.
For those who do not have internet access and would like to participate in the survey, please contact Patti Cook at 937-2833 or drop by the Waimea Middle School office.
SEE MORE:
PUNA – Pahoa Gym celebration on tap
Today is Pahoa High Shool's "Dagger Day Celebration" and government and public school officials will be participating in the dedication of Pahoa High and Intermediate School's
new gymnasium.
The school will also pay tribute to longtime supporter and former legislator Helene Hale.
Hale was integral to the realization and completion of the new gymnasium. She was on hand for the groundbreaking in 2009, when an eager community gathered to celebrate the new building on its way to Pahoa.
Its taken some time… it was originally slated to be finished in the summer 2010. But better late than never… was completed in January 2012. Durrant Media 5 designed the $8.6 million, 16,077 square-foot facility and Primatech Construction, Inc., served as the general contractor.
There have already been some basketball games played in the new gym.
Also a part of the day's celebration: Recycle Hawaii Executive Director Paul Buklarewicz and Education Director Howard Shapiro will present the prestigious Keep America Beautiful "Recycle-Bowl" national recognition award and a check for $1000 to Pahoa High and Intermediate School's Green Club.
SOUTH KONA – Keauhou Bay cleanup planned
On Saturday, March 10th… Kamehameha Investment Corporation and Kamehameha Schools will team up with Keauhou Bay partners and community members for a special clean-up day.
The effort will mark the one-year anniversary of the devastating Japan earthquake and the resulting tsunami that heavily damaged structures and deposited debris in and around Keauhou Bay.
For the past year, the Keauhou Bay landowners say they have been working to expedite necessary permits and repairs to restore Keauhou Bay. This clean-up will be an annual event to continue the community stewardship efforts of this significant cultural and natural resource.
VOLCANO  – Comments out on General Management Plan
A summary of public comments made in regards to the Hawaiʻi Volcanoes National Park General Management Plan and Environmental Impact Statement are now available.
In the fall of 2011, the National Park Service released preliminary alternatives for the management plan and EIS – and and initiated public scoping for a Wilderness Study in the park – for public review.
During this five-month public comment period, the park received over 300 comments via talk-story sessions, mail, email, and through the plan's website.
A summary of these public comments is now available online at this address: http://parkplanning.nps.gov/havogmp Click on "Document List" to see the summary.
Printed copies are also available by contacting Lora Gale at this email address: havo_gmp@nps.gov.
The National park Service thanks the public for its participation in the process, and invites everyone to continue their involvement as the planning moves forward.
Last week, Marine biologists at Kampachi Farms announced the successful final harvest from the "Velella" Research Project, which raised fish for the first time in U.S. Federal waters. This harvest completes the grow-out cycle of sashimi-grade kampachi fish from an unanchored drifter pen that has been riding eddies in the open ocean, 3 to 75 miles offshore of the Big Island of Hawaii, since last summer.
For more on this project, check out this video – which was produced by The Velella Mariculture Research Project – which is also available on YouTube.
In a three part series, Tim Bryan takes a look back at three years of budget battles. Today, year two of the Kenoi administration… when things start to heat up.
[Video by Baron Sekiya, Hawaii247.com]
And finally, women's roller derby invaded Kona this past Saturday night… and hundreds of people liked what they say.
The Echo City Knockouts split into two squads – the Good Gorls and the Bad Girls – in order to hold a scrimmage at the Old Kona Airport the hockey rink.
The team has been around for a few years but this was their debut, acording to an article by Hawaii 24/7 editor Karin Stanton. This video was shot by Baron Sekiya.
The Bad Girls jumped out in front quickly and didn't look back, eventually winning the good-natured bout 160-143.
The co-founder and president of the team, Maui Bothelho – also known as Duck Hunt – spoke to Stanton after the bout.
Stanton reports that the Echo City Knockouts is an organization dedicated to promoting athleticism, good sportswomanship and female empowerment through the sport of women's flat-track roller derby. Its mission is to provide a positive environment that instills courage, integrity and mutual respect in our athletes while helping them to excel in the sport they love.
The Knockouts adhere to the Women's Flat Track Derby Association (or W.F.T.D.A.) philosophy and is operated "by the skaters, for the skaters."
The organization says they believe women of all walks of life can be strong and independent while managing a career and personal life, and can excel in an otherwise male dominated sports world. The team committed to the growth and development of roller derby on the Big Island of Hawaii and beyond through competition and fellowship with other leagues.
It is also the team's mission to donate volunteer time at community events and participate in the causes of charitable organizations.