KAILUA-KONA, Hawaii: Locals Penn Henderson and Rani Tanimoto will be representing Kona at a prestigious invite-only triathlon in Japan. This media release was issued on June 7th.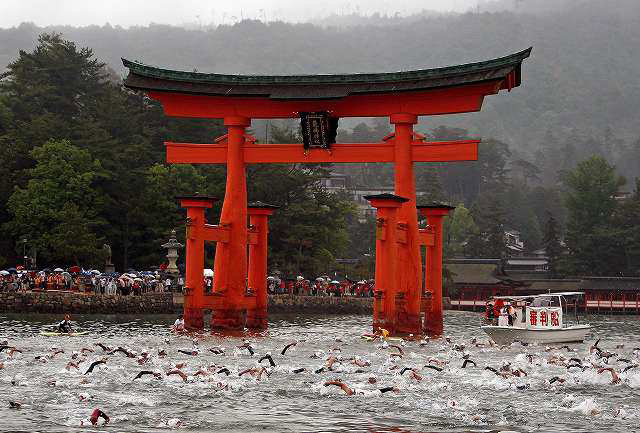 Kailua-Kona's Rani Tanimoto and Penn Henderson set to compete at the Miyajima International Power Triathlon "Woodman" later this month (Sunday, June 17th) in Hiroshima, Japan.
The grueling race consists of a 1.6 mile swim, 35 mile bike, and 12.5 mile run. Athletes start the swim beneath the famous floating tori (shrine) then navigate their way through numerous oyster beds while crossing the channel between Miyajima Island and Haitsukaichi City – a stretch known for its cold water and strong currents. Upon completion of the swim, the bike portion winds its way through Haitsukaichi City before entering the outlying mountains where athletes gain nearly 5,000 feet in elevation while hammering up narrow, windy roads with inclines approaching 20% grades. The bike to run transition sits in the middle of the forest where the run will continue up and down relentless hills for 12.5 miles before finishing at a spectacular Hot Springs / Ski Resort – nearly 40 miles away from where the swim started. The race is considered one of Japan's most prestigious triathlons with a field limited to just 500 competitors by invitation or qualification only.
The triathlon's race director, Tadashi Hosokawa, developed the race out of inspiration gained while watching the Hawaii Ironman World Championships. His love for Kona and his local business ties with the Kona-Kohala Chamber of Commerce spurred the idea of inviting two Kailua-Kona representatives to compete as a way to help build and strengthen ties between Kailua-Kona and Haitsukaichi (Chamber of Commerce Sister Cities).
After impressive podium finishes at the race in 2011, Henderson and Tanimoto have been invited back with support from several local businesses including The Mauna Lani Bay Hotel, Fair Wind Cruises, Cycle Station, Monica Scheel Dermatology, and Kona Brewing Company – whose popular beer has developed a significant following in Japan over recent years.
Both view their invitation as much more than just showing up to race well. "There is a strong sense of responsibility to promote Kailua-Kona and our local businesses", said Tanimoto. Henderson reiterated, "We want to do our best to generate interest and awareness of Kona as a tourist destination and business partner. The race is televised throughout Hiroshima and is on every newspaper's front cover with thousands of spectators lining the course. Everyone sees us as the "Ones From Hawai"i – the exposure is amazing, we'll certainly do our best to represent Kona well."
For Tanimoto, it also means a trip back to where her ancestors originated. Her mother and father's generations can be traced back to the Hiroshima region where they came to Hawaii in search of a new life for themselves. "It's surreal," says Tanimoto, "I'm so proud to be a Hawaii-born Japanese-American, and it's an honor to represent and help showcase Kona to my ancestors in Japan."
Both look to improve upon last year's performances. Henderson finished in 5th place overall with a time of 4hrs 32min, Tanimoto was the 3rd overall female in 5hrs 5min. "It's a tricky race to figure out, there are lots of areas to be faster – but also lots of areas where mistakes can be made." Says Henderson. "I have been racing well so far this season, so hopefully that will continue".
"Having experienced the race already will be a big plus going into it again", said Tanimoto. "However, the competition is fierce and the course is extremely challenging – so obviously anything can happen on race day."
SOURCE: Mauna Lani Bay Hotel & Bungalows