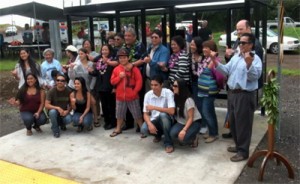 Lakeland will be the home to new shelters
Video by Hawaii County Office of the Mayor
WAIMEA, Hawaii: County officials – including Mayor Billy Kenoi – were on hand in Waimea on Friday, to help dedicate a pair of new bus shelters on either side of Mamalahoa Highway, honoring the life of Lance Cpl. Christopher Camero, the a U.S. Marine from Hawaii Island who died in the global war on terror in 2011.
The new bus shelters will protect and keep dry the residents of Lakeland, many of whom commute to work on the Kohala coast.
Camero was laid to rest at the West Hawaii Veterans Cemetery in August of last year, during a highly emotional ceremony for the fallen, 2010 graduate of Honokaa high school. The dedication of the bus shelters is another honor for the local hero, and once gain an emotional moment for Camero's family. Chris's mother Norma, sister Sarrah, and father Carlos were present for the event.
These two shelters are part of more than 80 Hele-On Bus shelters and stops established by the Kenoi Administration.