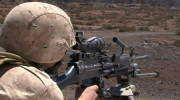 HAWAII – The Nuclear Regulatory Commission has issued a license allowing the U.S. Army to possess depleted uranium (DU) at two sites in Hawaii, one of which is Pohakuloa Training Area on Hawaii Island.
The DU "spotting rounds" were used with Davy Crockett weapons systems in the 1960s to assist with targeting accuracy. Decades later, the public learned about the training with depleted uranium, and concerns grew over the effects on health and the environment. Meanwhile, the NRC started the process to allow the Army to possess the DU, after the fact. A long series of hearings and teleconference calls has culminated in this decision.
According to an email sent out to a list of interested parties from Nick Orlando, a project manager at the NRC, "The license includes the license conditions that were discussed during the meetings that were open for your observation that, among other things, restrict certain Army activities and require that the Army perform air and plant sampling."
From the NRC news release:
The license allows the Army to possess up to 275 pounds of DU at Schofield Barracks on Oahu and the Pohakuloa Training Area on the island of Hawaii. It provides for NRC inspections and requires the Army to implement a radiation safety plan and a physical security plan. The Army must also provide an air and plant sampling plan for NRC review within 90 days. The NRC must review sampling results before deciding whether to lift existing restrictions on activities that would disturb the DU. The license does not authorize the Army to use the DU or decommission the sites without additional review and approval by the NRC.

A license allowing the Army to manufacture and distribute the DU spotting rounds, issued by the NRC's predecessor, the Atomic Energy Commission, expired in 1978. Under the earlier license, the Army distributed the spotting rounds to a number of Army installations for testing, training and deployment. Each round contained about six ounces of DU. The Army told the NRC in November 2006 it had discovered DU fragments at the Schofield Barracks. Following that discovery, the Army reviewed old records and determined the Davy Crockett system was tested at other installations.

The Army has enough DU at these sites that, under the Atomic Energy Act and NRC regulations, it is required to have a possession license. The Army submitted a license application in November 2008. The initial license covers only the DU at the Hawaiian sites. In the future, the Army plans to amend the license to address DU at the other sites. They include Forts Benning and Gordon (Georgia); Forts Campbell and Knox (Kentucky); Fort Carson (Colorado); Fort Hood (Texas); Fort Lewis, currently called Joint Base Lewis-McChord, and the Yakima Training Center (Washington); Fort Bragg (North Carolina); Fort Polk (Louisiana); Fort Sill (Oklahoma); Fort Jackson (South Carolina); Fort Hunter Liggett (California); Fort Greeley (Alaska); Fort Dix (New Jersey); and Fort Riley (Kansas).
"Because you have expressed concerns to NRC at our previous meetings," Orlando wrote to the members of the public who have been most involved in the NRC licensing, "we plan to hold a teleconference to allow interested folks to ask the NRC staff about the license and the NRC's oversight program for the Army license. I'll send out an email and post the meeting information on our public website when we have finalized all the details."