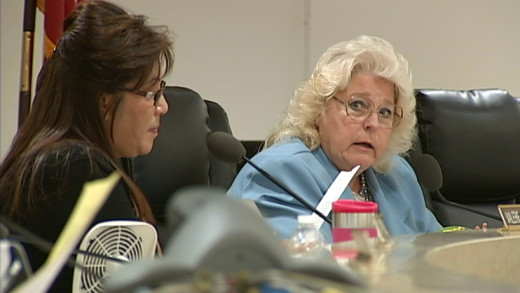 KEALAKEHE, Hawaii – It was a full agenda at the Hawaii County Council Finance Committee on Tuesday.
The committee gave the preliminary go ahead for the administration's request to authorize a $61 million bond to pay for a large list of projects around the island.
Money would go towards getting large park projects off the ground in Kona and Puna. Also, funding would go towards various road projects in Hilo. There would be ADA and other improvements at various county facilities.
The ordnance drew positive testimony from the public. The money bond will help bring a major transformation to Kona's recreational offerings, like $9 million for the first phase of the Kailua District Park qt the Old Kona Airport. Also, a half a million dollars will go towards another Kona recreational project… the Kealakehe Regional Park. Now that the master plan has been completed, funds are needed for research, studies, and the preparation of an environmental assessment for the 193-acre park. Speaking in favor of the bond that would fund these projects: Bo Kahui and Walter Kunitake, both of whom have been heavily involved with the planning process.
The bond would also fund a Second Canoe Hālau Structure at Kailua Park. The county says the halau is identified in the Kailua Park Master Plan to promote canoe paddling as a positive recreational opportunity with a strong cultural heritage.
Brenda Ford, however, tried to amend the bill to include some projects in her district, which had been left off the list.
Dennis Onishi joined five other councilmembers in passing the amendments.
The council ultimately gave the entire bond – with the extra 500,000 – a positive recommendation. It now goes to the full council.
The administration supplied us with a lit of the projects that would be funded by the bond, complete with a short description of each one:
Pāhoa Park Expansion – $20,000,000
This project represents the largest single investment in recreation for Puna in Hawai'i County history. Lower Puna is the fastest growing area of the island, and this community needs facilities for our children and families. The plans for the county-owned property in Pāhoa Village include three covered play courts, lit baseball fields for Pony League and high school play, two multi-purpose fields, two comfort stations, and two playgrounds.
Kailua District Park Phase 1 – $9,000,000
Funding for Phase 1 of the Kailua District Park will remove parts of the asphalt airport runway and provide a park road and new entrance, landscaping and parking areas to serve the beach park. A cultural resource area will be established at the north end of the park. This is a major step in implementing the Kailua Park Master Plan, which was finalized in 2009 and represents the community's vision for this heavily used recreational resource.
Kapi'olani Street Extension – $6,000,000
Additional funding is required to complete this roadway, which will improve traffic flow and support the growth of the University of Hawai'i at Hilo. This connector road will open up nearly 42 acres on land for university development, providing a significant economic stimulus. The Kapi'olani Street Extension will also better connect urban Hilo with a new corridor that will include sidewalks and bikeways.
Repairs/Improvements to Parks & Recreation Facilities – $4,100,000
These funds provide for repairs and improvements such as re-roofing, repainting, structural repairs, plumbing work, and repairing insect and weather damage islandwide. Work will target repairs at the most heavily used recreational sites that need immediate attention.
Parks & Recreation Department ADA Compliance – $3,800,000
This administration is committed to making our Parks & Recreation facilities accessible to all residents of Hawai'i County. These funds will be used for the design and construction of projects identified in the County's plan to comply with the federal Americans with Disabilities Act.
Kamehameha Avenue Resurfacing – $2,600,000
This project will reconstruct Kamehameha Avenue from Ponahawai Street to Waiānuenue Avenue, including drainage improvements, sidewalk and curb ramp reconstruction.
Waimea District Park Phase 1 – $2,500,000
This funding will match $2.5 million in appropriated state funds to complete design and begin construction of the first phase of Waimea District Park. This initial investment includes groundwork for the park, offsite drainage work, construction of a driveway connecting to Ala 'Ōhi'a Road, and utilities to support the project. When completed, Phase 1 will include a softball and youth baseball field, a soccer field, and football field with nighttime lighting and spectator seating. Later phases will include a covered play court, a community center, a comfort station, and an outdoor picnic and recreation area with pavilions.
Honoka'a Rodeo Arena Improvements – $2,500,000
Major improvements to this rodeo arena will include a new concession building and two-story judges' booth with overhangs. An accessible comfort station and covered bleachers will replace existing structures, and the existing concession building will be converted to a pavilion. The arena's parking and walkways will be made ADA accessible, and drainage will be improved to address runoff and safety concerns.
Playground Development – $2,000,000
We continue to invest in playgrounds as safe places to keep our children active and positively engaged. These funds will be used for the construction of new playgrounds, enhancement of existing playgrounds, and replacement of aging playground equipment. Playground sites to be developed include Honoka'a Complex, Kailua Park, Waiākea Uka Park, and Carvalho Park.
Hilo Municipal Golf Course New Clubhouse and Improvements – $1,500,000
The existing plantation-era clubhouse at the Hilo Municipal Golf Course has extensive termite damage, and a thorough renovation is required. This funding will cover the design of a new clubhouse and related facilities to include adequate staff working areas, more concession space and a multi-purpose room. This project will also replace dilapidated cart storage and maintenance facilities, and will relocate the practice putting green and chipping area. Repairs to the water system and accessibility issues will be addressed around the entire course.
Pāhoa Town Center Land – $1,260,000
This land purchase will allow the County to acquire nearly four acres in central Pāhoa Village for development as a possible town square. When fully developed, the area will include a public parking lot, restrooms and other pedestrian-oriented enhancements.
Ponahawai Street Improvements – $1,100,000
This road improvement project will include cold planing and resurfacing the roadway, partial pavement reconstruction, and traffic signal improvements along Ponahawai Street from Kamehameha Avenue at the makai end to Kapi'olani Street on the mauka end.
Ali'i Kai Subdivision New Park Development – $1,000,000
Funding will be used for construction of a park in the heart of an older neighborhood in Kona that is without park amenities. This will supplement Fair Share funding currently available to finance the project, which has strong support from the community.
Lono Kona Sewer Improvement District – $600,000
The County is assisting residents of over 140 properties in the Lono Kona subdivision to establish a sewer system improvement district to satisfy a U.S. Environmental Protection Agency mandate to close large capacity cesspools. These funds will finance improvement district start-up costs including a feasibility study, design and easement acquisition. The County will be reimbursed upon closing of a U.S. Department of Agriculture loan to finance the project.
Hazardous Materials Abatement for Parks & Recreation Facilities – $600,000
Parks & Recreation facilities across the island have been inspected for hazardous materials that are often found in older buildings, including lead, asbestos, arsenic and mercury. These funds will allow the department to mitigate or remove these materials to assure continued safe public use of all facilities.
Kealakehe Regional Park – $500,000
The master plan for the Kealakehe Regional Park has been completed. Funds are now needed for research, studies, and the preparation of an environmental assessment for the 193-acre park. Plans include a soccer complex, football stadium, covered play courts, a tennis complex, baseball complex, archery range, golf driving range, and a central great lawn with an amphitheater. Bike and walking paths are planned throughout.
Kailua Park Second Canoe Hālau Structure – $400,000
This hālau is identified in the Kailua Park Master Plan to promote canoe paddling as a positive recreational opportunity with a strong cultural heritage. This hālau structure will provide more canoe clubs with a place to meet that supports learning and teaching, and provides secure equipment storage.
Pāhoa Sewer Feasibility Study – $300,000
This will fund a feasibility study for the development of a sewage collection and treatment system to serve the Pāhoa Regional Town Center area. The study will include recommendations for financing strategies, phased development, and locations of a treatment plant and lines.
Reed's Bay Beach Park Landscaping Improvements – $250,000
This Hilo beach park has become a popular gathering spot for families since major improvements were completed in April 2013. Funding will be used to develop additional lawn areas to allow more families to picnic and play.
Public Works Land Acquisition – $200,000
Funding is needed to acquire land for Public Works roadway projects, including the Kapi'olani Street Extension (between Mohouli and Lanikāula Streets) and additional right of way along Ali'i Drive near 'Oneo Bay (between Hualālai and Wālua Roads) and along Manono Street.
Pāhoa Regional Town Center Master Plan – $150,000
The master plan for the Pāhoa Regional Town Center will be developed with public participation to prepare for a sustainable, pedestrian-oriented town center. The plan will define appropriate commercial and residential growth to provide goods, services, employment and educational opportunities for the surrounding communities. It will address the need for improvements including wastewater, water and traffic infrastructure required to support growth.
Pāpa'ikou Mill Beach Trail – $100,000
Access to Pāpa'ikou Mill Beach is currently through private property on a trail maintained by the owners. Differing expectations of access have created tension between the landowners and the public. The Hawai'i County Council last year authorized the purchase of this trail, using eminent domain if necessary, to ensure perpetual public access.
Kaipalaoa Landing New Park Development – $40,000
This small park on Hilo Bay at the gateway to Downtown Hilo was recently acquired from the state via executive order. Volunteers will design the project, apply for permits, and complete improvements. This funding will purchase materials and rent equipment to support this volunteer effort.