Video provided by Hawaii County Police Department, Voice of Stephanie Salazar
HILO, Hawaii – Hawaii County's Officer and Firefighter of the Year were honored last week.
The Aloha Exchange Club of East Hawaii recognized Sergeant James Correa as "Officer of the Year" and Captain Darwin Okinaka as "Firefighter of the Year" during a dinner ceremony at the Hilo Yacht Club Thursday evening. The two top public servants were given certificates of commendation from the governor's office, the mayor's office, and county council.
Sergeant Correa, who joined the Police Department in March 1998, heads the Special Enforcement Unit in South Hilo. Captain Okinaka joined the Fire Department in May 2000 and is in charge of the Training Bureau.
Correa was honored for his leadership role in capturing two prisoners who escaped from Hawaii Community Correctional Center in December 2012, resulting in an island-wide manhunt.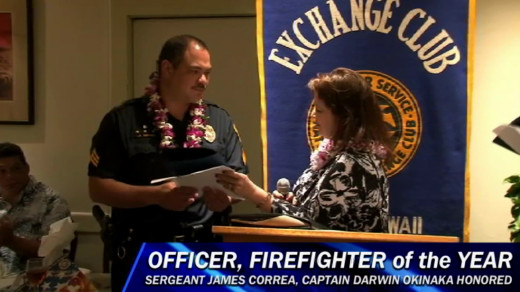 Captain Robert Wagner, seen here in an interview filmed during those tense days, nominated Correa for the honor. The Police Department formed two teams, one from each side of the island, to find the fugitives. Sergeant Correa led the Area I Task Force in East Hawai'i. Wagner detailed the apprehension of fugitive Hamar in Puna.
Captain Wagner was present for Thursday's ceremony. He said citizens were grateful for the dedication of the task force members, who worked long hours to protect the safety of the public. Assistant Police Chief Henry Tavares explained why Sergeant Correa was hand-picked to head the Special Enforcement Unit.
Meanwhile, Firefighter of the Year Captain Okinaka was honored for his leadership, attitude and community service. During the past year, he was the core facilitator for Fire Fighter recruits, leading 29 of them to realize their dreams of protecting the community.
Fire Chief Darren Rosario described Okinaka's demeanor with the future firefighters.
In accepting his award, Okinaka said he remembers seeing a "Firefighter of the Year" award given to his father when he was a boy. He said he never thought he'd earn the same distinction.
The "Officer of the Year" and "Fire Fighter of the Year" awards are projects of the Aloha Exchange Club of East Hawaii.