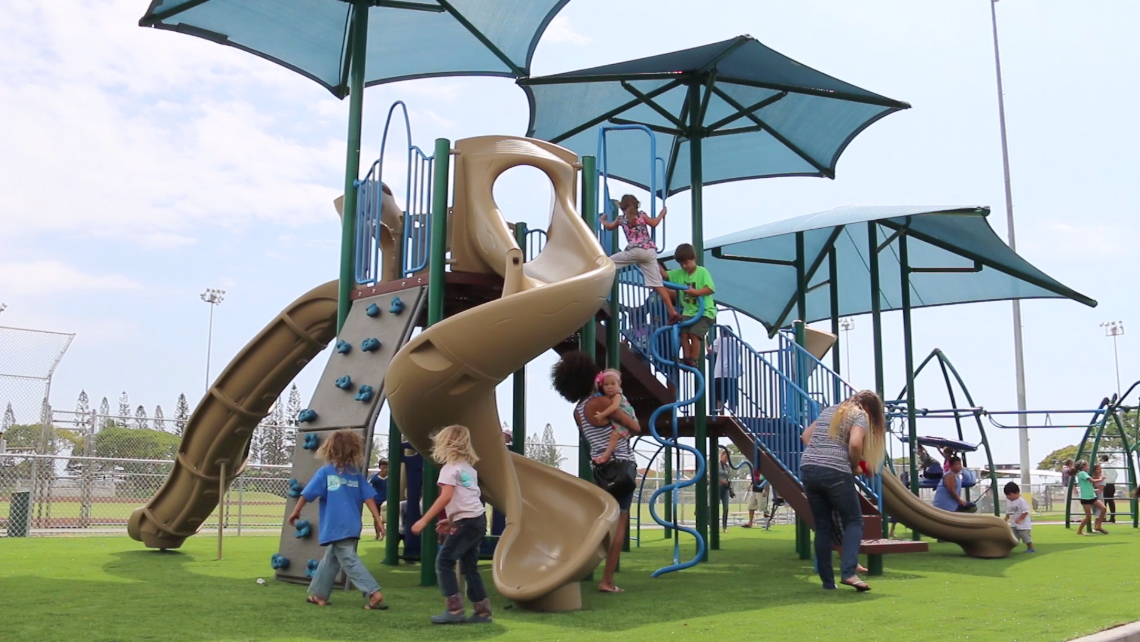 KIALUA-KONA, Hawaii – Another new Playground has opened on the Big Island. The latest is at Kailua Park near the Old Kona Airport.
Mayor Billy Kenoi joined Council Vice Chair Karen Eoff, Councilmember Dru Mamo Kanuha, and members of the Kona community for the dedication.
The playground features swings, multiple slides, climbing rings, covered decks, benches, picnic tables, and a pavilion. The $440,000 playground, built by IPR Hawai'i, also features a grass-like safety surface and canopies for shade from the hot Kona sun.
"This playground was worth every penny. It's not only a place for children to enjoy, but a place for parents and grandparents to spend time together with their families," said Mayor Billy Kenoi, who credited the hard work of the Department of Parks & Recreation team and the contractors for getting the job done.
The park is already a hub of activity for family sporting activities at the surrounding fields and nearby Kekuaokalani Gymnasium.
"Growing up in Kona, we didn't have many of these playgrounds. This project was an important investment in our community, in our keiki, and in our families," said Kona district Councilmember Dru Mamo Kanuha.
"My older daughter plays soccer here, so every time we would drive by she'd be looking out the window, waiting for it to open," said Michelle Eggers, there with her two children. "It's really nice. Beautiful."
The County of Hawaii is on a playground building tear… constructing new or replacement playgrounds in Kailua, Honoka'a, Pana'ewa, Pohoiki, Mountain View, Kea'au, Pāhoa, Waiākea Uka, and at the Pana'ewa Rainforest Zoo. A playground is also currently being installed at Hilo's Gilbert Carvalho Park. The Kenoi administration has invested over $3 million dollars in keiki playgrounds since taking office in December 2008.