Tropical Storm Guillermo Update – 11 a.m.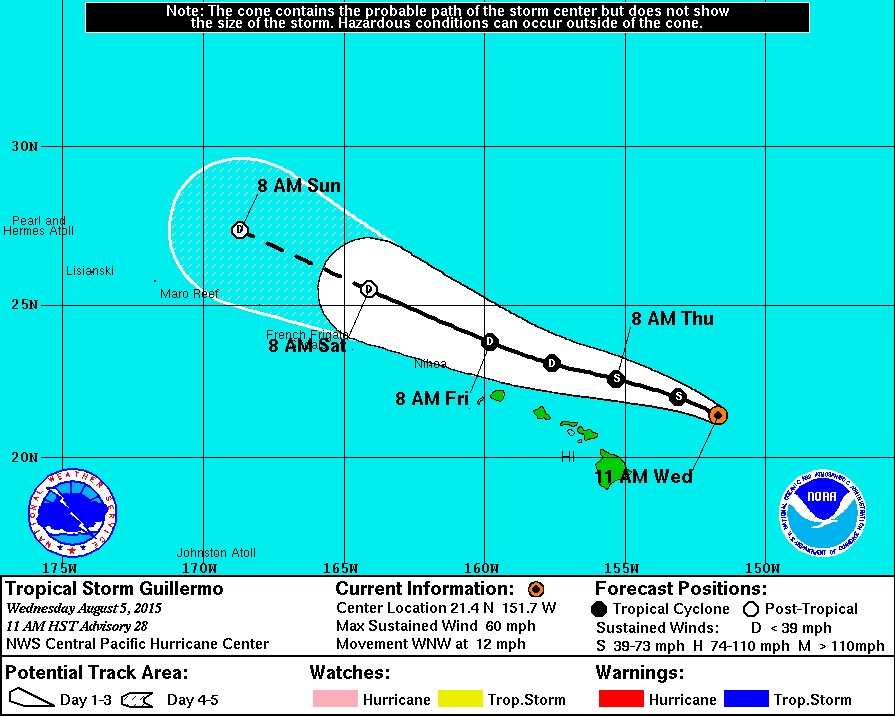 The Tropical Storm Watch has been cancelled for Hawaii Island, according to the National Weather Service. The Flash Flood Watch has also been cancelled.
As of 11 a.m. HST Tropical Storm Guillermo was 250 miles east northeast of Hilo, Hawaii. The storm is moving west northwest at 12 mph. The National Weather Service now says the center of Guillermo is expected to pass 160 miles north northeast of Hilo Wednesday night.
Tropical Storm Guillermo maintaining sustained winds at 60 mph with higher gusts. Continued weakening is anticipated.
A High Surf Warning remains in effect for all east facing shores of all islands. Hilo has closed a number of beach parks in the Keaukaha section of Hilo.
National Weather Service – 11 a.m.
THE CENTER OF GUILLERMO HAS BECOME EXPOSED DUE TO STRONG VERTICAL WIND SHEAR. A U.S. AIR FORCE HURRICANE HUNTER AIRCRAFT FOUND PERSISTENT FLIGHT LEVEL WINDS OF UP TO 62 KT WITHIN THE NORTHEAST QUADRANT… WHERE DEEP CONVECTION IS NOW CONFINED… AND CONVERSION OF THE FLIGHT LEVEL WINDS TO THE SURFACE YIELDS 50 KT. THE SFMR REPORTED WINDS WERE UP TO 55 KT… BUT GIVEN COLLOCATED RAIN RATES… THE FLIGHT LEVEL DATA HAVE BEEN USED FOR THE CURRENT INTENSITY OF 50 KT.

STEADY WEAKENING IS EXPECTED TO RESUME TODAY. VERTICAL WIND SHEAR ACCORDING CIMSS IS NEARLY 45 KT…AND WITH AN UPPER LEVEL TROUGH OVERHEAD… WIND SHEAR IS FORECAST TO INCREASE FURTHER DURING THE NEXT 24 HOURS. THIS WILL LEAD TO STEADY WEAKENING AS THE WARM CORE ALOFT BECOMES FURTHER DISRUPTED AND INCREASINGLY TILTED. THE INTENSITY FORECAST IS SIMILAR TO THE PRIOR ADVISORY…WEAKENING GUILLERMO INTO A TROPICAL DEPRESSION BY THURSDAY NIGHT WITH DEGENERATION INTO A REMNANT LOW BY SATURDAY. THE FORECAST CLOSELY FOLLOWS ICON. SHIPS IS MORE AGGRESSIVELY WEAKENING THE SYSTEM AND FORECASTS DEGENERATION INTO A REMNANT LOW BY FRIDAY.

AIRCRAFT RECONNAISSANCE FOUND THE CENTER OF GUILLERMO TO BE SLIGHTLY NORTH OF ITS EXPECTED POSITION THIS MORNING…AND SUBSEQUENT VISIBLE SATELLITE IMAGERY SUPPORT THIS LOCATION… GIVING AN INITIAL MOTION TOWARD THE WEST-NORTHWEST… 295 DEGREES… AT 10 KT. THE NORTHWARD JOG IN THE INITIAL POSITION SUGGESTS THAT THE CIRCULATION… THOUGH TILTED… IS STILL COUPLED AT THE LOWER LEVELS AND ALOFT. UNDER THE INFLUENCE OF INCREASING VERTICAL WIND SHEAR… THE LOW LEVEL CENTER COULD BECOME DECOUPLED… CAUSING THE STEERING FLOW AFFECTING GUILLERMO TO BECOME INCREASINGLY DOMINATED BY THE LOW LEVEL RIDGE THAT WILL REMAIN FAR TO THE NORTH-NORTHEAST.WITH THIS IN MIND… THE TRACK FORECAST HAS BEEN CHANGED LITTLE FROM THE LAST ADVISORY AND IS ALONG THE SOUTHERN EDGE OF THE GUIDANCE ENVELOPE.

TROPICAL STORM WATCHES FOR MAUI COUNTY AND THE BIG ISLAND OF HAWAII HAVE BEEN DISCONTINUED WITH THIS ADVISORY. THIS DECISION WAS MADE GIVEN THE HIGH CONFIDENCE IN THE FORECAST FOR WEAKENING AND THE DECREASE IN WIND PROBABILITIES OVER THE ISLANDS.