11 a.m. Update – Tropical Storm Hilda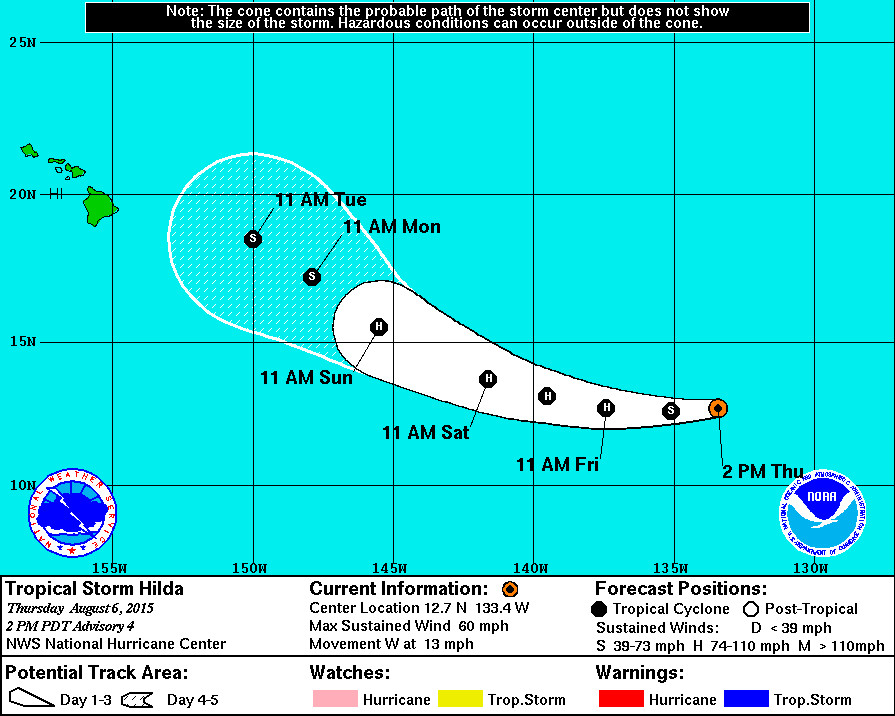 HAWAII – No sooner is Hawaii Island clear of passing Tropical Storm Guillermo, then another storm charts a course in our direction. "Tiny" Tropical Storm Hilda, still outside the Central Pacific area but heading this way, has rapidly increased in organization during the past 12 hours. The current forecast shows it may become a hurricane on Friday. The 5 day track predicts Hilda will then weaken back to a tropical storm as it nears Hawaii from the southeast next week.
National Weather Service Discussion – 11 a.m. HST
Hilda's cloud pattern has rapidly increased in organization during the past 12 hours. Conventional satellite imagery reveals a tiny tropical cyclone with a nearly symmetric dense overcast and a prominent band over the northern half of the circulation. A 1503 UTC Windsat pass showed a closed low-level ring of convection, suggesting that the inner core of the tropical cyclone is already well established. The initial intensity estimate is raised to 50 kt in best agreement with an earlier AMSU pass.

The initial motion has been due west or 270/11. Nothing has changed regarding the forecast philosophy in the previous advisory. Hilda should continue moving westward and then turn west-northwestward in about 36 hours as it nears the western periphery of a subtropical ridge to its north. The cyclone should begin to respond to a weakness in the ridge located to the east of the Hawaiian Islands and turn northwestward at a significantly reduced forward speed by 96 hours. The official track forecast has been shifted significantly to the left during the first 48 hours but still lies on the right side of the guidance envelope. The track forecast after 48 hours is also left of the previous forecast but is closer to the multi-model consensus late in the forecast period.

There are no obvious obstacles to additional intensification in the short term, except for somewhat drier and more stable air mass to the north and west of the cyclone. Given Hilda's small size, it is assumed that the entrainment of this air is not likely to be an inhibitor. The SHIPS model output indicates less conducive thermodynamic variables in 2 to 3 days which should halt any further intensification. Once the cyclone gains enough latitude in the central Pacific after 72 hours, increasing southwesterly shear associated with a mid- to upper-level trough near the longitude of Hawaii should result in weakening. In fact, the shear could be strong enough late in the period to cause a decoupling of the cyclone as depicted in global model fields. The new intensity forecast is boosted much higher in the short term to account for the current strengthening trend and is closest to the LGEM. The intensity forecast is near or below the multi-model consensus after 72 hours to emphasize the weakening expected at that time.