5 am Update – Hurricane Hilda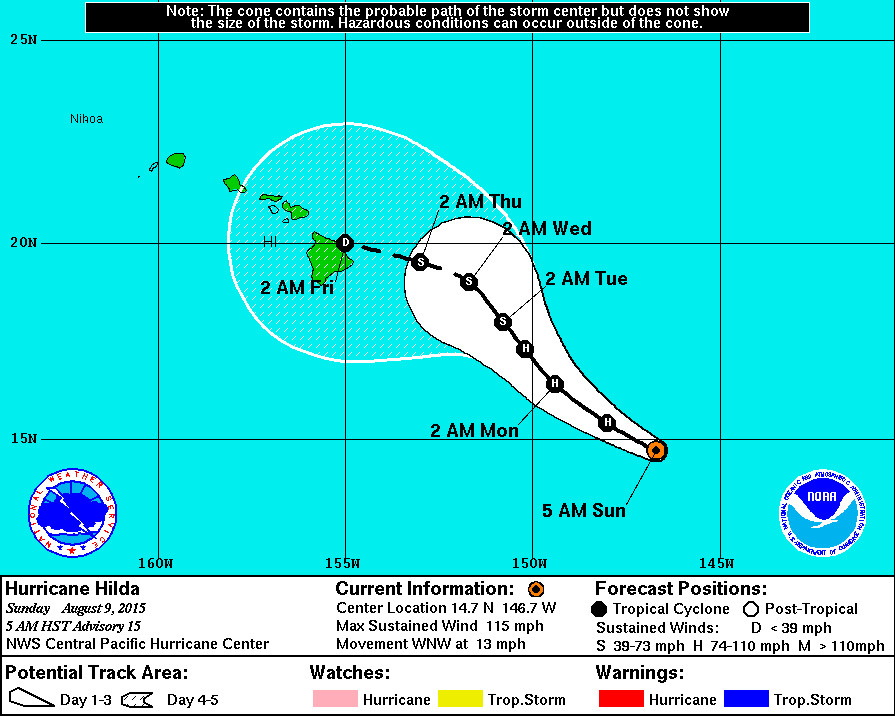 LOCATION: Hurricane Hilda is 655 miles east southeast of Hilo and now moving west northwest at 13 mph. There are currently no coastal watches or warnings in effect, however a High Surf Advisory will be put in place for east facing shores starting at 6 pm this evening. The National Weather Service says Hilda is expected to gradually turn toward the northwest and slow in forward speed over the next few days.
STRENGTH: Hilda has weakened slightly but is still a category three hurricane. Maximum sustained winds are near 115 mph. Gradual weakening is expected today, with more significant weakening forecast Monday and Tuesday. A new five day track puts Hilda over Hawaii Island as a tropical depression on Thursday.
SIZE: Hilda has previously been called a tiny storm. Hurricane force winds extend outward up to 25 miles from the center and tropical storm force winds extend outward up to 90 miles.
National Weather Service at 5 am
AFTER A SEVERAL HOUR PERIOD WHERE THE CONVECTION SURROUNDING THE CENTER OF HILDA WARMED AND SHRANK… COLD CLOUD TOPS HAVE RECENTLY INCREASED IN AREA AND NOW NEARLY ENCIRCLE THE CENTER… WITH A RAGGED CLOUD-FILLED EYE READILY APPARENT IN INFRARED IMAGERY. A BLEND OF SUBJECTIVE DVORAK INTENSITY ESTIMATES FROM PHFO/SAB/PGTW FIELDS DATA-T NUMBERS NEAR 5.0/90 KT AND CURRENT INTENSITY /CI/ VALUES NEAR 5.5/102 KT… WHILE ADT YIELDS VALUES NEAR 5.5. BASED ON THIS DATA… THE INITIAL INTENSITY FOR THIS ADVISORY HAS BEEN SET AT 100 KT. A WELL-PLACED 0717Z ASCAT PASS CONFIRMED WHAT WAS FAIRLY OBVIOUS FROM SATELLITE… THAT HILDA IS A SMALL SYSTEM… AND THIS DATA LED TO A REDUCTION IN THE TROPICAL STORM FORCE WIND RADII. U.S. AIR FORCE HURRICANE HUNTERS ARE SCHEDULED TO BEGIN FLYING MISSIONS INTO HILDA THIS EVENING… AND WILL PROVIDE INCREASED INSIGHT INTO HILDA'S STRUCTURE.

HILDA CONTINUES TO MOVE STEADILY TOWARD THE WEST-NORTHWEST THIS MORNING… WITH AN INITIAL MOTION VECTOR OF 290/11 KT. THE HURRICANE IS BEING STEERED BY A MID- AND UPPER-LEVEL HIGH CENTERED FAR TO THE NORTHEAST… AND AN ASSOCIATED RIDGE THAT EXTENDS WESTWARD FROM THE HIGH. LATER TODAY AND TONIGHT HILDA WILL REACH THE WESTERN TERMINUS OF THE RIDGE… AND A TURN TOWARD THE NORTHWEST WILL ENSUE. A SIGNIFICANT DECREASE IN FORWARD SPEED IS EXPECTED BY MONDAY AS STEERING CURRENTS BECOME QUITE WEAK… WITH FORWARD MOTION REDUCED TO A CRAWL ON DAYS 3 AND 4 AS HILDA APPROACHES HAWAII FROM THE SOUTHEAST. A MUCH WEAKER HILDA IS FORECAST TO MAKE A TURN TOWARD THE WEST-NORTHWEST WITH SOME INCREASE IN FORWARD SPEED AT THE END OF THE FORECAST PERIOD. THE OFFICIAL TRACK FORECAST HAS BEEN NUDGED WESTWARD THROUGH DAY 3… CLOSELY FOLLOWING THE TVCN CONSENSUS… AND SHIFTED MORE SIGNIFICANTLY TOWARD THE SOUTHWEST ON DAYS 4 AND 5… INFLUENCED BY 06Z GFS/00Z ECMWF GUIDANCE.

AS HILDA SLOWLY ROUNDS THE RIDGE AND GAINS LATITUDE… IT WILL ENCOUNTER INCREASING WESTERLY SHEAR ASSOCIATED WITH THE SUBTROPICAL JET STREAM… WHICH IS FORECAST TO BE ENHANCED AS A CLOSED LOW ALOFT TAKES SHAPE NORTH OF HAWAII. THIS INCREASE IN VERTICAL SHEAR WILL PLACE HILDA IN AN ENVIRONMENT WHICH IS CONDUCIVE FOR WEAKENING… GRADUAL AT FIRST… AND MORE PRONOUNCED TOWARD THE END OF THE FORECAST PERIOD AS SHEAR VALUES APPROACH 40 KT. IN THE MEANTIME… LITTLE CHANGE IN INTENSITY IS FORECAST TODAY… WITH STEADY WEAKENING ANTICIPATED THEREAFTER. THE INTENSITY FORECAST FOLLOWS THE IVCN CONSENSUS… BUT REMAINS HIGHER THAN SHIPS GUIDANCE… WHICH IS THOUGHT TO BE TOO AGGRESSIVE IN DISSIPATING THE CYCLONE… WHICH IT DOES BY DAY 4.

FORECAST POSITIONS AND MAX WINDS

INIT 09/1500Z 14.7N 146.7W 100 KT 115 MPH
12H 10/0000Z 15.4N 148.0W 95 KT 110 MPH
24H 10/1200Z 16.4N 149.4W 90 KT 105 MPH
36H 11/0000Z 17.3N 150.2W 75 KT 85 MPH
48H 11/1200Z 18.0N 150.8W 60 KT 70 MPH
72H 12/1200Z 19.0N 151.7W 45 KT 50 MPH
96H 13/1200Z 19.5N 153.0W 35 KT 40 MPH
120H 14/1200Z 20.0N 155.0W 30 KT 35 MPH