Monday 11 am Update – Hurricane Hilda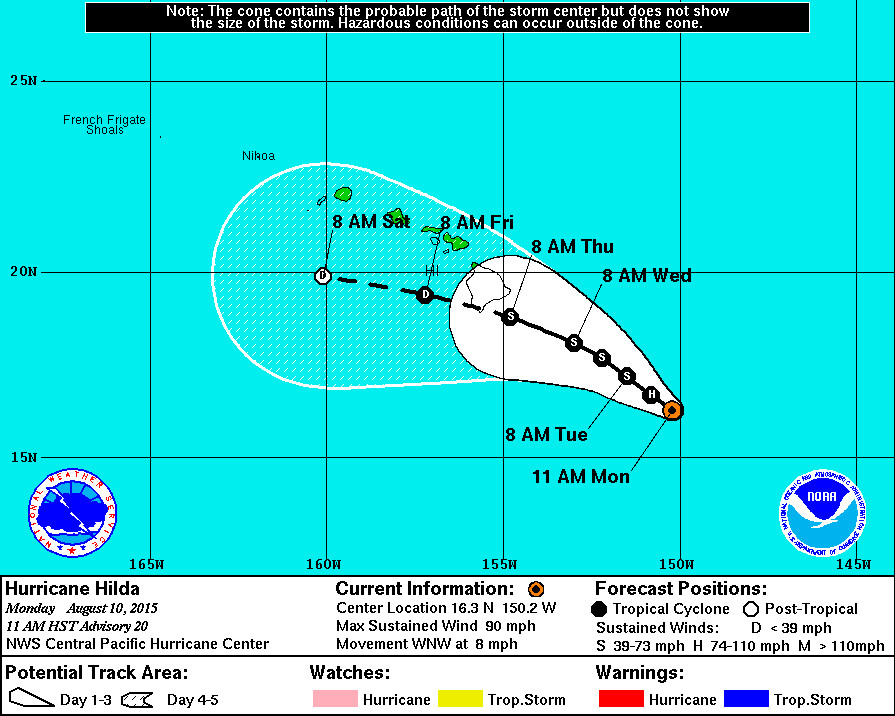 WARNINGS: There are currently no coastal watches or warnings in effect. The National Weather Service says a tropical storm watch may be required for the Big Island tonight. There is also a Hurricane Warning for the Hawaiian offshore waters beyond 40 nautical miles out to 240 nautical miles (this is different than a warning for land).
LOCATION: Hurricane Hilda is 400 miles southeast of Hilo and is moving west northwest at 8 mph. This general motion is expected with a decrease in forward speed over the next couple of days.
STRENGTH: Hilda continues to be a category one hurricane, with maximum sustained winds of 90 mph. Steady weakening is still expected over the next 48 hours with Hilda forecast to become a tropical storm on Tuesday.
SIZE: Hurricane force winds extend outward up to 25 miles from the center and tropical storm force winds extend outward up to 90 miles.
HIGH SURF: A High Surf Advisory is in effect for east facing shores. Waves will build to 6 to 10 feet today and rising to 8 to 12 feet tonight and early Tuesday.
National Weather Service at 11 am
HE U.S. 53RD WEATHER RECONNAISSANCE AIRCRAFT WHICH SAMPLED THE INNER CORE OF HILDA EARLIER THIS MORNING… INDICATED MAX SUSTAINED WINDS FROM SFMR DATA OF 85 KNOTS. MEANWHILE… SURFACE WINDS FROM THE MBL WIND DATA INDICATED 77 KNOTS… FROM THE WL150 DATA 74 KNOTS… AND FROM A REDUCTION OF THE MAX FLIGHT LEVEL WINDS RESULTED IN SURFACE WINDS OF 82 KNOTS. BASED ON THE POTENTIAL OF SOME RAIN CONTAMINATION IN THE SFMR WINDS…WE USED A BLENDED APPROACH FOR THE INITIAL INTENSITY ESTIMATE. AS A RESULT… THE INITIAL INTENSITY WAS KEPT AT 80 KNOTS FOR THIS ADVISORY. THE INITIAL MOTION IS BASED ON THE AIRCRAFT FIXES AND SATELLITE EXTRAPOLATION… AND WILL BE SET AT 300 DEGREES AT 7 KNOTS. THE SATELLITE PRESENTATION OF HILDA CONTINUES TO SLOWLY DEGRADE AS THE SYSTEM ENCOUNTERS INCREASING WESTERLY VERTICAL WIND SHEAR. THIS IS CONFIRMED BY THE LATEST UW-CIMSS VERTICAL WIND SHEAR ANALYSIS WHICH SHOWS 36 KNOTS FROM 260 DEGREES. MEANWHILE… THE LATEST FIXES FROM PHFO… SAB AND JTWC INDICATED T NUMBERS OF 4.5 TO 5.0 OR 77 TO 90 KNOTS.

HILDA REMAINS WITHIN A WEAKNESS IN THE MID TO UPPER LEVEL RIDGE EXTENDING FROM A LOW ALOFT NEAR 27N156W… SOUTHEASTWARD TO THE TROPICAL CYCLONE. WITH THE LOW ALOFT WELL TO THE NORTHWEST OF THE SYSTEM EXPECTED TO RETROGRADE OFF TO THE NORTHWEST OVER THE NEXT COUPLE DAYS… EXPECT THAT HILDA WILL CONTINUE TO TRACK SLOWLY OFF TO THE WEST-NORTHWEST… WHICH IS SUPPORTED BY THE LATEST MODEL CONSENSUS. THE MODEL GUIDANCE HAS INDICATED A SLOWING IN THE FORWARD SPEED OF THE SYSTEM AS IT ENCOUNTERS INCREASING WESTERLY WIND SHEAR OVER THE NEXT SEVERAL DAYS… AND THIS SEEMS REASONABLE AS THE SYSTEM BECOMES INCREASINGLY TILTED AND LOSES DEEP CONVECTION. AS A RESULT… THE FORECAST TRACK WILL REMAIN VERY CLOSE TO THE PREVIOUS ADVISORY… WITH A SLOWING IN THE FORWARD SPEED OF THE SYSTEM THROUGH 72 HOURS. THIS IS CLOSELY IN LINE WITH WITH THE LATEST TVCN. BEYOND 72 HOURS… THE SHEAR IS EXPECTED TO HAVE TAKEN A LARGE TOLL ON HILDA… WHICH SHOULD ALLOW IT TO GET INCREASINGLY CAUGHT UP WITHIN THE TRADE WIND FLOW. AS A RESULT… WILL SHOW A SLIGHT INCREASE IN FORWARD SPEED AND A SLIGHT BEND TOWARD THE LEFT OR SOUTH OF THE PREVIOUS FORECAST TRACK FOR THE 96 AND 120 HOUR POINTS.

THE INTENSITY FORECAST FOR HILDA WILL BE HIGHLY DEPENDENT ON THE INCREASING WESTERLY WIND SHEAR OVER THE SYSTEM. THE COMBINATION OF SHEAR AND VERY DRY MID LEVEL AIR TO THE WEST OF THE SYSTEM WHICH IS EVIDENT IN WATER VAPOR IMAGERY… SHOULD ALLOW FOR SLOW AND STEADY WEAKENING THROUGH THE FORECAST PERIOD. THE OFFICIAL INTENSITY FORECAST IS VERY CLOSE TO ICON… AND WILL SHOW HILDA WEAKENING TO TROPICAL STORM STRENGTH ON TUESDAY AND BECOMING A TROPICAL DEPRESSION THURSDAY NIGHT OR FRIDAY.

FORECAST POSITIONS AND MAX WINDS

INIT 10/2100Z 16.3N 150.2W 80 KT 90 MPH
12H 11/0600Z 16.7N 150.8W 70 KT 80 MPH
24H 11/1800Z 17.2N 151.5W 60 KT 70 MPH
36H 12/0600Z 17.7N 152.2W 50 KT 60 MPH
48H 12/1800Z 18.1N 153.0W 45 KT 50 MPH
72H 13/1800Z 18.8N 154.8W 35 KT 40 MPH
96H 14/1800Z 19.4N 157.2W 30 KT 35 MPH
120H 15/1800Z 19.9N 160.1W 25 KT 30 MPH…POST-TROP/REMNT LOW