Tuesday 5 am Update – Hurricane Hilda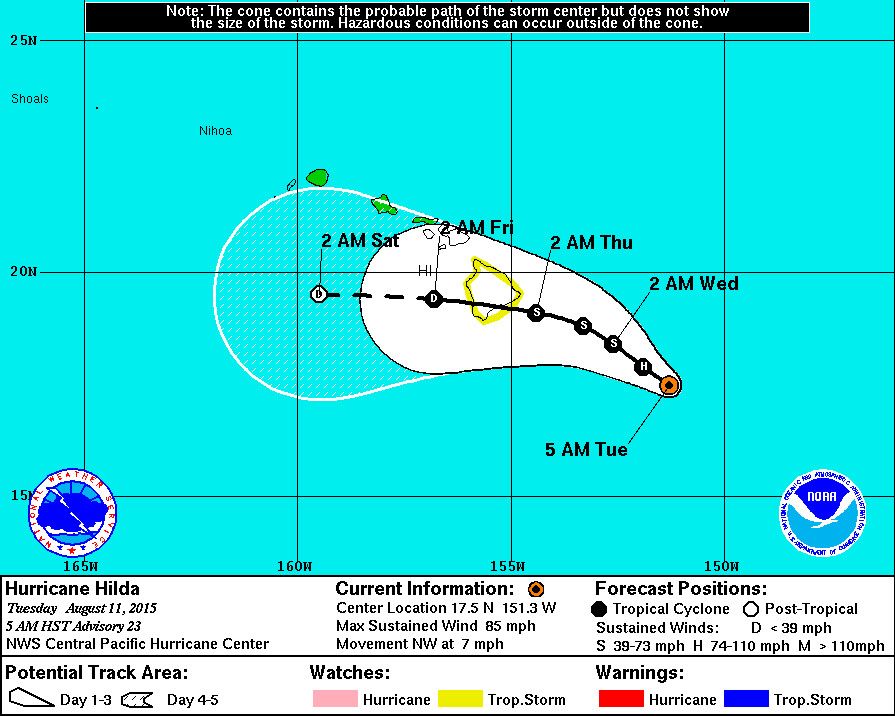 WARNINGS: A Tropical Storm Watch has been issued for the Big Island. A Tropical Storm Watch means that tropical storm conditions are possible within the watch area generally within 48 hours. A High Surf Warning has also been posted.
LOCATION: Hurricane Hilda is 290 miles east southeast of Hilo and is slowly moving northwest at 7 mph. This general motion is expected to continue into Thursday.
STRENGTH: Hilda continues to be a category one hurricane. It has weakened a bit overnight, now with maximum sustained winds of 85 mph. The National Weather Service forecasts Hilda to weaken to a tropical storm tonight.
SIZE: Hurricane force winds extend outward up to 25 miles from the center and tropical storm force winds extend outward up to 70 miles.
HIGH SURF: A High Surf Warning is in now effect for east facing shores. Waves heoights of 10 to 15 feet are expected today.
RAIN: Heavy rain and flash flooding possible Thursday and Friday. Location and amount of rainfall remain uncertain and are highly dependent on the eventual track of Hilda. An updated hydrologic outlook will be posted this afternoon or sooner.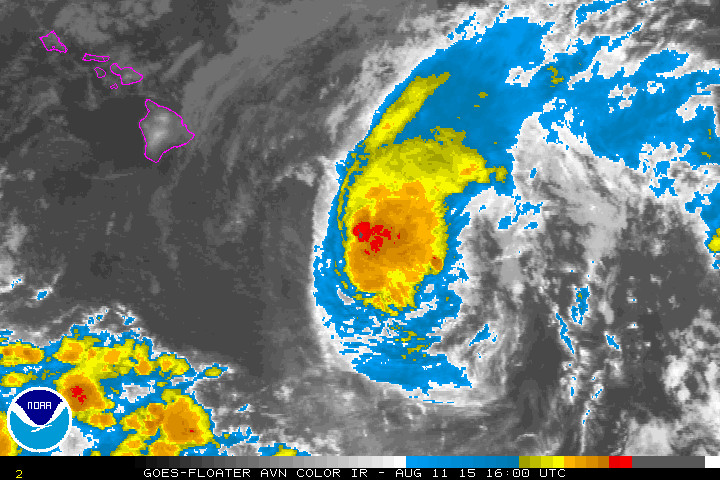 National Weather Service at 5 am
HILDA CONTINUES TO WEAKEN IN THE FACE OF STRONG SOUTHWESTERLY SHEAR… ANALYZED AS BEING NEAR 35 KT BY UW-CIMSS. LATEST SUBJECTIVE DVORAK SATELLITE DATA-T VALUES FROM HFO/SAB/PGTW RANGE FROM 4.0/65 KT TO 4.5/77 KT.. WHILE LATEST ADT VALUES ARE 4.4. BASED ON A BLEND OF THESE ESTIMATES… AND A STEADILY DEGRADING SATELLITE APPEARANCE… THE INITIAL INTENSITY FOR THIS ADVISORY HAS BEEN LOWERED TO 75 KT.

THE INITIAL MOTION VECTOR FOR THIS ADVISORY IS A SOMEWHAT UNCERTAIN 315/06 KT… AS IT IS DIFFICULT TO DETERMINE EXACTLY WHERE THE CENTER IS USING INFRARED IMAGERY… AND THERE HAVE NOT BEEN ANY USABLE MICROWAVE PASSES OVER THE PAST 6 HOURS OR SO. ALTHOUGH THE UPPER LEVEL FLOW OVER HILDA FEATURES RELATIVELY STRONG SOUTHWESTERLY WINDS… THE CYCLONE IS CURRENTLY IN AN AREA OF LIGHT STEERING WINDS BETWEEN A LOW ALOFT NORTH OF HAWAII… AND A HIGH TO THE DISTANT EAST. THIS WILL INDUCE HILDA TO MOVE SLOWLY TOWARD THE NORTHWEST THROUGH WEDNESDAY. THEREAFTER… HILDA IS EXPECTED TO MOVE A LITTLE MORE QUICKLY TOWARD THE WEST… AS THE SHALLOW SYSTEM IS STEERED BY THE LOW-LEVEL TRADE FLOW. THE OFFICIAL TRACK FORECAST IS ESSENTIALLY AN UPDATE OF THE PREVIOUS… AND NOW LIES ON THE RIGHT HAND SIDE OF A GUIDANCE ENVELOPE THAT HAS BEEN ANYTHING BUT CONSISTENT BETWEEN MODEL RUNS.

HILDA IS LIVING ON BORROWED TIME… AND WILL SOON GIVE IN TO THE HOSTILE ENVIRONMENT IN WHICH IT IS EMBEDDED. STRONG WESTERLY WINDS ALOFT… ASSOCIATED WITH THE SUBTROPICAL JET… LIE ALONG THE FORECAST PATH. THUS HILDA IS FORECAST TO STEADILY WEAKEN THROUGH THE FORECAST PERIOD… WITH DISSIPATION FORECAST BY DAY 5. IN THE MEANTIME HOWEVER… HILDA WILL APPROACH THE BIG ISLAND FROM THE SOUTHEAST… AND UNCERTAINTIES ASSOCIATED WITH THE RATE OF WEAKENING HAVE LED TO THE ISSUANCE OF A TROPICAL STORM WATCH FOR THE BIG ISLAND WITH THIS PACKAGE. THE UPDATED INTENSITY FORECAST ALSO CLOSELY FOLLOWS THE PREVIOUS… AND IS CLOSE TO SHIPS GUIDANCE THROUGH 48 HOURS. THE RATE OF FORECAST WEAKENING THEREAFTER IS CLOSE TO THE IVCN CONSENSUS… BUT SLOWER THAN SHIPS GUIDANCE.

WHILE UNCERTAINTY REMAINS AS TO THE EVENTUAL IMPACTS THAT MAY BE FELT IN THE HAWAIIAN ISLANDS FROM HILDA… THE POTENTIAL FOR VERY HEAVY RAINFALL APPEARS TO BE INCREASING. RECONNAISSANCE FLIGHTS INTO HILDA WILL OCCUR AT 6 HOURLY INTERVALS STARTING THIS EVENING… WITH THE NEXT MISSION SLATED FOR THIS MORNING.

FORECAST POSITIONS AND MAX WINDS

INIT 11/1500Z 17.5N 151.3W 75 KT 85 MPH
12H 12/0000Z 17.9N 151.9W 65 KT 75 MPH
24H 12/1200Z 18.4N 152.6W 55 KT 65 MPH
36H 13/0000Z 18.8N 153.3W 45 KT 50 MPH
48H 13/1200Z 19.1N 154.4W 35 KT 40 MPH
72H 14/1200Z 19.4N 156.8W 30 KT 35 MPH
96H 15/1200Z 19.5N 159.5W 25 KT 30 MPH…POST-TROP/REMNT LOW
120H 16/1200Z…DISSIPATED