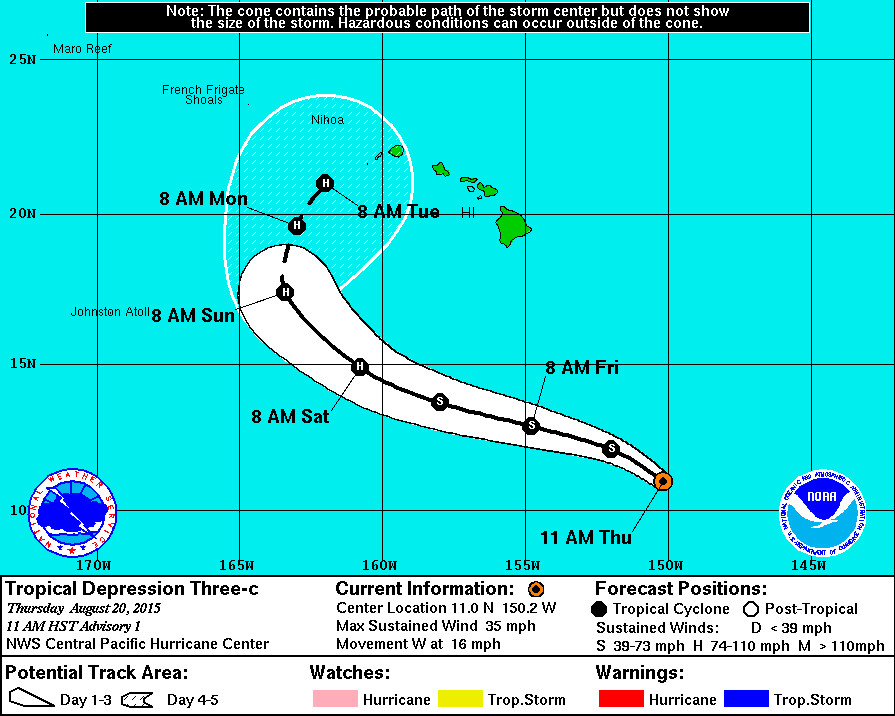 HILO – The Central Pacific Hurricane Center began initiating advisories at 11 a.m. today on a newly formed tropical depression, Three-C, which emerged from a monsoon trough and is located only about 700 miles southeast of Hilo, Hawaii.
The National Weather Service says Three-C is expected to steadily strengthen and may become a hurricane within the next 48 hours.
The initial track has it nearing the main Hawaii Islands from the west, but it is very early yet and there is a lot of uncertainty with the location of the storm. From the NWS discussion posted at 11 a.m.:
THE DEPRESSION IS MOVING AT 280/14 KT. THE LOW CONFIDENCE OF THE CENTER POSITIONS OVER THE PAST 12 TO 24 HOURS MAKES THIS MOVEMENT UNCERTAIN. OBJECTIVE AIDS ARE TIGHTLY LINED UP WITH A GENERAL WEST TO WEST-NORTHWEST MOTION THROUGH TWO DAYS AS THREE-C MOVES SOUTH OF A MID-LEVEL RIDGE BUILDING WESTWARD. IN ABOUT THREE DAYS… A WEAKNESS IS FORECAST TO DEVELOP IN THE RIDGE WHICH WOULD RESULT IN A SLOWING OF FORWARD MOTION AND A GRADUAL TURN TOWARD THE NORTH OR NORTH-NORTHEAST. THE MAIN DYNAMICAL AIDS DIFFER ON THE LOCATION OF THE TURN WITH THE HWRF AND GFS ON THE EAST SIDE OF THE ENVELOPE AND THE ECMWF ON THE WEST SIDE. THE TIMING OF THE TURN WILL DEPEND GREATLY ON WHEN THE WEAKNESS IN THE RIDGE OCCURS. THE LONGER IT TAKES… THE FARTHER WEST THE CYCLONE WILL MOVE BEFORE MAKING THE TURN AND THIS ASPECT OF THE FORECAST CONTAINS A HIGH AMOUNT OF UNCERTAINTY. THE FORECAST CLOSELY FOLLOWS THE DYNAMIC CONSENSUS THROUGH THE PACKAGE WITH THE TROPICAL CYCLONE APPROACHING THE WEST SIDE OF THE MAIN HAWAIIAN ISLANDS IN FIVE DAYS.

TROPICAL DEPRESSION THREE-C IS MOVING OVER VERY WARM WATER… OVER 29C… BASED ON THE LATEST ANALYSIS. THERE APPEARS TO BE SOME EASTERLY SHEAR IMPACTING THE SYSTEM BASED ON THE FLATTENING OF THE HIGH LEVEL CLOUDS ON THE EAST SIDE AND THE CIMSS 1800 UTC SHEAR ANALYSIS SHOWING MORE THAN 20 KT. THIS SHEAR IS FORECAST TO STEADILY DECREASE OVER THE NEXT TWO TO THREE DAYS AS THE DEPRESSION MOVES UNDERNEATH THE UPPER LEVEL RIDGE AXIS. THE WEAKENING SHEAR AND THE VERY WARM WATERS SHOULD ALLOW FOR STEADY DEVELOPMENT. THE SHIPS RAPID INTENSIFICATION PARAMETER ALSO SHOWS A 47 PERCENT PROBABILITY FOR THE 25 KT THRESHOLD. THUS… THE FORECAST CALLS FOR THREE-C TO BECOME A TROPICAL STORM WITHIN THE NEXT 24 HOURS AND A HURRICANE IN ABOUT TWO DAYS SOUTH-SOUTHWEST OF THE MAIN HAWAIIAN ISLANDS. THIS IS IN LINE WITH THE IVCN CONSENSUS.
This is the sixth tropical cyclone in the Central North Pacific Basin for the 2015 season.