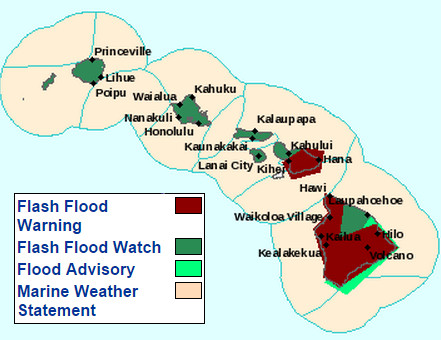 HAWAII ISLAND – The area under a Flash Flood Warning on Hawaii Island has grown.
Highway 11 on Ka'u between Punalu'u and Na'alehu has been closed due to flooding. The National Weather Service says radar also showed two areas of heavy rainfall that will affect the Big Island over the next several hours. One area will affect the west side of the island from Kailua-Kona to Upolu Point. The other will move over the southeast slopes from Kalapana to South Point. Forecasters say these areas of rain are expected to affect the Big Island through most of the afternoon.
The new Flash Flood Warning includes all of the Big Island except for the Hamakua and North Hilo districts. It is currently set to expire at 2 p.m.
A flash flood warning means flash flooding is imminent or occurring in streams, roads and low lying areas. "Move to higher ground now," warns the NWS. "Do not cross fast flowing or rising water in your vehicle or on foot. Turn around… Don't drown."
---
PREVIOUS VIDEO
This video was put together when this first Flash Flood Warning was issued for West Hawaii. It includes National Weather Service satellite and radar loops and a Hawaii County Civil Defense message issued at 10 a.m. HST