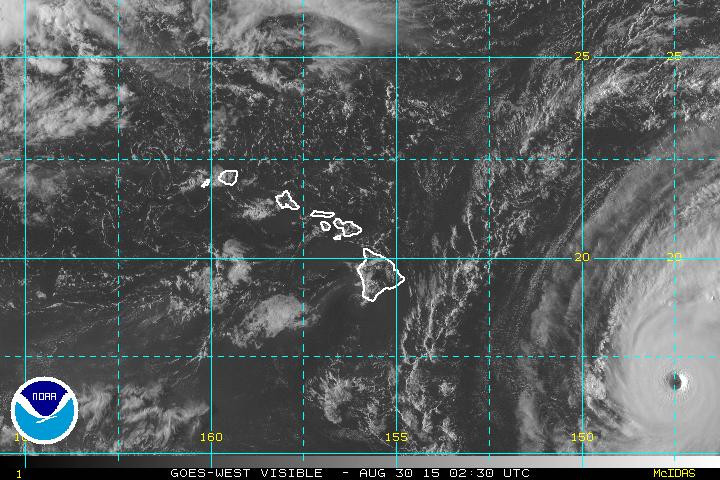 ---
5 p.m. UPDATE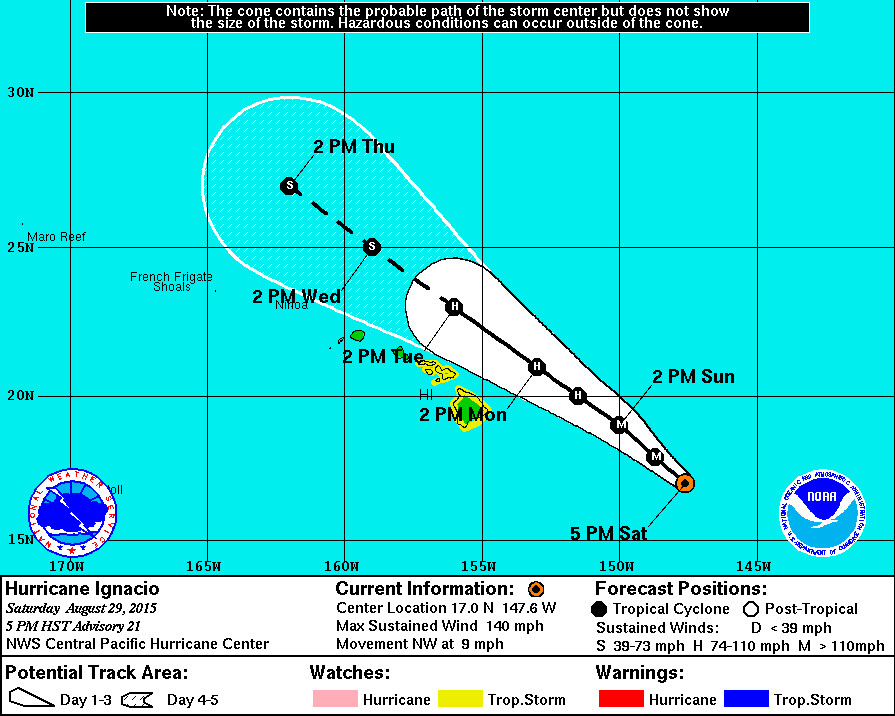 WARNINGS: A Tropical Storm Watch is in effect for Hawaii County. A High Surf Warning is also in effect for east facing shores of the Big Island.
LOCATION: Ignacio is 525 miles east southeast of Hilo and is moving northwest at 9 mph. The center of Ignacio is expected to pass to the northeast of the Big Island on Monday.
STRENGTH: Ignacio is a Category Four hurricane, with maximum sustained winds at 140 mph. Little change in intensity is expected tonight and a weakening trend is expected to begin on Sunday.
SIZE: Hurricane force winds (over 74 mph) extend outward up to 30 miles from the center. Tropical storm force winds extend outward up to 140 miles.
---
POTENTIAL IMPACTS
HIGH SURF: A High Surf Warning in effect until 6 p.m. HST Tuesday… Wave Heights will be 6 to 12 feet overnight rising to 15 to 20 feet late Sunday. "Expect ocean water surging and sweeping across beaches, coastal benches, and lava flows," reports the National Weather Service, "creating the potential for impacts to coastal properties an infrastructure, including roadways. Powerful longshore and rip currents will be present at most beaches. Large breaking waves and strong currents may impact harbor entrances and channels causing challenging boat handling."
WIND: Tropical storm conditions are possible on the Big Island of Hawaii starting Sunday night.
RAIN: Storm total rainfall amounts of 2 to 4 inches with isolated maximum amounts near 6 inches – mainly in areas of higher terrain – are possible in the watch area.

---

5 p.m. DISCUSSION

by National Weather Service

Ignacio continues to have a well defined 20 nm wide eye surrounded by a ring of cold convective clouds. Dvorak intensity estimates were a unanimous 6.0 from the satellite agencies and the uw-cimss adt intensity estimate was 6.4. Based on a blend of these data will maintain the 120 kt /category 4 on the Saffir-Simpson scale/ intensity. The next reconnaissance mission is scheduled to investigate Ignacio at 0600 utc. Note that Hurricanes Ignacio and Kilo are both category 4 as of this advisory cycle, a very rare occurrence indeed for the Central Pacific Basin.

The hurricane is moving steadily toward the northwest – 315 degrees at 8 kt – through a weakness in the mid-level ridge east of Hawaii and toward a weak trough located to the north of the northwestern Hawaiian Islands. The track guidance is in good agreement that this general motion will continue for the next few days. Our forecast track is very close to the previous forecast as well as the consensus guidance for the next 24 hours. Beyond 24 hours our track bends more to the left with time in anticipation that Ignacio will weaken a bit faster than the dynamical models indicate.

The uw-cimss wind shear analysis and conventional satellite imagery shows that southwesterly wind shear is beginning to affect Ignacio. High clouds from the hurricane are starting to get pulled to the northeast. According to the analysis the shear is near 10 kt but increases to 15-20 kt to the northwest of the cyclone and will increase further and become quite strong as Ignacio approaches Hawaii. This will lead to a steady weakening trend despite sea surface temperatures of 27-28c along most of the forecast track. The weakening will be gradual over the next 24 hours, then more rapid once the shear begins to impact the core of the hurricane. Our weakening trend is not as fast as the ships but faster than the dynamic models and in good agreement with the intensity consensus.

The relatively close proximity to the expected outer extent of the 34 knot wind radii in the southwest quadrant requires maintaining the tropical storm watch for the Big Island and the issuance of a tropical storm watch for Maui County at this time.

Forecast positions and max winds

Init 30/0300z 17.0n 147.6w 120 kt 140 mph
12h 30/1200z 17.9n 148.7w 115 kt 135 mph
24h 31/0000z 19.0n 150.0w 110 kt 125 mph
36h 31/1200z 20.0n 151.5w 95 kt 110 mph
48h 01/0000z 21.0n 153.0w 80 kt 90 mph
72h 02/0000z 23.0n 156.0w 70 kt 80 mph
96h 03/0000z 25.0n 159.0w 60 kt 70 mph
120h 04/0000z 27.0n 162.0w 55 kt 65 mph