11 p.m. UPDATE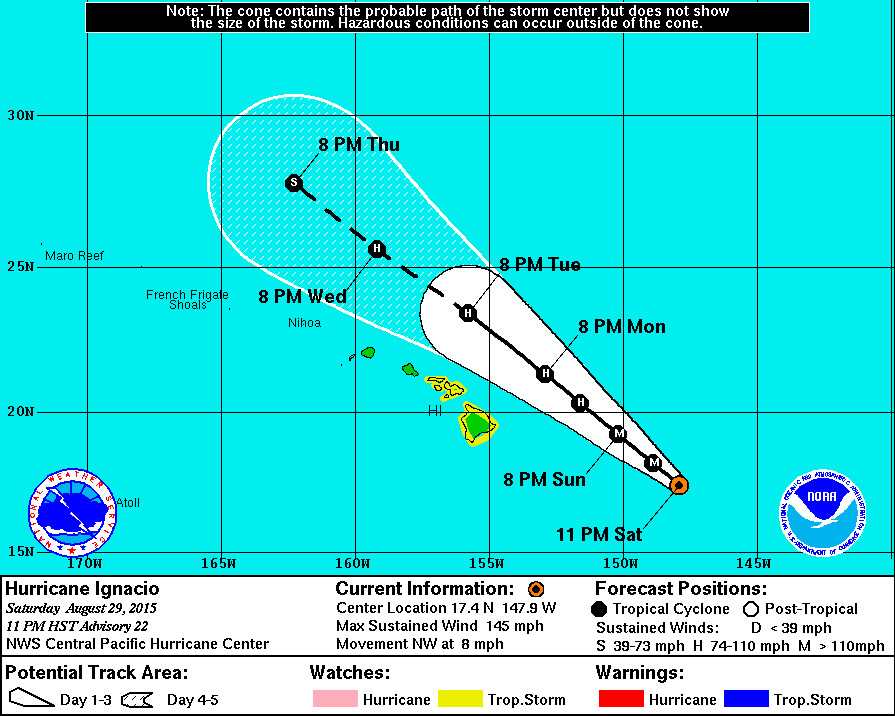 WARNINGS: A Tropical Storm Watch is in effect for Hawaii County. A High Surf Warning is also in effect for east facing shores of the Big Island.
LOCATION: Ignacio is 495 miles east southeast of Hilo and is moving northwest at 8 mph. The center of Ignacio is expected to pass to the northeast of the Big Island on Monday.
STRENGTH: Ignacio is a Category Four hurricane, with maximum sustained winds at 145 mph. Ignacio has likely reached peak intensity and will weaken through Monday.
SIZE: Hurricane force winds (over 74 mph) extend outward up to 30 miles from the center. Tropical storm force winds extend outward up to 140 miles.
---
POTENTIAL IMPACTS
HIGH SURF: A High Surf Warning in effect until 6 p.m. HST Tuesday… Wave Heights will be 6 to 12 feet overnight rising to 15 to 20 feet late Sunday. "Expect ocean water surging and sweeping across beaches, coastal benches, and lava flows," reports the National Weather Service, "creating the potential for impacts to coastal properties an infrastructure, including roadways. Powerful longshore and rip currents will be present at most beaches. Large breaking waves and strong currents may impact harbor entrances and channels causing challenging boat handling."
WIND: Tropical storm conditions are possible on the Big Island of Hawaii starting Sunday night.
RAIN: Storm total rainfall amounts of 2 to 4 inches with isolated maximum amounts near 6 inches – mainly in areas of higher terrain – are possible in the watch area.

---

11 p.m. DISCUSSION

by National Weather Service

Ignacio presents a well-defined 20 nm wide eye with a deep convective canopy which has been steadily shrinking since 0600 utc. All three satellite centers derived subjective dvorak satellite intensity estimates of 6.0…115 kt…At 0600 utc. Uw-cimss adt was higher at 6.3 or 122 kt. However… Weather reconnaissance aircraft sfmr found 126 kt within the northeast eyewall during the second of three… Yes three… Center flythroughs. Splash wind corrected central pressure was found to be 942 mb…Lower than expected… On the first pass but 945 mb on the third pass. Both pressure estimates were lower than in the previous advisory. Ignacio likely reached a peak intensity of 125 kt as the aircraft was sampling its structure… And this will be the initial intensity for this advisory.

Forecast philosophy has changed little since the last advisory. Ignacio continues to track northwest… 315 degrees at 7 kt over the past 12 hours… Through a weakness in the mid-level ridge east of Hawaii and toward a weak trough located to the north of the northwestern Hawaiian Islands. The only challenge is that… In the shorter range… Three to six hours… There are hints of a more northerly motion. Like the last few runs… Track guidance this time remains tightly packed… Taking this hurricane almost in a straight line northwestward through the five-day forecast period. Hwrf and gfdl shifted a bit to the right… As did most consensus blends. However… The gfs shifted slightly left. We have consistently kept the forecast track along the left edge of the guidance envelope and we will do so this time as well. That said… The forecast track was shifted slightly to the right to account for the short term motion being a bit more northerly than 12 hour motion. This change is actually quite conservative… Keeping the track left of consensus and closely aligned with gfs. A 1 or 2 kt decrease in forward motion was also introduced through 36 hours… Not enough to change the status of tropical storm watches across the Hawaiian Islands.

Satellite loop shows shear is beginning to take its toll on this system… In spite of the intensity max likely reached a few hours ago. Outflow appears to be hindered to the northwest and the erosion along the western flank of the deep convective canopy seems to confirm the presence of increasing westerly shear. Ships intensity guidance depicts steadily increasing shear through 96 hours and the forecast calls for Ignacio to follow a weakening trend similar to that of the last advisory. We keep this system stronger than ships depicts through day five but weaker than depicted in dynamic models.

Ignacio will pass close enough to the main Hawaiian Islands to justify keeping a tropical storm watch in effect for the Big Island and the islands of Maui County.

Forecast positions and max winds

Init 30/0900z 17.4n 147.9w 125 kt 145 mph
12h 30/1800z 18.2n 148.9w 115 kt 135 mph
24h 31/0600z 19.2n 150.2w 110 kt 125 mph
36h 31/1800z 20.3n 151.6w 95 kt 110 mph
48h 01/0600z 21.3n 152.9w 80 kt 90 mph
72h 02/0600z 23.4n 155.8w 75 kt 85 mph
96h 03/0600z 25.6n 159.2w 65 kt 75 mph
120h 04/0600z 27.8n 162.3w 60 kt 70 mph