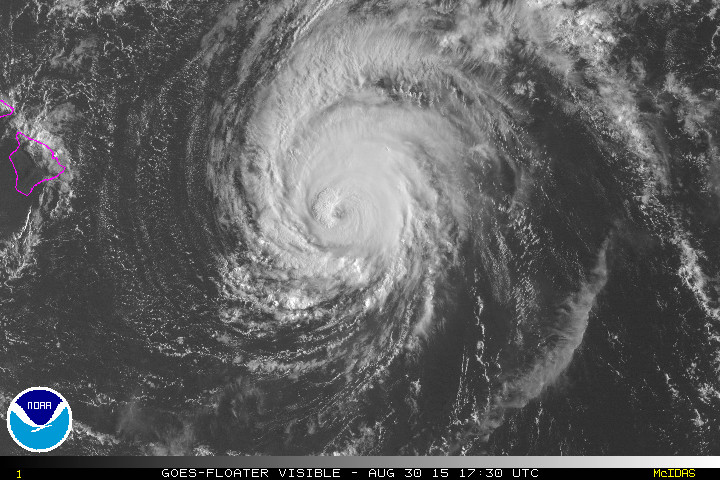 HAWAII: Hurricane Igancio may be tracking further to the northeast of the islands, but Hawaii and Maui County are still under a Tropical Storm Watch and Hawaii County Civil Defense says it plans to open emergency shelters later today.
Ignacio weakened slightly overnight, and is now a Category Three hurricane. It is expected to weaken more today, and forecasters say the satellite presentation of Ignacio has definitely degraded since the last advisory. The more northerly short-term motion of Ignacio should put a little more distance between the storm and the Big Island as it passes to the northeast on Monday. But at the same time, "It is vital that you do not focus on the exact forecast track," the National Weather Service warns. "Forecast movement, direction and speed are only estimates. Even small errors in the forecast track can mean major differences in where the worst conditions will occur. Damaging effects can extend far from the center. For those under a watch: now is the time to prepare. Secure or bring indoors any loose outdoor objects like lawn furniture , children's toys, hanging plants, barbecue grills, or any item that could become a destructive projectile in strong winds. Do not wait until it is too late."
---
8 a.m. UPDATE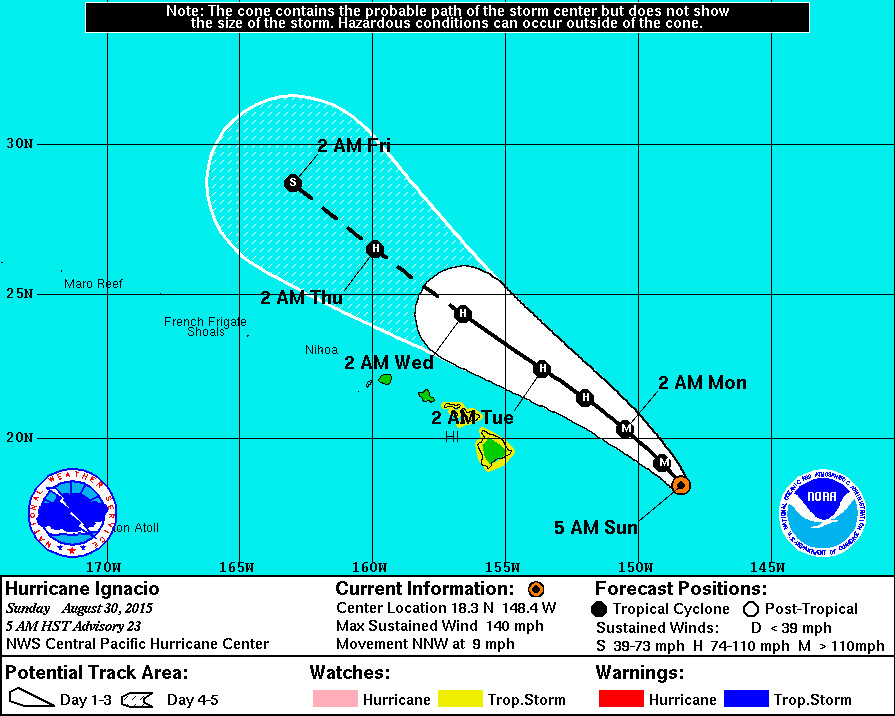 WARNINGS: A Tropical Storm Watch is in effect for Hawaii County. A High Surf Warning is also in effect for east facing shores of the Big Island.
LOCATION: Ignacio is 420 miles east of Hilo and is moving north northwest at 9 mph. The center of Ignacio is expected to pass to the northeast of the Big Island on Monday.
STRENGTH: Ignacio is a Category Three hurricane, with maximum sustained winds at 130 mph. Ignacio will weaken through Monday.
SIZE: Hurricane force winds (over 74 mph) extend outward up to 30 miles from the center. Tropical storm force winds extend outward up to 125 miles.
---
POTENTIAL IMPACTS
HIGH SURF: A High Surf Warning in effect until 6 p.m. HST Tuesday… Wave Heights will be 6 to 12 feet overnight rising to 15 to 20 feet late Sunday. "Expect ocean water surging and sweeping across beaches, coastal benches, and lava flows," reports the National Weather Service, "creating the potential for impacts to coastal properties an infrastructure, including roadways. Powerful longshore and rip currents will be present at most beaches. Large breaking waves and strong currents may impact harbor entrances and channels causing challenging boat handling."
WIND: Tropical storm conditions are possible on the Big Island of Hawaii Monday night.
RAIN: Storm total rainfall amounts of 1 to 3 inches with isolated maximum amounts near 5 inches – mainly in areas of higher terrain – are possible in the watch area.

---

8 a.m. DISCUSSION

by National Weather Service

The satellite presentation of Ignacio has definitely degraded since the last advisory…With a ragged 20 nm wide eye becoming intermittently cloud-filled and the deep convective canopy becoming noticeably slimmer especially across the west and southwest quadrants. However…System symmetry appears to have recovered a bit since 1200 utc. All three satellite centers derived subjective dvorak satellite intensity estimates of 6.0…115 kt…Like last time. The difference is that all these estimates have lower final t numbers… Denoting a weakening trend. Uw-cimss adt was 5.8 at 1200 utc… 110 kt. Ignacio intensity likely peaked 6 to 10 hours ago and everything shows a weakening system now. However… Since weather reconnaissance aircraft sfmr showed intensity of about 125 kt last evening… We will assign an initial intensity of 120 kt for this advisory… Lower than last time but continued higher than satellite estimates alone. Weather reconnaissance aircraft will fly once again in time for the 1800 utc analysis cycle.

The suspected more northerly short-term motion noted last time has persisted long enough to become official 12 hour motion… Which is now 330 degrees at 8 kt. The steering mechanism is the same… With a weakness in the mid-level ridge east of Hawaii allowing ignacio to slide north northwestward. Track guidance continues to be tightly packed depicting little change from last time. However…The guidance envelope widened slightly as hwrf shifted right while gfdl shifted left. The forecast track was shifted to the right through 48 hours to account for the recent swing to north northwest motion. The remaining forecast track closely fits the last one… Remaining near the left edge of the guidance envelope and closely following gfs. This forecast track change decreases 34 kt wind onset probabilities for locations within tropical storm watches… But enough forecast uncertainty persists to keep these watches up for now. A small system motion change back to the northwest or west northwest could greatly increase these probabilities.

Satellite loop shows Ignacio is undergoing increasing stress due to vertical shear. Outflow remains hindered to the northwest and the deep convective canopy erosion noted since last evening is consistent with west to west southwest shear. Ships intensity guidance shows 10 to 15 kt of shear now… With shear in excess of 20 kt forecast from 24 hours onward. This likely explains ships diminishing Ignacio to tropical storm status by 48 hours. In contrast…Global models and gfdl keep this system quite strong through the next five days…With little weakening. Hwrf weakens Ignacio… But not as fast as ships. Our forecast calls for gradual weakening… Making ignacio a tropical storm on day five… As a blend with ships and hwrf.

The need for tropical storm watches for the big island and the islands of maui county will be re-examined once aircraft data becomes available later this morning.

Forecast positions and max winds

Init 30/1500z 18.3n 148.4w 120 kt 140 mph
12h 31/0000z 19.1n 149.1w 110 kt 125 mph
24h 31/1200z 20.3n 150.5w 100 kt 115 mph
36h 01/0000z 21.4n 152.0w 90 kt 105 mph
48h 01/1200z 22.4n 153.6w 80 kt 90 mph
72h 02/1200z 24.3n 156.6w 70 kt 80 mph
96h 03/1200z 26.5n 159.9w 65 kt 75 mph
120h 04/1200z 28.7n 163.0w 60 kt 70 mph