MAUNA LOA – The USGS Hawaiian Volcano Observatory posted a Mauna Loa Status Report on Friday, September 11. The update interprets monitoring data gathered through the month of August 2015.
---
USGS: MAUNA LOA SEISMICITY
Seismicity at Mauna Loa remains elevated in several parts of the volcano. Earthquake rates on the Upper Southwest Rift Zone (Sulfur Cone) and Mokuʻāweoweo Crater remain elevated, with nearly 100 located earthquakes occurring in August. Activity on the west flank of Mauna Loa continues to be above background, with approximately 12 located earthquakes in the past month. All earthquakes in the past month have been small relative to earthquake sequences observed before eruptions in 1975 and 1984.
Weekly Earthquake Rate: Past Year

Earthquake Time Depth Plot: Past Year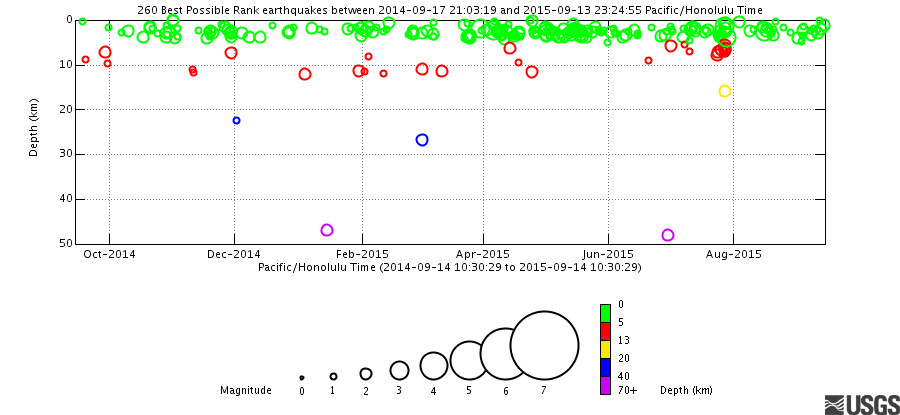 ---
USGS: MAUNA LOA DEFORMATION
The Mauna Loa GPS network recorded modest net inflation during August. Modeling of the pattern of motions since this current episode of inflation started in the summer of 2014 suggests at least two inflating reservoirs–a spherical reservoir near the southeast wall of the summit caldera, and a tabular body that lies beneath the caldera and upper Southwest Rift Zone. GPS data suggest that there may have been more inflation in the tabular rather than the spherical reservoir during August.
Cross-caldera Distance Change: Past Year

Summit Vertical Motion: Past Year

Summit Tilt: Past Week

---
USGS: MAUNA LOA GAS
No significant changes in SO2 and CO2 were recorded by the continuous fumarole monitor during August, 2015. The fumarole temperature sensor leveled off a decline that began on 08 May. During the last month, the temperature has decreased slightly but steadily, from 78.5 to about 77.5 degrees.
Mokuʻāweoweo Caldera from the Northwest Rim

---
BACKGROUND on MAUNA LOA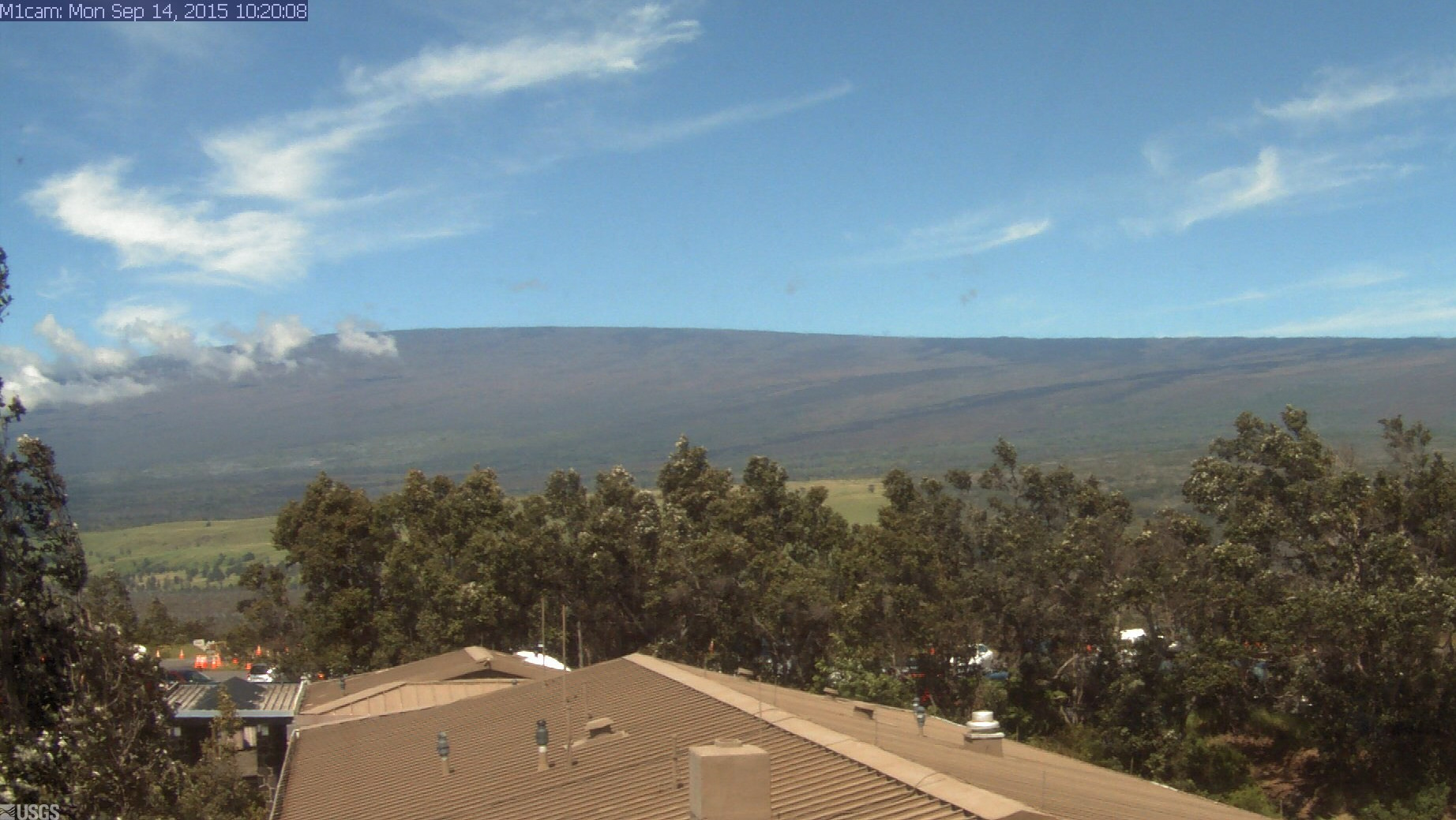 Re-inflation of Mauna Loa's shallow magma storage reservoirs started immediately following the most recent eruption in 1984, then turned to deflation for almost a decade. In mid-2002, inflation started again, just after a brief swarm of deep long-period (LP) earthquakes. A more intense swarm of several thousand deep Long Period (LP) earthquakes occurred in late 2004, immediately preceding a dramatic increase in inflation rate. Inflation slowed again in 2006, ceased altogether in late 2009, and resumed slowly in late 2010.
Rising gradually to more than 4 km above sea level, Mauna Loa is the largest active volcano on our planet. Its long submarine flanks descend to the sea floor an additional 5 km, and the sea floor in turn is depressed by Mauna Loa's great mass another 8 km. This makes the volcano's summit about 17 km (56,000 ft) above its base! The enormous volcano covers half of the Island of Hawai`i and by itself amounts to about 85 percent of all the other Hawaiian Islands combined.
Mauna Loa is the largest active volcano on Earth and is among Earth's most active volcanoes, having erupted 33 times since its first well-documented historical eruption in 1843. Its most recent eruption was in 1984. For more information on Mauna Loa, see the USGS Fact sheet.