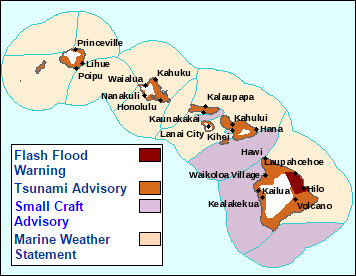 UPDATE (8 p.m. HST) – The Flash Flood Warning for East Hawaii is over, but now there is a Flash Flood Advisory in effect for North Kona, South Kohala until 9:30 p.m.
Also, the Hawaii County Police Department closed Highway 11 to all traffic near Kawa Flats due to flooding. Police say there is no alternate route.
HAWAII ISLAND – Highway 19 is closed at Papa'aloa due to flooding on a bridge near mile marker 23, as a Flash Flood Warning has been issued for North and South Hilo effective until 7:45 p.m. HST.
Locations in the warning include but are not limited to Hilo, Honomu, Laupahoehoe, Pepeekeo and Papaikou.
At 4:51 pm HST, the National Weather Service said that Hawaii County Civil Defense reported heavy rainfall near Laupahoehoe.
Meanwhile, the Flash Flood Warning for Kona and Ka'u has been lifted. Kuikini Highway is now open.
There is also a Tsunami Advisory in effect for the entire state of Hawaii following a magnitude 8.3 earthquake off Chile. Presently, the initial arrival of any wave action or sea level changes and currents for Hawaii Island is expected around 3:00 a.m. tomorrow morning and may last for several hours, civil defense says. However, widespread inundation is not expected.