11 pm Update – Tropical Storm Niala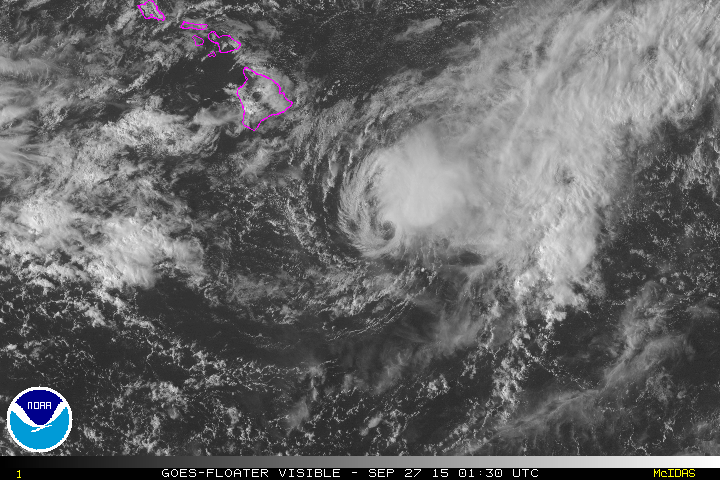 WARNINGS: A Tropical Storm Watch is still in effect for Hawaii County.
LOCATION: Tropical Storm Niala is 240 miles south southeast of Hilo. Niala is now moving west southwest at 8 mph. This motion is expected to continue through Monday night.
STRENGTH: Maximum sustained winds have weakened to 50 mph with higher gusts. Additional weakening is expected during the next couple of days.
SIZE: Tropical storm force winds extend outward up to 105 miles from the center.
RAIN: A Flash Flood Watch is in effect for the entire Big Island. Storm total rainfall of 2 to 8 inches with isolated maximum amounts to 12 inches could occur within the watch area. These rainfall amounts could cause life-threatening flash floods, as well as rockslides and mudslides.
HIGH SURF: Swells associated with Tropical Storm Niala will produce large surf along east and southeast facing shores of mainly the Big Island from into early next week.
WIND: Although the latest forecast is for sustained winds to remain below tropical storm force of 39 mph, 34 knots, across the Big Island, winds along the periphery of the storm will interact with the terrain of the Big Island and bring windy conditions in areas exposed to the easterly trades. In addition, there is the possibility of strong gusts in the leeward areas due to downsloping wind effects.
---
National Weather Service Discussion at 11 p.m.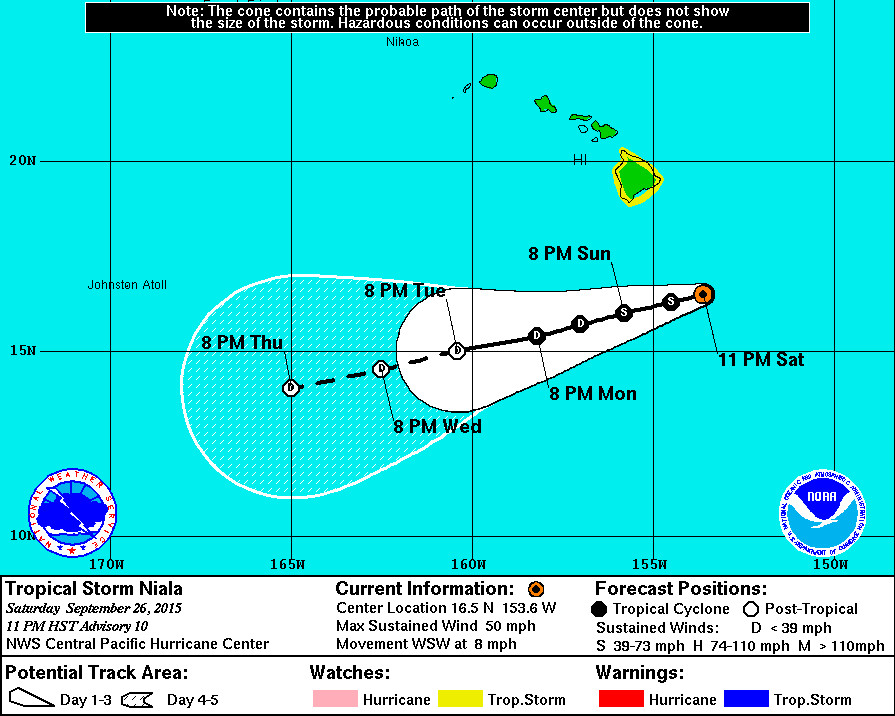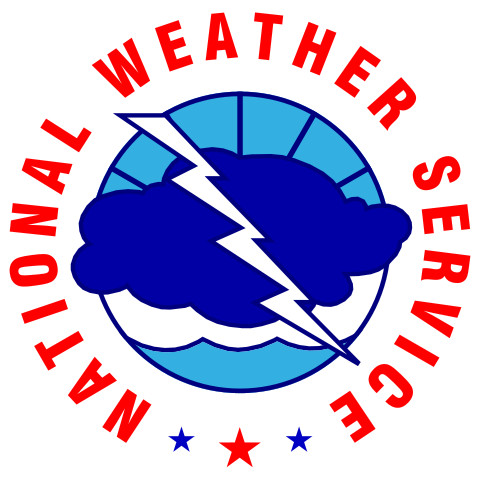 THE EXPOSED LOW LEVEL CIRCULATION CENTER… LLCC… OF NIALA IS EVIDENT IN INFRARED SATELLITE IMAGERY THIS EVENING. THE BROAD AREA OF DEEP CONVECTION THAT HAD BEEN IN THE NORTHEAST QUADRANT EARLIER THIS AFTERNOON WAS NEARLY COMPLETELY GONE BY SUNSET THIS EVENING. SINCE THEN… A NEW CLUSTER OF THUNDERSTORMS HAS DEVELOPED IN THE NORTHERN QUADRANT WITH CLOUD TOPS NEAR 53 THOUSAND FEET. THE LATEST UW-CIMSS AND SHIPS ANALYSES OF ENVIRONMENTAL VERTICAL WIND SHEAR IN THE VICINITY OF NIALA ARE 30 TO 40 KT FROM THE WEST-SOUTHWEST. THIS IS LIKELY THE MAIN CULPRIT FOR THE HOSTILE CONDITIONS THAT THE TROPICAL STORM HAS BEEN EXPERIENCING DURING THE PAST TWELVE HOURS. THE LATEST SUBJECTIVE DVORAK SATELLITE ESTIMATES OF CURRENT INTENSITY RANGE FROM 3.5/55 KT FROM PHFO TO 3.0/45 KT FROM SAB AND JTWC. THE LATEST ADT ESTIMATE FROM UW-CIMSS IS 2.4/34 KT. BASED ON THE POOR APPEARANCE OF NIALA AND THE LOWER CURRENT INTENSITY ESTIMATES… THE INTENSITY FOR THIS ADVISORY IS 45 KT.

THE CURRENT MOTION IS 255/07 KT. SINCE NIALA IS BECOMING A SHALLOW SYSTEM DUE TO LESS DEEP CONVECTION… THE PRIMARY STEERING MECHANISM IS THE CIRCULATION AROUND A STRONG SUBTROPICAL HIGH LOCATED MORE THAN 1600 NM TO THE NORTH-NORTHEAST. THE CURRENT FORECAST TRACK HAS BEEN ADJUSTED SLIGHTLY TO THE SOUTH COMPARED WITH THE PREVIOUS FORECAST PACKAGE. THIS CLOSELY FOLLOWS THE LATEST TVCN AND GFEX CONSENSUS TRACK GUIDANCE… WHICH ARE AGAIN SEEING THE INFLUENCE OF THE SUBTROPICAL HIGH TO THE NORTH-NORTHEAST.

INTENSITY GUIDANCE ALMOST UNANIMOUSLY WEAKENS NIALA THROUGH FIVE DAYS… WITH ICON AND SHIPS DISSIPATING THIS SYSTEM COMPLETELY AFTER 48 HOURS. IN CONTRAST… THE GLOBAL FORECAST MODELS CONTINUE TO MAINTAIN NIALA AS A TROPICAL SYSTEM DURING THE NEXT 5 DAYS. OUR FORECAST OF CONTINUED GRADUAL WEAKENING IS A BLEND OF THESE TRENDS… REDUCING NIALA TO A POST TROPICAL/REMNANT LOW ON DAY THREE… BUT NOT DISSIPATING IT COMPLETELY.

THE TROPICAL STORM WATCH WILL REMAIN IN PLACE FOR THE BIG ISLAND. THE ONSET AND CUMULATIVE PROBABILITIES FOR WINDS OF 34 KT OR GREATER CONTINUE TO DECREASE. IF THESE TRENDS CONTINUE… WE MAY BE ABLE CANCEL THIS WATCH FOR LAND AREAS SUNDAY MORNING. NOTE THAT REGARDLESS OF THE INTENSITY OF NIALA AS IT PASSES SOUTH OF THE ISLANDS DURING THE NEXT FEW DAYS… THE TIGHT PRESSURE GRADIENT BETWEEN NIALA AND THE SUBTROPICAL HIGH TO THE NORTH-NORTHEAST WILL CONTINUE. THIS WILL MAINTAIN STRONG TRADE WINDS… WITH LOCAL AREAS OF GALE FORCE WINDS IN SOME CHANNELS… ACROSS THE MAIN HAWAIIAN ISLANDS THROUGH MONDAY NIGHT.

FORECAST POSITIONS AND MAX WINDS

INIT 27/0900Z 16.5N 153.6W 45 KT 50 MPH
12H 27/1800Z 16.3N 154.5W 40 KT 45 MPH
24H 28/0600Z 16.0N 155.8W 35 KT 40 MPH
36H 28/1800Z 15.7N 157.0W 30 KT 35 MPH at 11 p.m.
48H 29/0600Z 15.4N 158.2W 30 KT 35 MPH
72H 30/0600Z 15.0N 160.4W 25 KT 30 MPH…POST-TROP/REMNT LOW
96H 01/0600Z 14.5N 162.5W 25 KT 30 MPH…POST-TROP/REMNT LOW
120H 02/0600Z 14.0N 165.0W 25 KT 30 MPH…POST-TROP/REMNT LOWNational Weather Service