HAWAII – High-capacity microwave links, radio towers, and facility buildings have been placed on mountains tops across the Hawaiian islands have achieved "full operating capability", government officials report.
The ANUENUE Interisland Digital Microwave Network interconnects and supports the "systems and networks relied upon by first responders, search and rescue, law enforcement, emergency services, and critical government operations," announced a joint news release from the State of Hawaii and U.S. Coast Guard, who worked together to design and engineer the communications link.
A news release says that twelve ANUENUE "high sites" located on mountain tops — many at remote locations — connect with eight sites located at state office buildings and Coast Guard properties. Governor David Ige, state Chief Information Officer Todd Nacapuy, and Capt. James Jenkins, the Coast Guard 14th District Chief of Staff, celebrated the completion of the project today in the executive chambers.
"A shared vision and trust between the State of Hawaii and Coast Guard resulted in a partnership that shares resources and capabilities to achieve a common goal of protecting and serving the people of Hawaii. As a result, Hawaii is more secure and better prepared for emergencies." Gov. David Ige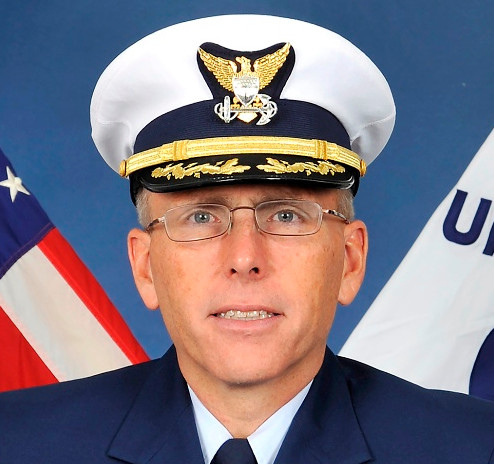 "The ANUENUE Network is a testimony to the superb relationship between the U.S. Coast Guard and the State of Hawaii. This vital system enhances the effectiveness and resiliency of communications among the entire first responder team during both routine operations and for emergent threats such as hurricanes and other natural disasters." Capt. James Jenkins
Government officials provided this additional information in a media release:
MEDIA RELEASE

The ANUENUE was designed to survive disasters, natural or otherwise. Its towers and buildings are designed to survive the 155 mph winds of a Category 4 hurricane, generators are ready to run for a week without commercial power, and earthquake Zone 4 rated backbone facilities are located away from tsunami inundation zones. Backbone towers range in size from 50 to 180-feet tall and support microwave dish antennas as large as 15 feet in diameter. The microwave radio backbone provides a secure 155-Mbit/s SONET connection across the state.

ANUENUE replaced the Rainbow Microwave System, a technologically outdated predecessor that initiated the concept of shared communications infrastructure and fostered the cooperation and resource sharing critical to the current success. State support of the ANUENUE started with an initial appropriation by the Legislature in 2001 for radio site construction. The state's total $19.1 million investment in ANUENUE facilities and equipment was significantly extended by the Coast Guard contribution to the partnership. The cooperation of county agencies, private land owners, and other federal agencies, especially the Federal Aviation Administration, also helped move the project forward.

In addition, facilities on Kauai, Oahu, Molokai, Maui, and Hawaii were built or refurbished to minimize impacts to sensitive areas and view planes and to be environmentally friendly.

ANUENUE is jointly managed by the Coast Guard Base Honolulu C4IT Division, which is based on Sand Island, and the state Department of Accounting and General Services' Information and Communication Services Division (ICSD), which is overseen by the CIO. As part of the ANUENUE agreement, the Coast Guard C4IT Division maintains all of the system's radios and electronic equipment.

State users of the ANUENUE include the Statewide Shared Blended land mobile radio system; Maritime Wireless Network System; Hawaii Emergency Management Agency; and the Departments of Public Safety, Transportation, Health, and Land and Natural Resources. State sponsored users include the County of Maui Police Department and other agencies of all counties.

The Coast Guard's primary use of the ANUENUE is its new Rescue 21 maritime distress radio system, which has commissioned 10 remote sites in Hawaii providing significantly improved coverage and location capabilities over the recently retired National Distress System used to locate mariners in distress. Coast Guard-sponsored federal users include the U.S. Army Pacific Land Mobile Radio System, National Oceanic and Atmospheric Administration Emergency Weather Broadcast System, U.S. Customs and Border Protection, and National Park Service.