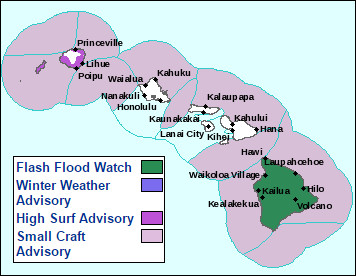 HAWAII ISLAND – A Flash Flood Watch and Winter Weather Advisory has been posted for Hawaii Island. The National Weather Service says increasing moisture will move over the Big Island tonight and remain in place through Thursday.
"With the moisture approaching from the east and southeast," forecasters say, "heaviest rainfall is expected over the Ka'u, Puna and Hilo districts." The Flash Flood Watch will remain in effect until Thursday night.
Freezing rain is also expected for the summits of Mauna Kea and Mauna Loa. Forecasters say low temperatures (upper 20's to lower 30's at night) will drop "below freezing both tonight and Thursday night and will likely result in freezing rain accumulating at elevations above 12500 feet."
The National Weather Service says a winter weather advisory means that periods of snow, sleet, or freezing rain will cause travel difficulties. "Be prepared for slippery roads and limited visibilities," forecasters say, "and use caution when driving."
The Winter Weather Advisory will be in effect until noon Friday.