KUKUIHAELE, Hawaii – Down the road from the popular Waipi'o Valley Lookout, in the small village of Kukuihaele, a battle is brewing over the future of the neighborhood park. The Hawaii County Department of Parks and Recreation is planning a substantial makeover that will include a brand new baseball field. But some neighborhood residents say the development is unwanted.
"I feel like it's been pushed down our throat," Kukuihaele Neighborhood Association interim president Colleen Lawrence told us in a video interview. "At each meeting I asked, why would you want to design a park before you know what the people want? and I was told 'lady, that's how it's done' at one of the meetings."
Although county officials appear likely to grant community requests to integrate a playground into the design of the new park, Lawrence still has concerns about how the project will impact the character and safety of the village, where plantation camps abut a one lane road. "It would cost millions and millions of dollars just to get the road structure correct to be able to have this ballpark," Lawrence said.
Hamakua councilwoman Valerie Poindexter says there are those who are in full support of the county's ballpark plan and she is trying to work with the different groups on the issue. "For me," Poindexter said during a video interview, "it is just my goal is to make sure that we as a community don't get divided on issues and then we can agree to disagree."
---
HAWAII CO. DRAFT EA
In November of 2015, a draft environmental assessment for the proposed Kukuihaele Park improvements was published. The County of Hawaii is both the proposing and determination agency. From the document summary:
The County of Hawai'i Department of Parks and Recreation (P&R) proposes to improve and expand the facilities at Kukuihaele Park. Although Kukuihaele Park is a valued asset in this rural and somewhat isolated community of about 350 inhabitants, it lacks needed recreational facilities. P&R has designed improvements to help meet these recreational needs while still maintaining much of the open space that is currently present and not overtaxing local roads. The project involves a new 27-space parking lot, including four ADA accessible stalls; a new comfort station; a new pavilion; an improved basketball court; a new softball/Little League baseball field with backstops, dugouts, bleachers, and fencing; a jogging path that winds around the baseball field; and removal of various trees to accommodate site features and new landscaping with koa and palm trees, among others. The project will be prepared with a base bid and one or more alternate bid items based on priority level, and the project may be phased.

No impacts to any biological or water resources would occur. No archaeological sites are present and no cultural uses would be affected. Mitigation includes timing of clearing to avoid impacts to listed vertebrate species, NPDES and grading permits with best management practices during construction to avoid erosion and sedimentation, consultation of DOH concerning the need for a community noise control permit during construction, a dust control plan and precautionary conditions related to inadvertent finds of cultural materials. Minor traffic increases related to use by residents and drive-by visits by tourists seeking a restroom are expected to occur. (SOURCE: OECQ website)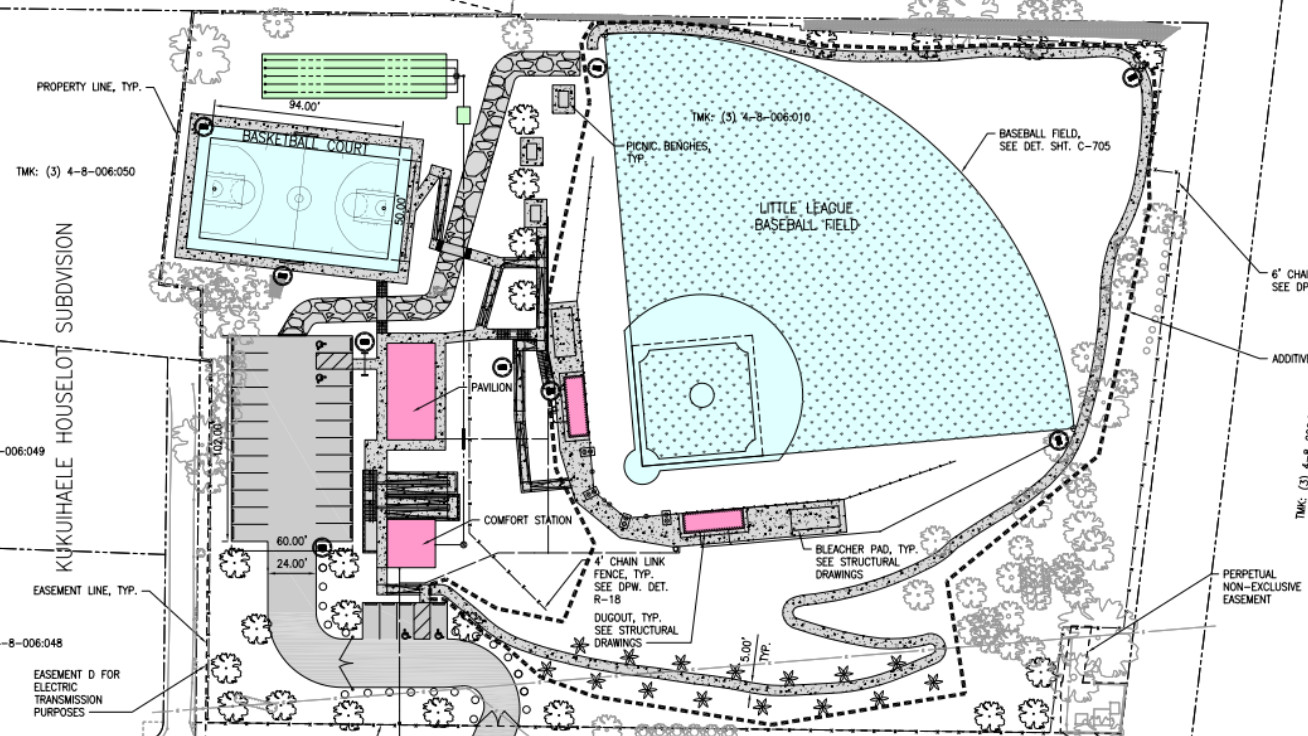 ---
KNA PRESS RELEASE
In December, the Kukuihaele Neighborhood Association issued this media release as the dedline to comment on the draft EA came to pass.
MEDIA RELEASE: Kukuihaele cries foul in County ball park project

Residents of Kukuihaele, a small town just south of Waipio Valley, have made phone calls and sent letters to the Mayor, the County Council and the Department of Parks and Recreation, demanding more time to review and comment on a $2.5 million plan to build a chain-link-fenced, regulation Little League baseball park. They have also accused the County of violating due process by rushing forward with a construction bid date before the end of a public comments period deadline.

The ball field would replace what is now an open-space park, popular for weddings, baby luaus and other celebrations because of its impressive view of Waipio Valley.

A 105-page Draft Environmental Assessment (EA), including park plan drawings, was made available online on November 8, 2015 so the public could study it and submit comments to the County by a deadline of December 8, 2015. But residents claim that hardly anyone knew that the Draft EA existed.

According to James Komata, County Park Planner, the Hawaii Revised Statutes' 30-day comments period cannot be extended except by the state legislature.

Kukuihaele Neighborhood Association President Colleen Lawrence, along with other community members, visited 55 households after the deadline for the comments period to show residents what the park plan looked like. For the great majority, it was the first time they had seen the plan. "Virtually no one in the community was aware that we could have seen online what the park plan looked like," explained Lawrence. She also conducted a poll of community reactions to the plan. The widely divergent opinions were presented at a December 17, 2015 meeting, which will be broadcast on January 2 at 6:00 p.m. on Channel 53.

Komata said the County fulfilled its requirement to notify the public by posting an announcement on the Office of Environmental Quality Control web site. "If the word gets out or not, there's nothing we can do about it," explained Komata.

Koohan Paik, KNA secretary, explained, "The community has a legal right to know about the project, and to also have enough time to submit their input."

On December 5, the KNA had unanimously passed two resolutions and submitted them to Mayor Kenoi and the Department of Parks and Recreation. The first one was a request for a 45-day extension to the comments period which ended December 8. The second one demanded that the County conform to Section 343 of the Hawaii Revised Statutes, by postponing all bidding and construction until after a final determination is made on the EA. Komata asserts that no laws were violated, so the plan will stay on schedule.

The Kukuihaele Park Improvements project is one of a laundry list of similar projects island wide that were included in a $99.75 million bond requested by Mayor Kenoi and approved unanimously by the County Council last summer. It was the mayor's largest bond request since taking office.

Kenoi had the pricey request waived from the Finance Committee before going on the June 3, 2015 Council agenda due to what he called "the time sensitive nature of this matter."

But Kukuihaele residents feel that the County is putting the mayor's deadline, which appears to be his departure from office in December 2016, above the community's needs.

"Our village will live with this park for decades to come," said Lawrence. "So if it takes more planning time to get it right, it will be well worth it.

"When the County set the bid date even before the comments period ended, then if just makes a joke of Hawaii environmental law," said Paik. (SOURCE: Kukuihaele Neighborhood Association)