SOUTH KONA – As state and local government continues to respond to the dengue fever outbreak on Hawaii Island, communities at high risk of contracting the mosquito-borne disease – like those in South Kona – have taken the initiative to Fight The Bite themselves.
In a recent interview filmed by Lynn Beittel of Visionary Video, Napo'opo'o Village resident Krista Johnson said she feels the government "left us in the dark" and that her community decided to step in because they feel like they're on their own. Efforts include organizing their own community meetings and distributing mosquito abatement supplies.
A common complaint is that state government took too long to respond to the outbreak, and even now they are not devoting enough resources to the problem.
"We're used to being on our own," said Johnson, who is also an administrator of the 1,058 member Hawaii Dengue Fever Awareness public group on Facebook. "We've learned to be self-sufficient, but the sad thing is this doesn't need to be self-sufficient. There is financing. There is funding for this. It needs to be accessed now, because a lot of us are bending over backwards. We are working full-time jobs, and doing this is a full-time job… trying to get free traps for an impoverished community so that it can protect itself against a highly infectious and dangerous disease."
Hawaii Dengue Fever Awareness members were disappointed when Hawaii Governor David Ige failed to mention the dengue fever outbreak during his January 25 State of the State Address. However, state lawmakers are introducing dengue fever-related legislation this session.
Kona State Senator Josh Green's SB2465, if passed, will audit the efficiency and effectiveness of the Disease Outbreak Control Division of the Department of Health in response to the current dengue outbreak. It also appropriates funds for mosquito assessment and control efforts. The senate bill is mirrored in the House by HB2234.
Another bill, SB2240, makes an appropriation to the state Department of Health to hire more vector control employees and reestablish a vector control branch (mirrored HB2061).
In the House, Kona's State Representative Nicole Lowen was joined by numerous other lawmakers in introducing HB2233, which requires health care professionals to take a continuing medical education course in health issues unique to Hawaii, and requires the health department to develop the course in consultation with the Hawaii medical board. Dengue fever (as well as zika virus, chikungunya virus, leptospirosis, and rat lungworm disease) were cited in the language of the bill.
In a testament to the growing influence of the Hawaii Dengue group, both Sen. Green and Rep. Lowen announced their proposed bills on the group's Facebook page.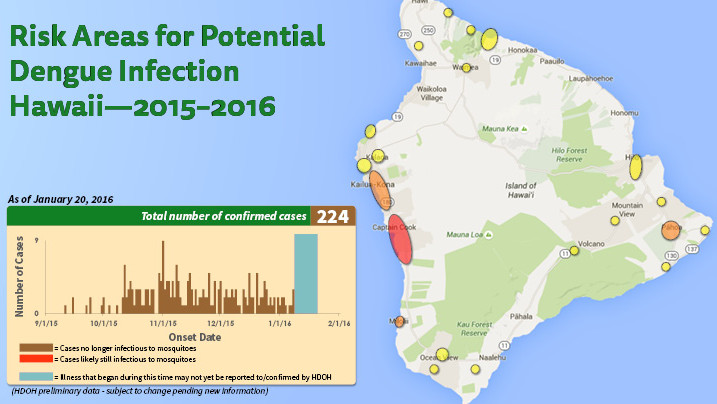 There have been 237 known cases of dengue fever counted on Hawaii Island since the outbreak began in September 2015. The most recent dengue fever risk map published by the state (January 20) shows South Kona's Captain Cook area remaining "in the red" as an area of high risk.
---
UPDATE: A meeting on dengue fever was just announced for Thursday, Feb. 4th, at Pu'uhonua o Hōnaunau National Historical Park. (Flyer below.)