HAWAII ISLAND – A hurricane in the Eastern North Pacific is making its way towards Hawaii Island but is expected to weaken significantly if and when it arrives.
Hurricane Darby is 1,175 miles west southwest of the southern tip of Baja California and moving west at 9 miles per hour.
Darby is currently a category 2 hurricane, but is expected to weaken in the next 48 hours as it moves over cooler waters. Darby is expected to lose hurricane intensity on Monday.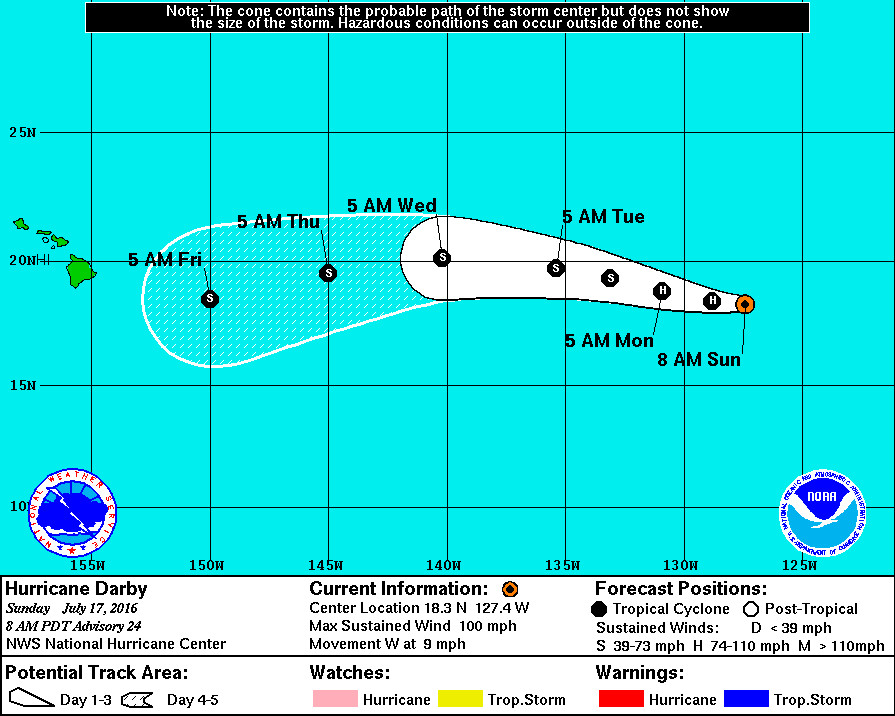 The National Hurricane Center says sea surface temperatures "are actually expected to begin increasing again after 24 hours, which could slow the rate of weakening through the end of the forecast period. However, increasing vertical shear and a drier mid-level air mass by days 4 and 5 will likely prevent significant re-intensification over the warmer waters to the southeast of Hawaii."
That means Darby could be a weak tropical storm as it draws near. The National Weather Service Honolulu & Central Pacific Hurricane Center said on Facebook that it is "too early to say exactly what impacts it might have on Hawaii. The current forecast has the system crossing into the Central Pacific Hurricane Center's area of responsibility late Tuesday night."
The Big Island will continue to see hot and muggy conditions this week, forecasters say. "The remnant low of former Tropical Cyclone Celia will continue to move west, passing north of the islands. As the low passes, winds will become increasingly lighter Sunday through Tuesday and deep tropical moisture will be drawn over the state. This deep tropical moisture will help fuel locally heavy showers, Sunday through Wednesday. Trades will start to make their comeback Wednesday through the end of the work week."