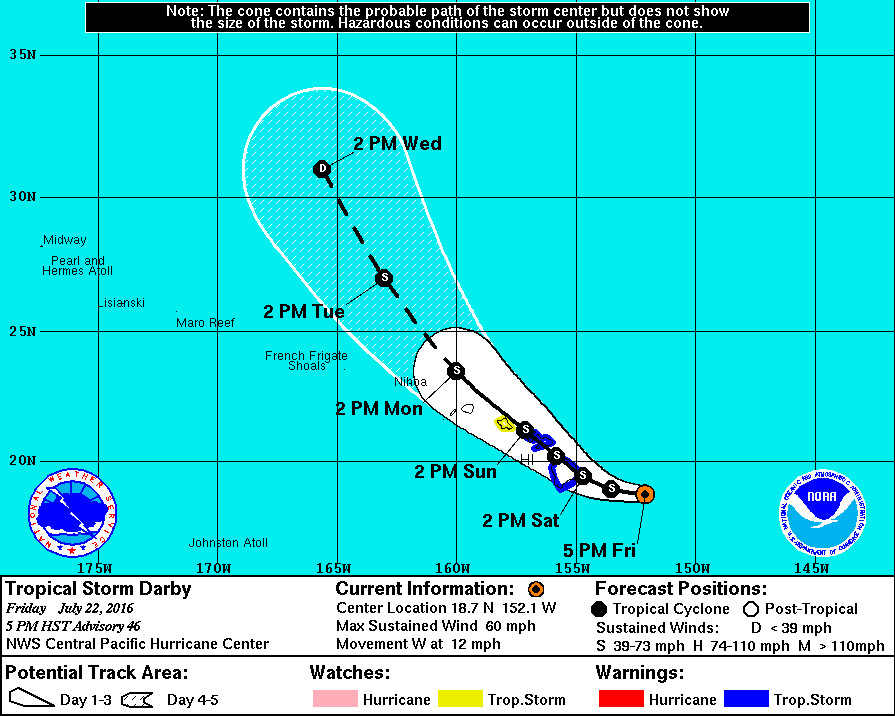 HAWAII ISLAND – Tropical Storm Darby has not weakened, with maximum sustained winds still blowing near 60 mph with higher gusts, as a likely landfall on Hawaii Island is only hours away.
Darby is 205 miles east southeast of Hilo and moving toward the west near 12 mph. Tropical storm-force winds extend outward up to 125 miles from the center. Forecasters say Darby's forward motion is expected to slow slightly Saturday followed by a turn toward the northwest Saturday night. The National Weather Service says the center of Darby is forecast to pass over or near the Big Island on Saturday, and Maui on Saturday night.
Emergency officials advise the public to be storm ready. "Heavy rains are expected to begin affecting the Big Island tonight," civil defense officials stated in a 5 pm message. "Residents are urged to complete storm preparations before nightfall, and stay off the road if at all possible. In anticipation of possible damage to public and private property, an emergency proclamation was signed by Mayor Kenoi at noon today."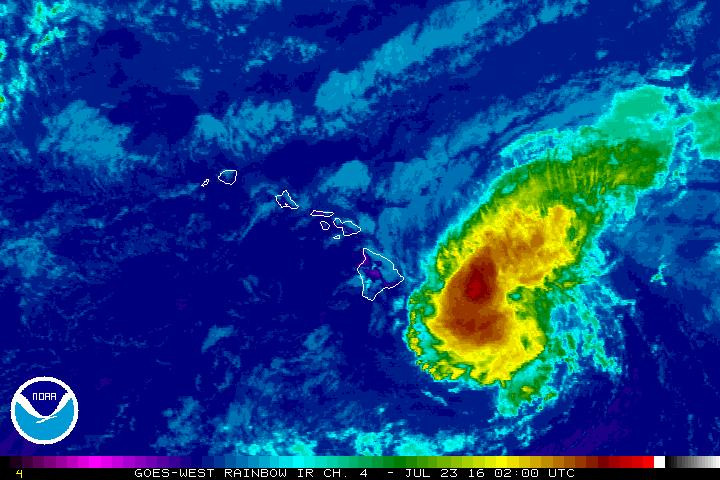 GOVERNOR TAKES ACTION
Hawaii Governor David Ige signed a pre-landfall emergency proclamation as the state prepares for Tropical Storm Darby. The state says the proclamation authorizes the expenditure of state monies for quick, easy and efficient relief of disaster-related damages, losses and suffering resulting from the storm.
"Our top priority is to protect the health, safety and welfare of Hawai'i's residents and visitors," said Governor Ige. "I urge residents and businesses to follow emergency instructions, prepare for the storm and take steps to protect your families, employees and property. The state is standing by to assist the counties — particularly Hawai'i and Maui counties — which are expected to be the first to feel the impact of Tropical Storm Darby."
The state's disaster emergency relief period begins on July 22 and continues through July 29, 2016.
STATE PARKS CLOSE
The Department of Land and Natural Resources has closed state forest and park areas on the islands of Hawaii and Maui, in anticipation of the effects of tropical storm Darby this weekend.
As of 3 p.m. today, all forest reserves, wildlife sanctuaries, natural area reserves, Na Ala Hele hiking trails, forest campgrounds and game management areas, including Keanakolu cabins, Ainapo hiking trail, Muliwai trail and Waimanu valley campground are closed until further notice. The DLNR Division of Forestry and Wildlife says camping permits for this weekend are cancelled until further notice. Saturday's planned cattle hunt will be cancelled.
Division of State Parks is also closing its park campgrounds, pavilions and cabins today. All Big Island parks will remain closed on Saturday and will not re-open until conditions warrant.
DLNR says "persons holding camping and cabin permits for this weekend were notified by staff, and offered a refund or an alternate date. An email blast to Kealakekua Bay kayak permit holders was issued to inform them of the approaching storm. Those with reservations continuing on Monday, should check with the Hawaii parks office on Monday morning."
HELE-ON BUS SUSPENDED
Hawaii County officials say the Hele-On Bus service will be suspended Saturday until further notice. Resumption of service will depend on road and weather conditions. Solid Waste Transfer Stations and Landfills will also be closed Saturday.
UMAUMA BRIDGE TO CLOSE
Hawaii County Civil Defense says Umauma Bridge on Highway 19 along the Hamakua Coast will be closed starting at midnight with a detour through Old Mamalahoa Highway.
NATIONAL PARKS
National Park officials have closed all backcountry areas and certain roads in Hawai'i Volcanoes National Park, effective 5 p.m. today.
Park closures are as follows:
Kūlanaokuaiki Campground & Nāmakanipaio Cabins and Campgrounds
Hilina Pali Road
Chain of Craters Road at the Crater Rim Drive intersection
Lava viewing area and Coastal Ranger Station
Entire backcountry, including all coastal sites, Nāpau and Mauna Loa
Mauna Loa Road after Kīpukapuaulu
Kahuku
The park says the closures will remain in effect until Tropical Storm Darby has passed and conditions are safe. Additional closures may be warranted as the storm gets closer, and any damage is assessed. Volcano House and Kīlauea Military Camp will remain open for registered guests.
"Although we aren't closing Hawai'i Volcanoes National Park in its entirety, we strongly encourage visitors to consider changing their plans if they were planning to visit Friday afternoon or this weekend," said Chief Ranger John Broward.
Areas that will stay open at this time: Nāhuku (Thurston Lava Tube), Kīlauea Visitor Center and the Jaggar Museum and observation deck.
West Hawaii's National Parks units are also making adjustments.
Kaloko-Honokōhau and Pu'uhonua o Hōnaunau National Historical Parks will close at normal times tonight. The parks will be closed tomorrow, July 23, pending assessment and will reopen as conditions allow.
HAWAII GAS PREPARES
Hawaii Gas says it is working closely with state emergency officials to prepare for Darby.
Hawaii Gas reports "crews have secured equipment and facilities on Hawai'i Island and Maui. Hawaii Gas has also begun to implement their emergency management plans and procedures to prepare for Tropical Storm Darby. Essential employees are being scheduled to assist in any emergency preparation that may be needed."
"Hawaii Gas propane tank and cylinder customers SHOULD NOT shut off their gas supply unless they have been notified by local authorities to evacuate their premises," the company says. "Gas customers should listen carefully to HI-EMA announcements. If customers shut off their gas, only a trained Hawaii Gas employee can turn it back on."
HELCO REMINDER
The Hawai'i Electric Light Company has issued a reminder to Big Island residents, saying Darby's high winds and heavy rains might uproot trees, break branches, snap utility poles, down power lines, and cause power outages.
"We'd like to remind everyone that any downed power line can be dangerous. It's important to not approach or touch a downed power line as it may have electricity running through it," said Rhea Lee-Moku, public information officer. "If you see a power line on the ground, or hanging low, call our trouble desk at 969-6666 to report the situation."
HELCO says its has been proactively trimming and removing trees and other vegetation around Hawai'i Island throughout the year. Since 2014, following the devastation of Tropical Storm Iselle, the company spent an estimated $14 million and cleared nearly 94,000 trees, 31,000 of which were albizia. "There is still more work to do and along with the State Department of Transportation, the Big Island Invasive Species Council, and Hawai'i County Public Works, we are working together to reduce the threat of trees to the utility infrastructure and our roadways," HELCO says.
OTHER HAWAII COUNTY CLOSURES
All camping and pavilion reservations at County and State parks have been cancelled today through Sunday.
All backcountry areas and certain roads in Hawai'i Volcanoes National Park, are closed effective 5 p.m. today.
County lava viewing and swimming pools are closed effective noon today.
Beginning Saturday, all State and County park facilities are closed until further notice.
EMERGENCY SHELTERS
"If possible and safe, shelter in place or with family and friends," civil defense says. "However, the following pet friendly emergency shelters open today at 4 pm: Waiakea High, Kalanianaole Elementary, Keaau High, Pahoa High, Honokaa High and Intermediate, Kealakehe High, Konawaena High and Ka'u High. Requirements for pets that need shelter are listed at hawaiicounty.gov. Bring bedding, food, water and any personal items you may need."
Hilo High, Laupahoehoe Community Charter School, Mountain View Elementary, Waikoloa Elementary, and Kohala High and Elementary open today at 4 pm but are unable to accommodate pets. Again, bring bedding, food, water and any personal items you may need.
HAZARDS: HIGH WINDS
Tropical storm force winds over 39 mph are expected to begin overspreading the Big Island late tonight. "In some areas, winds will be as high as 50 to 60 mph with gusts to 70 mph," forecasters say. "Even higher gusts will be possible over mountainous terrain, through passes, and where winds blow downslope. These effects can occur well away from the center of Darby."
"Homes may have damage to roofs, siding, gutters and windows, especially if these items are not properly secured. Loose outdoor items will become airborne, causing additional damage and possible injury.
"Many power lines will be knocked down by falling trees, resulting in extended power outages in some areas. Many large branches of trees will be snapped, and many weaker trees will be snapped or uprooted."
"Keeping our employees and our community safe is our top priority as we prepare for and respond to storms," said HELCO's Rhea Lee-Moku. "We strongly encourage everyone to complete their emergency preparations and monitor local news to stay informed. If the Hawai'i Island electric grid is impacted by Darby, our employees will be deployed to the field to conduct damage assessments and start the process of restoring power once it is safe to do so. We will not send our employees out in dangerous conditions."
Since Tropical Storm Iselle in August 2014, HELCO says it has spent an estimated $14 million to clear trees and other vegetation such as eucalyptus and palms that may topple and damage power lines. "Since 2014, nearly 94,000 trees were cleared, 31,000 of which were albizia," HELCO says. "The company regularly inspects trees and contracts certified vegetation management crews to trim trees growing into power lines along roadways and throughout the island."
HAZARDS: HIGH SURF
A high surf warning is in effect for east facing shores of the Big Island and Maui. "Surf is expected to build to 15 to 25 feet today with occasional higher sets," forecasters say. "This may cause significant wave runup and damage on some windward coastal roads. Refer to the high surf warning for more details." Morning observations indicated wave heights were already at 20 feet, forecaster reported.
HAZARDS: HEAVY RAIN
A flash flood watch is in effect. "Showers will increase on the Big Island tonight, followed by heavy rain and squalls with embedded thunderstorms Saturday into Sunday," weather forecasters say. "These conditions will spread to Maui county on Saturday as well. Refer to the flash flood watch for more details on the flood threat from Darby."
Total rainfall in the amount of 10 to 15 inches is expected, with locally higher amounts. The rain could cause life-threatening flash floods as well as landslides.
"In addition to flood prone areas," the National Weather Service warned, "heavy rain events of this size may cause flooding in areas outside designated flood zones. On the forecast track, storm total rainfall amounts could be between 6 and 10 inches. Low spots in roads can become dangerous and impassable due to severe runoff. High amounts of debris in streams and gulches may clog bridges and culverts resulting in dangerous flooding which could occur outside the normal channels, and could also lead to significant property damage."
DARBY DISCUSSION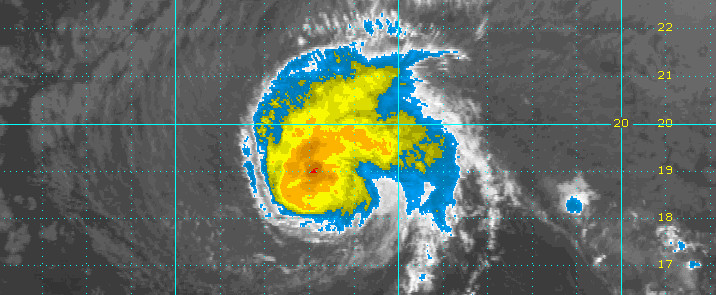 Tropical Storm Darby is very asymmetric in the satellite images this afternoon with deep convection mainly within a band wrapping around its western semicircle. This was also seen in the 2231 UTC GPM pass, along with a separate rainband southeast of the center. High clouds have been streaming toward the northeast which indicates the cyclone is beginning to feel an approaching upper level trough. One of the later passes through Darby by the 53rd Weather Reconnaissance Squadron's WC-130J helped confirm the center position of the system toward the end of the morning mission though the aircraft had to fly lower to find it. Based on the morning recon mission and the maintenance of deep convection, the initial intensity has been held at 50 kt. Note that this is higher than the subjective Dvorak estimates of 45 kt from PHFO and SAB, and 30 kt from JTWC. The next aircraft mission into Darby is scheduled for this evening.

Darby is estimated to be moving at 280/11 kt to the south of a ridge. This ridge is forecast to weaken due to a low pressure system digging southward to the north of cyclone. This weakness is expected to decrease Darby's forward motion over the next day, and increase the amount of vertical shear affecting the system this weekend. The trusted dynamical models have remained largely consistent today, bringing Darby over the Big Island on Saturday. Thus, the current forecast has been nudged southward closer to the dynamical consensus with a landfall on the Big Island, followed by a path over Maui County and near Oahu. The latter part of this path assumes that Darby survives its impact on the Big Island which is not a certainty.

The intensity forecast rationale remains the same since the last package. The main factors affecting the intensity forecast include marginal sea surface temperatures, the amount and timing of vertical wind shear, and the effects of any potential interactions with the Hawaiian Islands. Sea surface temperatures will remain marginal near 26.5C over the next couple of days but vertical shear is expected to increase as the previously mentioned upper level trough digs farther south. This shear increase is not expected to become strong until later this weekend. The forecast calls for only slow weakening with Darby maintaining tropical storm strength through the weekend. This is consistent with the previous package but slightly lower than the intensity consensus. Interactions with the Big Island may cause significant disruptions to Darby so the intensity forecast confidence is not high at this time.

The expected movement of Darby, as well as the latest wind probability guidance, warrants the issuance of a Tropical Storm Watch for the island of Oahu with this package.

Interests on Kauai and the Papahanaumokuakea Marine National Monument should continue to monitor the progress of Darby. Remember, it is important not to focus too closely on the exact track and intensity forecasts because the average track error 72 hours out is near 100 miles, while the average intensity error is about 15 kt. In addition, the hazards of a tropical cyclone can extend over a broad area well away from the center.NWS CENTRAL PACIFIC HURRICANE CENTER HONOLULU at 11 am HST