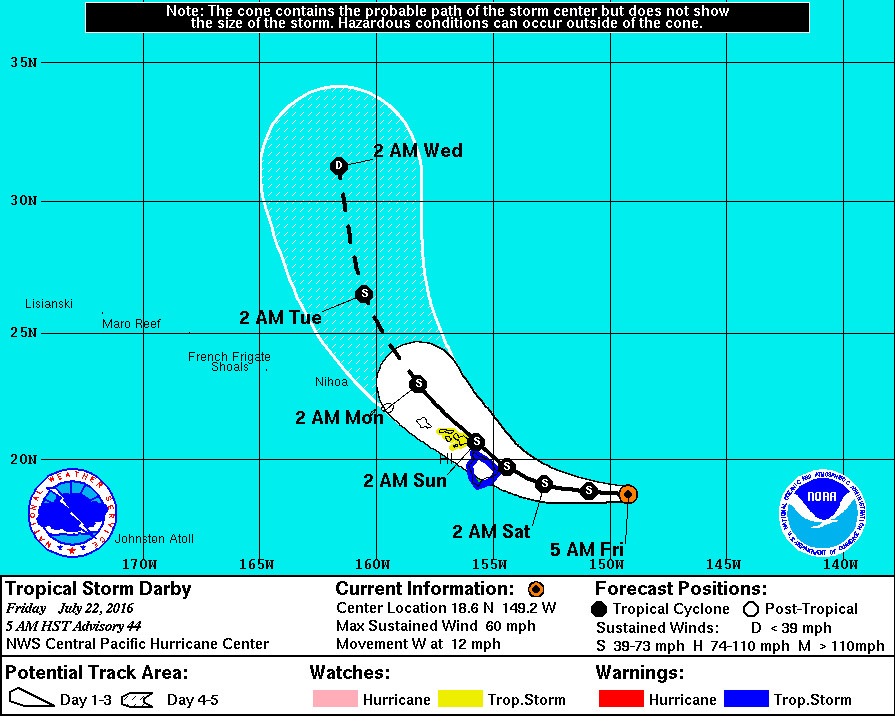 HAWAII ISLAND – A tropical storm warning has been issued for the the Big Island of Hawaii. Hawaii County officials have announced closures and are preparing emergency shelters.
Tropical storm Darby is less than 390 miles east of Hilo, and is forecast to approach the islands from the east-southeast over the next couple of days. "The current Central Pacific Hurricane Center forecast brings Darby very close to the Big Island and Maui county Saturday and Sunday," the National Weather Service said. "Depending on the exact track that Darby takes, strong damaging winds and heavy rainfall are possible this weekend as Darby makes its closest approach. Very high and possibly damaging surf is likely for east facing shores as well."
Maximum sustained winds are near 60 mph with higher gusts. Little change in strength is forecast through Sunday, forecasters say, although in 12 hours Darby is forecast to have maximum winds speeds of 50 mph; a weakened outlook compared to yesterdays prediction.
"The chance for hurricane conditions at this time is less than or equal to 7 percent," the National Weather Service says. "Also, the chance for damaging tropical storm conditions at Hilo is 61 percent, 54 percent at Bradshaw Field, 34 percent at South Point, and 45 percent at Kailua-Kona."
The onset of tropical storm conditions could start early Saturday morning. "For those under a warning, your preparations to protect life and property should be rushed to completion," the National Weather Service warned. "In a tropical cyclone, conditions can change quickly. Evacuate if directed to do so by local officials, or if your home is vulnerable to high winds or flooding. Cancel any beach activities until further notice. Persons living near the shore should be prepared to evacuate quickly should building surf threaten."
"Be ready to evacuate if necessary," the NWS urges. "Heed the advice of local officials and comply with any orders that are issued. Persons living near the shore should be prepared to evacuate quickly should building surf threaten."
CLOSURES
All camping reservations at County parks are being cancelled from Friday to Sunday. Pavilion reservations at County parks are also being cancelled on Saturday and Sunday, and County swimming pools will also be closed along with the Ho'olulu Complex. Lava viewing in Kalapana will be closed from Friday to Sunday.
SHELTERS
The following public schools are scheduled to be opened as emergency shelters at 4 pm tomorrow, or Friday afternoon: Hilo High, Waiakea High, Kalanianaole Elementary, Keaau High, Pahoa High, Laupahoehoe Community Charter School, Honokaa High and Intermediate, Kohala High and Elementary, Waikoloa Elementary, Kealakehe High, Konawaena High, Ka'u High and Mountain View Elementary. Consider bringing bedding, food, water and any personal items you may need, officials say.
HAZARDS: HIGH WINDS
Based on the latest forecast track, tropical storm force winds over 39 mph are expected to begin overspreading the area early Saturday afternoon. In some areas, winds will be as high as 50 to 60 mph with gusts to 70 mph, the National Weather Service warns.
"Gusts will be strongest over mountainous terrain, through passes, and where winds blow downslope," weather forecasters say. "Winds affecting the upper floors of high rise buildings will be significantly stronger than those near ground level.
"Homes may have damage to shingles, siding, gutters and windows, especially if these items are not properly secured. Loose outdoor items will become airborne, causing additional damage and possible injury.
"Some power lines will be knocked down by falling trees, resulting in scattered power outages. Many large branches of trees will be snapped, and a few trees will be uprooted."
HAZARDS: HEAVY RAIN
A flash flood watch is in effect. Rain will increase over East Hawaii today, followed by heavy rain and squalls with embedded thunderstorms starting tonight. Forecasters warn this may result in road closures, damage to roads, and rockslides or landslides.
The greatest risk of flooding will be on the island's east and south facing slopes.
HAZARDS: HIGH SURF
A high surf warning is in effect for east facing shores of Hawaii Island. Wave heights are expected to build to 12 to 20 feet on Friday with occasional higher sets.
DISCUSSION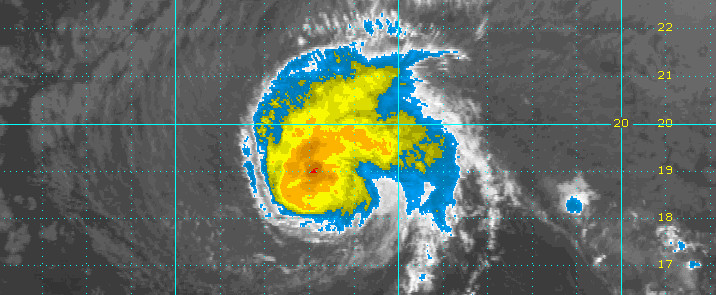 After decreasing through much of the night, deep convection around Darby has once again flared along the northern quadrant. Exposed low cloud bands across the southern semicircle show a reasonably well organized system, with good outflow to the northeast. Objective Dvorak satellite intensity estimates remain unchanged at 3.0/45 knots from all three analysis centers (HFO, JTWC and SAB). An 0718 UTC QSCAT pass showed a broad swath of 45 knot winds across the northern semicircle, with a small handful of 50 knot barbs thrown in. We will drop the initial intensity to 50 kt for this advisory based on this pass and eagerly await 53rd Weather Reconnaissance Squadron data, scheduled for arrival later this morning, to clarify Darby intensity.

Initial motion is 270/10 kt, partially derived by rebesting the previous three best track points. While last evening's QSCAT pass depicted a center likely too far south, the overall impression from a growing body of microwave imagery was that Darby was actually several tenths of a degree south of where we though it was. Darby was relocated for this advisory. A 1223 UTC SSMI pass, received too late to use for this advisory, hints that Darby may need to be relocated westward later. Track guidance is tightly packed depicting a gently curving path along or just east of the Hawaiian Islands between 36 and 72 hours. The exception is GFDL, which wants to divert Darby almost due northward beyond 24 hours. Our forecast track fits in the envelope, closely following TVCN consensus. Adjustments were made to account for relocation. However, that portion of the track closest to the Hawaiian Islands changed very little. Darby continues to move along the southern flank of a ridge centered north of Hawaii and will continue to do so through 36 hours. Afterwards, a deep low will dig south and weaken the ridge, slowing this system down and allowing Darby to curve gently northwestward from 36 to 72 hours, then northward beyond 72 hours.

Intensity guidance varies from SHIPS, which rapidly weakens Darby after 48 hours, to GHMI, which maintains current strength throughout. The effects of shear and slightly warmer SSTS are expected to essentially cancel each other out through 48 hours, with the weakening effects of shear becoming dominant afterwards as Darby gains latitude. Any weakening effects that land interaction would have on Darby intensity have been ignored so far. Our intensity forecast depicts Darby as weaker at all tau than previous advisories, with this system finally becoming a depression on day 5.

Interests outside of the watch and warning areas in the Hawaiian islands should monitor the progress of Darby, as it could eventually have impacts on all islands through early next week. Remember, it is important not to focus too closely on the exact track and intensity forecasts because the average track error 72 hours out is near 100 miles, while the average intensity error is about 15 kt. In addition, the hazards of a tropical cyclone can extend over a broad area well away from the center.NWS CENTRAL PACIFIC HURRICANE CENTER HONOLULU at 5 am HST