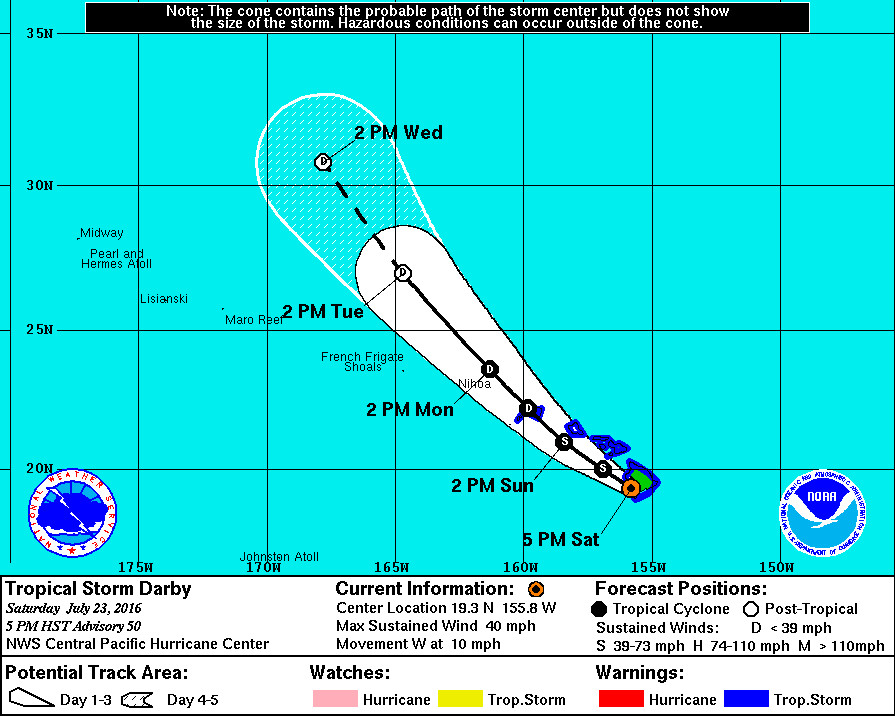 HAWAII ISLAND – Tropical Storm Darby is over Hawaii Island, moving west across the slopes of Mauna Loa, and hammering Ka'u with rain and thunderstorms.
Hawaii Island remains under a Tropical Storm Warning as Darby continues to churn out 40 mph winds with higher gusts. Tropical storm-force winds extend outward up to 70 miles from the center. Darby is 25 miles south southeast of Kailua-Kona.
A Flash Flood Warning is in effect for windward areas on Hawaii Island until 8 p.m.
At 4:45 pm HST, radar showed that a new band of heavy rain developed with rain moving onshore to the Puna district from the south. This band is expected to move slowly westward and spread into the Ka'u district.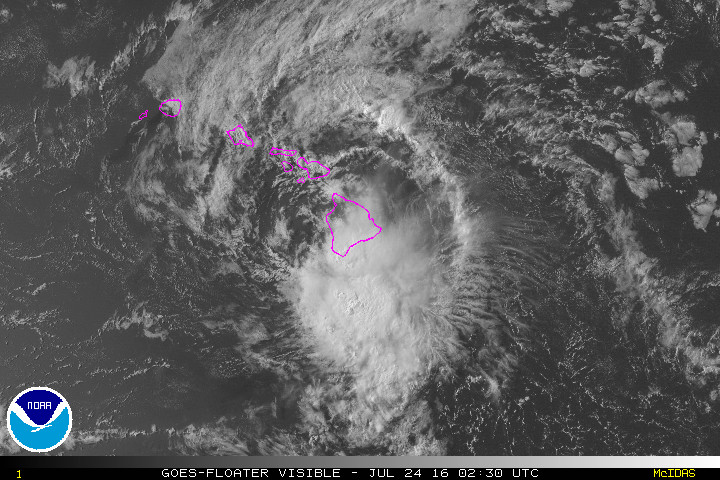 "Runoff from earlier rain above Kawa Flats means that Highway 11 at that location may be vulnerable to closure with any significant additional rainfall," forecasters report.
Locations in the warning include but are not limited to: Hilo, Pahoa, Mountain View, Glenwood, Hawaii Volcanoes National Park, Wood Valley, Pahala, Na'alehu and Kawa Flats.
Forecasters say sustained winds of 43 mph and wind gusts to 61 mph were reported in Kohala Ranch on the Big Island earlier this afternoon.
The County of Hawaii has adjusted its emergency shelter offerings. The following pet friendly Emergency Shelters remain open: Kea'au High, Pahoa High, Honoka'a High and Intermediate, Kealakehe High, and Ka'u High. Shelters at Hilo High and Mountain View Elementary remain open but are not able to accommodate pets.
"The 53rd Weather Reconnaissance Squadron flew through Darby for a good portion of the day," the National Weather Service reports, "and departed the storm just before the poorly-defined center came ashore over the southeastern portion of the Big Island near Pahala around 2 pm."
Another reconnaissance flight is scheduled for early Sunday morning to determine what remains of Darby's circulation after it emerges from the Big Island. It is unclear what will be left of the storm.
"As the center of Darby is currently over the Big Island, there is considerable uncertainty as to what will remain of the low-level circulation once it moves back over water later this evening," forecasters wroite at 5 p.m. "The intensity forecast is conservatively maintaining Darby as a minimal tropical storm through 24 hours until it is clear that re-development will not occur. Thereafter, steady weakening is anticipated, as increasing shear and gradually cooling waters lie along the forecast track. The updated forecast indicates weakening to a remnant low in 72 hours, with dissipation expected by the end of the forecast period. This is a slower rate of weakening than depicted by global models through the first 24 hours, and the intensity consensus, IVCN, but closely follows IVCN thereafter."
"If Darby's circulation does not survive its interaction with the Big Island's rugged terrain," forecaster say, "than dissipation will likely occur much sooner."
The High Surf Warning remains in effect.