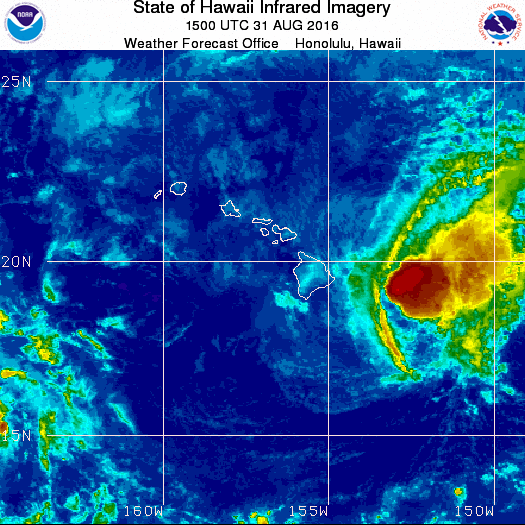 HAWAII ISLAND – The Hurricane Warning for Hawaii Island has been discontinued and a Tropical Storm Warning has taken its place, as a weakened Hurricane Madeline continues to move west from a point 95 miles southeast of Hilo.
"Due to the intensity trend and growing confidence in the track forecast," the National Weather Service reported, "hurricane conditions are no longer expected on land."
However, under a Tropical Storm Warning, "people on the Big Island can still expect damaging winds, very large and dangerous surf, and the continued threat of flash flooding," forecasters say.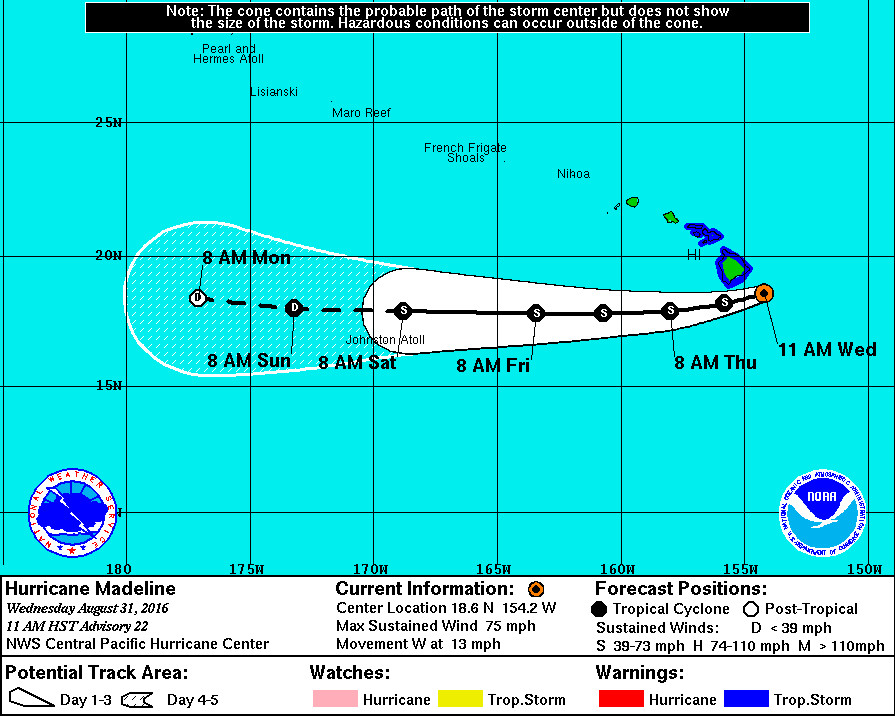 During the past couple of hours, tropical storm force winds of 43 mph gusting to 51 mph have been reported at Kamuela Airport.
There has also been reports of heavy rain and wind in Puna and Volcano.
Madeline is also expected to produce "total rain accumulations of 5 to 10 inches, with isolated maximum amounts near 15 inches, across Hawaii County, especially over windward areas and the Ka'u District."
U.S. Air Force Reconnaissance aircraft were scheduled to sample the hurricane this morning but have encountered mechanical issues that have prevented this mission, forecasters say.
Madeline will continue to weaken during the next several days under the influence of vertical wind shear produced by the upper level trough dropping over Hawaii. The official intensity forecast follows SHIPS, LGEM, and IVCN closely through 48 hours. Beyond that time the guidance diverges due to a weakening of the vertical wind shear. The rate of weakening was slowed slightly from the prior advisory, though a fair amount of guidance members show re-intensification when the cyclone is well west-southwest of Hawaii. Due to this, interests near Johnston Atoll should monitor the progress of Madeline.