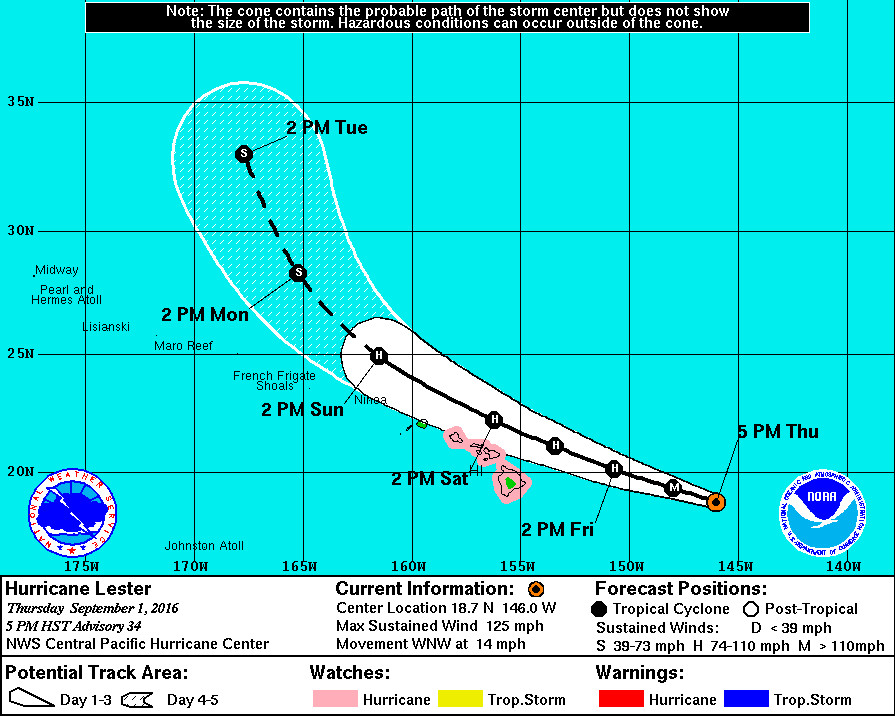 HAWAII ISLAND – The unexpected re-intensification of Hurricane Lester continued into this evening, according to the National Weather Service 5 p.m. update.
Lester remains a category three on the Saffir-Simpson Scale, a major hurricane, with maximum sustained winds near 125 mph with higher gusts.
Lester rapidly re-intensified to a major hurricane today as deep convection strengthened around a well defined eye. Lester has been moving over an area of warmer SSTs, and modest southeasterly vertical wind shear appears to have been enhancing outflow to the west and north of the cyclone.
Little change in intensity is expected into tonight, forecasters say, followed by gradual weakening.
With cloud tops showing signs of warming around the center, the recent intensification trend appears to be coming to an end. Along the forecast track, Lester will be over slightly cooler SSTs this evening and beyond, and SHIPS forecasts modest vertical wind shear to persist during the next couple of days before increasing as Lester moves closer to the upper level trough. This is expected to lead to gradual weakening.
The NWS says U.S. Air Force reconnaissance aircraft will be conducting a mission in Lester during the evening, while an NCAR G-V aircraft is completing a mission to sample the environment to the north of Lester.
Although the strengthening of Lester provides little comfort to those in its possible path, one positive sign for the already rain-soaked Big Island is the small change in the hurricane's direction. At 595 miles east of Hilo, Lester has finally started to turn west northwest at 14 mph. Hawaii Island is presently outside the cone of error on the forecast track.
Lester has begun its much anticipated turn toward the west-northwest, and the initial motion is set at 285/12 kt. Lester is moving along the southern flank of a low to mid level ridge and is coming under the influence of an upper level trough sitting over Hawaii. This upper level trough is producing a weakness in the ridge that is causing Lester to move on the west-northwestward track. A similar general motion is expected over the next two days with a turn toward the northwest expected on Sunday and beyond. Though theofficial track remains close to the prior advisory, the track hasbeen nudged slightly northward from Friday night and onward, and it remains very close to the TVCN and the operational GFS, while the ECMWF projected track remains to the north. A Hurricane Watch remains in effect for the Big Island (Hawaii County) and Maui County, and probabilities support the issuance of a Hurricane Watch for Oahu.
Any small deviation from the forecast track could bring "direct and profound impacts to the state, and this possibility must be considered when making preparations," forecasters say.
The state is already beginning to make some decisions. The Hawaii Department of Land and Natural Resources says all Hawai'i island, Maui, and O'ahu State Park camping and lodging areas will be closed to overnight use beginning Friday, September 2 and will remain closed – at minimum through Monday, September 5 – "until conditions warrant allowing these activities."
UPDATE: It will be business as usual for Hawaii County. All County and State facilities, offices, and services have returned to a normal schedule. All DOE public and Charter schools will be in session tomorrow, or Friday. Private school families are encouraged to check with their schools for more information.
A Hurricane Watch remains in effect for Hawaii and Maui Counties, and Oahu has been added to the Hurricane Watch list. Hurricane conditions are possible over Hawaii and Maui Counties on Saturday, with tropical storm conditions possibly developing as early as late Friday night. Swells generated by Lester will build over east facing shores
tonight and Friday.