(BIVN) – Hurricane Fernanda is 1,900 miles east southeast of Hilo and is moving toward the west-northwest near 13 mph.
Maximum sustained winds are near 130 mph with higher gusts, and the National Hurricane Center classified Fernanda as a category 4 hurricane on the Saffir-Simpson Hurricane Wind Scale as of 5 a.m. HST. Some fluctuations in strength is possible today, with gradual weakening expected on Monday.
Its still too early to know how, if at all, Fernanda will affect conditions around Hawaii Island. "It is too soon to determine any detailed impacts to Hawaii, other than increasing surf along east facing shores beginning Tuesday night and a general increase in moisture next weekend," the NWS in Honolulu reported this morning.
Models are showing Fernanda will make a westward turn towards the Big Island around Wednesday, but it is simultaneously expected to rapidly weaken to a Tropical Storm or below.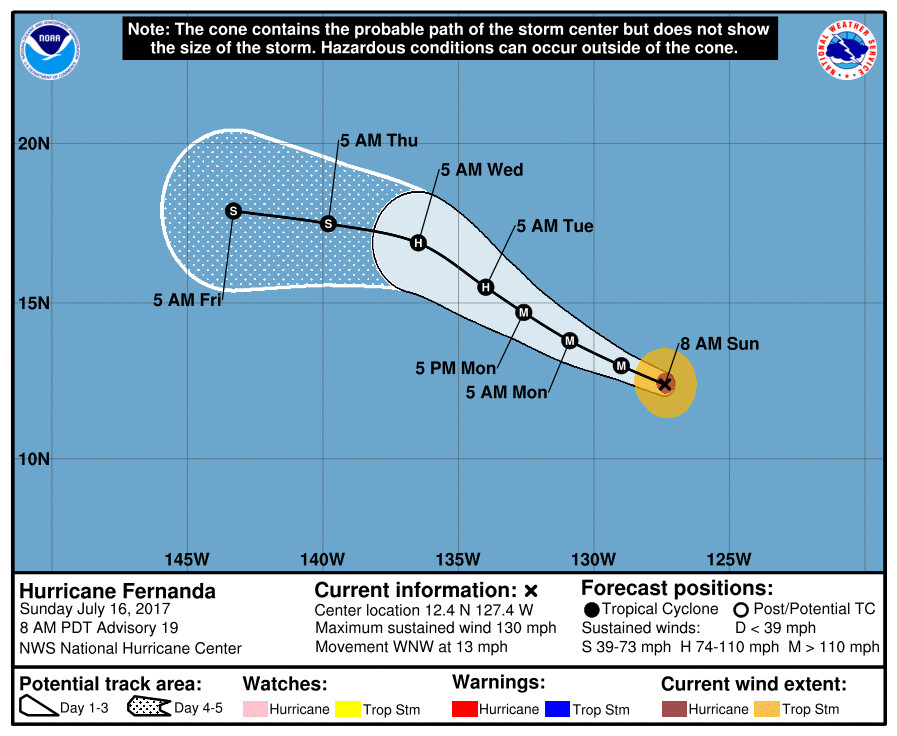 "Wavewatch 3 guidance brings a long-period, east swell from Fernanda into the local area beginning as early as Monday night and increasing through Thursday," forecasters said this morning. "At this point, advisory level surf is possible along exposed east facing shores. However, the size of this swell and resulting surf will be highly dependent on the track and intensity of the system."
From this morning's National Hurricane Center discussion:
It appears that Fernanda completed an eyewall replacement overnight with an 1109 UTC SSMI microwave overpass showing evidence of a single eyewall with a diameter of about 15-20 n mi. This may have led to the restrengthening that was indicated in the previous advisory. Since that time, the eye has remained very distinct in infrared satellite pictures but the convective cloud tops have warmed a little this morning. Although Dvorak data T-numbers have decreased slightly, the initial intensity remains at 115 kt, in agreement with the Dvorak CI-numbers from TAFB and SAB.

Fernanda is forecast to remain over warm water and within a low shear environment during the next 24 hours. During that time, additional eyewall replacement cycles could occur leading to some fluctuations in intensity. Since the timing of eyewall replacement cycles are difficult to predict, little change in intensity is indicated in the NHC forecast through Monday morning. After that time, Fernando is forecast to begin moving over cooler waters which should initiate gradual weakening. The rate of weakening is expected to increase later in the period when Fernanda moves over SSTs of 25-26C and westerly shear increases. The NHC intensity forecast is similar to the previous advisory and is close to the various consensus aids.

The hurricane is moving west-northwestward at about 11 kt. The track forecast reasoning remains unchanged yet again. Fernanda is expected to remain on a west-northwestward heading during the next 3 days while it is steered by a deep layer ridge to the north of the hurricane. A westward turn is foreast later in the period, as the ridge builds westward when a trough northeast of the Hawaiian Islands lifts out. The track guidance remains in very good agreement and the updated NHC track is similar to the previous advisory.

FORECAST POSITIONS AND MAX WINDS

INIT 16/1500Z 12.4N 127.4W 115 KT 130 MPH
12H 17/0000Z 13.0N 129.0W 115 KT 130 MPH
24H 17/1200Z 13.8N 130.9W 110 KT 125 MPH
36H 18/0000Z 14.7N 132.6W 100 KT 115 MPH
48H 18/1200Z 15.5N 134.0W 90 KT 105 MPH
72H 19/1200Z 16.9N 136.5W 65 KT 75 MPH
96H 20/1200Z 17.5N 139.8W 45 KT 50 MPH
120H 21/1200Z 17.9N 143.3W 35 KT 40 MPH