Lower East Rift Zone Eruption
Fissure 8 continues to erupt with a full channel flowing to the ocean with two ocean entries, civil defense reported this morning. Fissures 6, 15 and 16 are producing minor lava spattering.
Yesterday, short-lived overflows were periodically occurring upslope, the USGS Hawaiian Volcano Observatory said, but generally were not travelling beyond the existing flow field.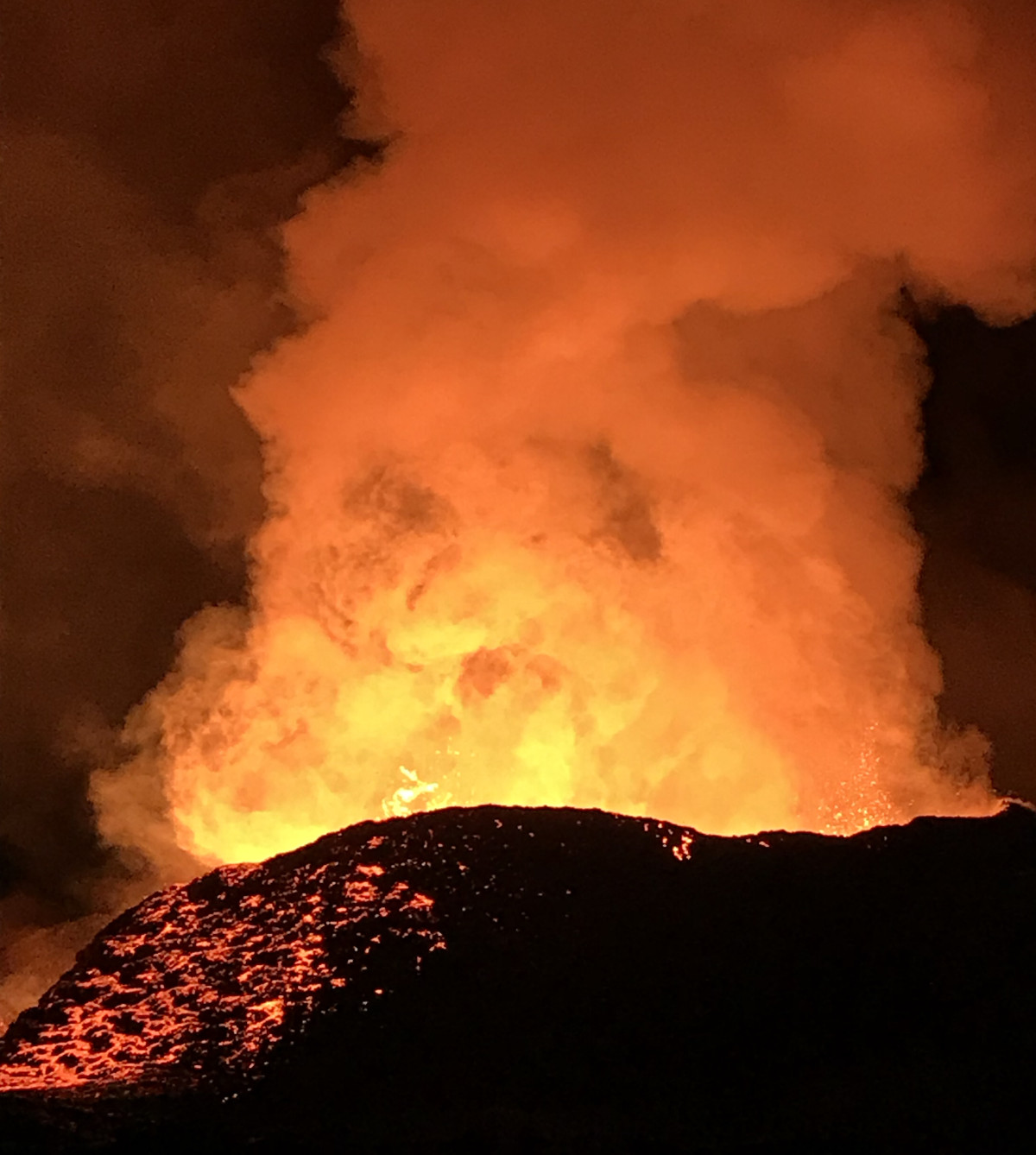 Summit
The Hawaiian Volcano Observatory reported that a steam explosion occurred at the Kilauea Summit at 4:22 this morning. Be aware of ash fallout in Ka'u, civil defense said.
Weather
According to civil defense:
The National Weather Service reports that continuing today, winds will push volcanic emissions into the interior of the Big Island, including over Hilo, northern parts of the island and wrapping around to the west. SO2 and Pele's Hair may become an issue in Pahoa and possibly into the Hawaiian Acres area. Trade winds are expected to build by Thursday.
Disaster Recovery Center
According to civil defense:
As of today 894 people have registered with the Federal Emergency Management Agency for assistance either on line or at the Disaster Recovery Center or DRC. The DRC is one of many resources that continue to be available to residents of Hawai'i County who suffered damage or losses from the Kilauea volcanic eruption and recent earthquakes:
The DRC is open daily from 8am to 8pm, and is located at the Keaau High School Gym.
More Vog Meetings
The Hawai'i Dept. of Health will be holding Volcanic Ash and Vog Community Meetings today and tomorrow, civil defense says.
Today's meeting is at Konawena Elementary School in Kealakekua beginning at 5 p.m.
Tomorrow's meeting is at Waikaloa Elementary & Middle School Cafeteria beginning at 6 p.m.
More Lava Viewing Citations
Six more people were cited for "loitering" in the closed east rift eruption zone, the state reports.
According to the Hawaii Department of Land and Natural Resources:
Officers from the Hawai'i County Police Department and the DLNR Division of Conservation and Resources Enforcement (DOCARE) cited six people over the past 24 hours for loitering and refusing to evacuate in lower Puna. This brings the number of citations issued since the eruption began in early May to around 47.

Earlier this month Governor David Ige issued a supplemental proclamation which gives judges the option of imposing fines of up to $5,000 and a year in jail for people convicted of being in a closed area. The Governor said there is a need to strengthen enforcement tools in controlling access to dangerous areas.

Last week three people cited at Lava Tree State Park pleaded no contest to their charges. Two of them were fined $500 each and the third person will serve 50 hours of community service in lieu of a fine.
Of one citation of a two from Honolulu, DLNR wrote:
The officer who cited the pair today said they were wearing respirators and said they were enticed by social media postings which continue to show others illegally entering the evacuation zone to photograph or tape active lava flows. DOCARE officers report many of the people cited claim they did not know they were in a closed area, even though in many cases they walked past barricades or used unmanned back roads to get around checkpoints.
Tulsi Gabbard Visits Puna
From the office of Congresswoman Tulsi Gabbard:
Yesterday on Hawaiʻi Island, Rep. Tulsi Gabbard (HI-02) was on the ground in Puna, where she received updates on the impact of ongoing earthquakes and volcanic eruptions on residents, local businesses, farmers, and more. The congresswoman received an update brief and aerial tour of the impacted area from the Hawai'i Army National Guard's Joint Task Force Commander Brigadier General Ken Hara. She also toured damaged areas and active fissures on the ground with Hawaiʻi County Highways Division Chief Neil Azevedo who briefed Rep. Tulsi Gabbard on efforts the county is taking to ensure residents can safely access neighborhoods, and work underway to create a lookout site for visitors to see the lava flow.

Rep. Tulsi Gabbard visited Hope Services' Transitional Housing Site in Pāhoa. There she talked with Gilbert Aguinaldo and Darryl Oliveira who began the community-led mission to build tiny houses, which will serve as transitional housing to the most vulnerable residents in the community who have lost their homes and been displaced by the lava flow.

Rep. Tulsi Gabbard also visited the Disaster Resource Center, where she was briefed by Federal Emergency Management Agency (FEMA) Federal Coordinating Officer Willie Nunn and FEMA personnel on the process for residents to come in and file claims for Individual Assistance. Other Federal, State, and County representatives were also present, such as the US Department of Agriculture, Vets Center, Mental Health Services, and more.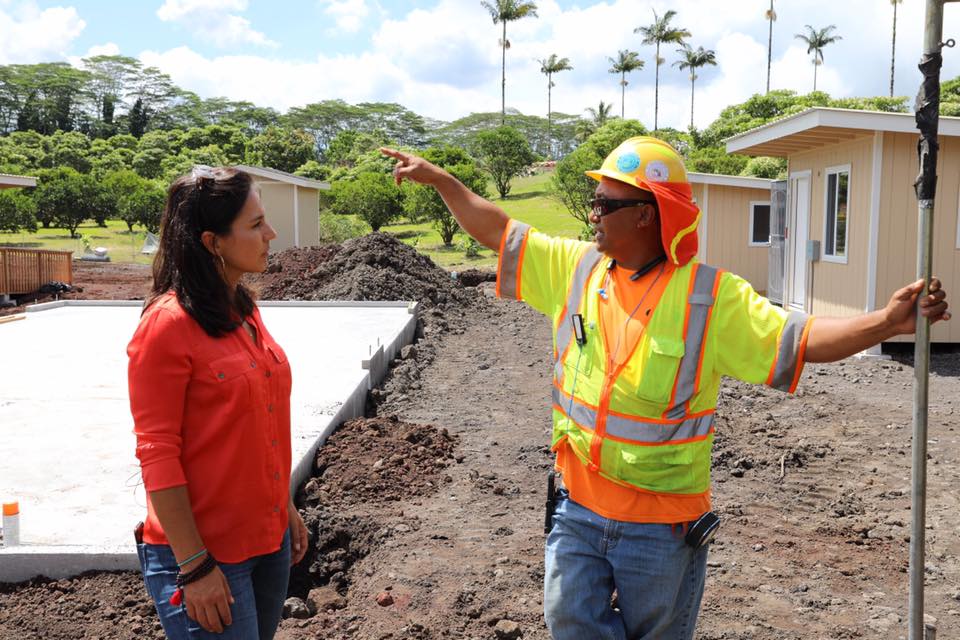 American Savings Bank Provides Funding, Support
American Savings Bank has stepped up to help the Puna community. According to information provided by the institution, the commitments include:
Financial Support:

$10,000 donation to Bank for Education Ohana School Kua O Ka La Public Charter School: Kua O Ka La Public Charter School, an American Savings Bank Bank for Education Ohana School, is situated directly in the path of the lava flow, which has forced the school to move operations from Pahoa to Hilo. The funds will assist the school with relocation expenses. Kua O Ka La serves 229 students in preschool through 12th grade.

$15,000 donation to the Hawaii Community Foundation's Volcano Recovery Fund: ASB's support will help the fund to provide both immediate relief and long-term support via a handful of nonprofits on the Big Island. These organizations include Hope Services, Food Basket, Neighborhood Place of Puna and Puna Baptist Church. Among the services being provided to those in need are emergency shelters, online resources, food and supply donations, counseling, laundry facilities and on-the-ground staff support.

Volunteer Support: ASB's branch managers on the Big Island are planning Seeds of Service volunteer projects with local grassroots organization, Puuhonua o Puna on July 1 from 8 a.m. to 1 p.m., and with Kua O Ka La Public Charter School. Roughly 35 ASB teammates will volunteer on July 1, helping to serve meals and distribute supplies.