(BIVN) – Hurricane Hector is weaker this morning, but is still expected to become a major hurricane as it moves west towards the Central Pacific.
Hector is about 1,780 miles east of Hilo. Maximum sustained winds have decreased to near 90 mph with higher gusts, making it a Category One hurricane. Some strengthening is forecast to begin later tonight, the National Hurricane Center says, and Hector could become a major hurricane over the weekend.
Forecasters still have Hector making an approach near Hawaii waters in the middle of next week. Its too early to say how close to Hawaii Island that approach might be.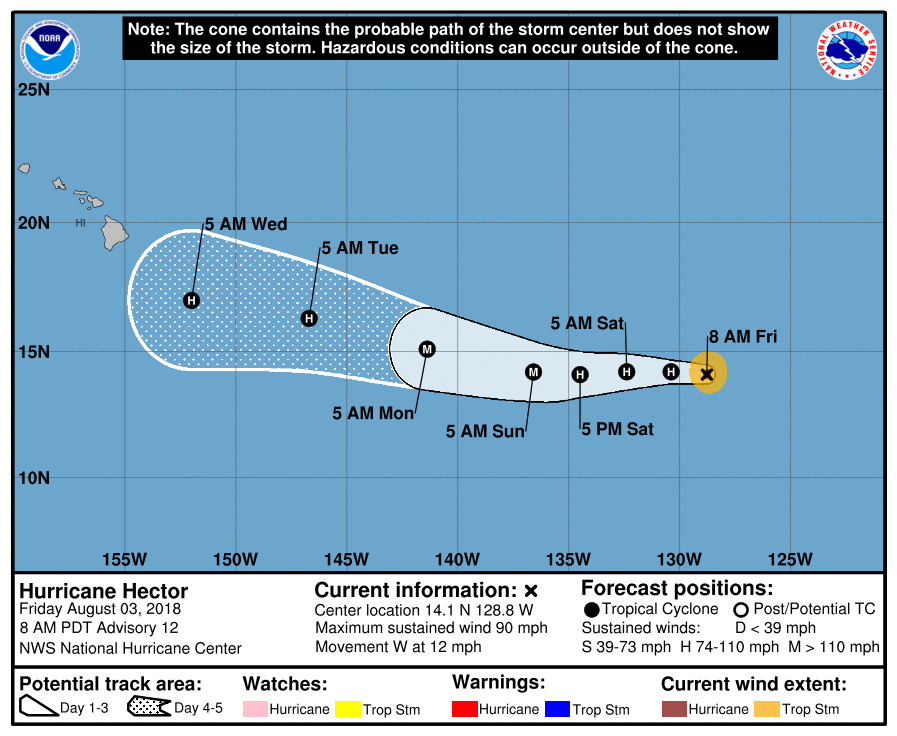 From this morning's NWS National Hurricane Center discussion:
The satellite presentation of Hector has degraded over the past several hours, with only occasional hints of an eye in the latest imagery. More notably, an AMSR2 microwave pass at 0945Z shows a secondary eyewall structure beginning, with a ring of convection noted at about a 30 n mi radius. All these data indicate that Hector has weakened, so the initial wind speed is conservatively reduced to 80 kt, near or just above the latest Dvorak estimates.

The current northeasterly shear is forecast to abate by the numerical models during the next 12 hours, which would normally lead to a restrengthening of Hector. However, the secondary eyewall formation throws a wrinkle into the forecast, since that process usually takes longer than that amount of time. As a compromise, gradual intensification is shown starting tomorrow, with a small uptick on Sunday as Hector reaches warmer waters in a light-shear environment. The HWRF and HMON still show Hector becoming a major hurricane, so it is too soon to abandon that forecast. The new forecast is a blend of the latest corrected-consensus guidance and the previous forecast, resulting in about a 10-kt reduction from the last NHC prediction. Slow weakening is shown at the end of the forecast due to cooler SSTs and potential entrainment of drier mid-level air.

The initial motion remains 270/10 kt. A large subtropical ridge should steer the hurricane westward for the next couple of days, then a weakness in the ridge develops, which should cause a more west-northwestward track. The model guidance suite is a little slower than yesterday, about 1 or 2 kt overall. While that doesn't sound like much, over the course of a forecast that could change the final cyclone position by a few degrees, so it is meaningful. In this particular case, a slower solution turns Hector to the west-northwest earlier in the forecast, since the hurricane feels the developing weakness to the north-northeast sooner. The new NHC track forecast follows the trend of the model consensus and is adjusted slightly to the north.